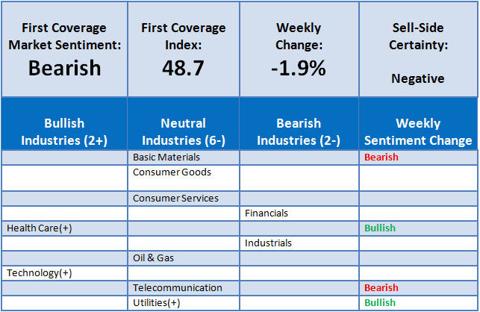 For the first time in 2009, the sell-side is actually actively recommending that their buy-side clients get long in some industries. Health Care and Technology are the first two industries to have a bullish sentiment attached to them in 2009, and you'd think that would be a positive omen for the market at large….but you would be thinking wrong.
We've always been focused on week-over-week changes as a good predictor of where the market is likely to move over the near term, and for the fourth week in a row, the sell-side got increasingly less positive on the market this week than they did last week.
In fact, for the first time in four weeks, they exhibited a negative overall sentiment shift in their market advice to the buy-side. So, while Health Care and Technology did move mildly over to the bullish column, that shift was dwarfed by the bearish change indicated on Basic Materials, Energy, Telecommunications and Financials.
Ah, Financials… (And what's a weekly commentary without a sentence or two on Financials?) Volatility is thy name and returns are thy game, but sustained bullishness…that seems to be the ying to your yang…at least when it comes to the advice of the sell-side to their buy-side clients.
The sentiment on Financials at the start of this March 9th rally was 32.3. It peaked in March at 37.9 and sits today, almost completing a full round trip at 33.57. According to the sell-side, Financials are the Mexican spring breaks of our university days…here for a good time, not a long time.
To conclude, this week with spring in the air, I thought we would spend a bit of time focused on the stocks that helped move Technology and Health Care into the bullish sentiment zone. We've included the top three stocks by bullish sentiment in each industry, and the single stock in the top ten of each industry that had the greatest bullish sentiment shift over the last week.


A final word…even if this 'spring' edition of Weekly Sentiment leaves you feeling rosy, please remember that if you're a bull, the sell-side sentiment trend is not your friend. The sell-side is getting more bearish on the market than they have been at any point since the March rally began, and the few bright pockets seem to represent opportunities rather than investments.