It appears that Russia may once again come to the aid of Cyprus in order to avoid this tax on savings at banks. For those who do not know, Cyprus is to Russia what the Caymans, Panama, Bermuda and many other Carribean island nations are to the US - a great place to hide and launder money. Stealing Russian money is never a good thing, nor is stealing mobster money...but stealing Russian Mobster money? Oh come on! The EU will have to think this one over again as the Parliament in Cyprus overwhelmingly voted it down with not a single vote in favor by the information we got yesterday (all nays and abstained votes).
It will be interesting to see what the involved parties come up with, but our guess is that Russia throws more money into the pot to protect their banking outpost and could easily foot the whole $10 billion if need be. This could also be the first step in bringing Russia closer to Europe and allowing them a greater role on the international stage, something they greatly desire and something which the US would be smart to allow (a counterweight to growing Chinese influence in the European, Middle Eastern and Asian regions).
Chart of the Day:
We wanted to include this graph today which shows US Federal revenues and expenditures from 1962 to Present. It is impressive and really makes one wonder about such things as fiscal responsibility, social responsibility and inflation. We do not have a revenue problem in this country, but rather a spending problem...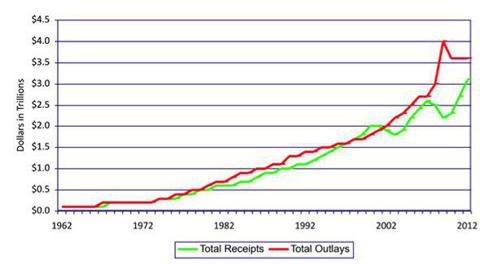 Chart courtesy of BusinessInsider.com
We have economic news due out today, and it is as follows:
MBA Mortgage Index (7:00 AM EST): N/A
Crude Inventories (10:30 AM EST): N/A
FOMC Rate Decision (2:00 PM EST): 0.25%
Asian markets finished mixed today:
All Ordinaries - down 0.44%
Shanghai Composite - up 2.66%
Nikkei 225 - CLOSED
NZSE 50 - up 0.19%
Seoul Composite - down 0.97%
In Europe markets are trading lower this morning:
CAC 40 - up 0.34%
DAX - up 0.51%
FTSE 100 - up 0.08%
OSE - down 0.19%
Technology
We ran across an interesting article and wanted to bring it to readers' attention this morning as it pertains to Zynga (NASDAQ:ZNGA) and some of the points we have been making recently. One can find the article located here. It seems that if Zynga is going to be taken seriously they need to sign up some casinos to partner with and bridge the gap between online gaming and casino gaming. We believe in the multi-platform strategy for many online businesses and in this case it most certainly appears necessary.
Retail
Recently we discussed how we liked Walgreen (WAG) as a long-term investment for retirement portfolios as it is a play on the growing need for pharmaceuticals and has a real estate kicker as well. Yesterday the company reported their quarterly earnings which beat on the bottom line and announced a deal which should further drive down costs as they relate to drugs. The company has entered into a $400 billion agreement over 10 years which will pool their buying with that of AmerisourceBergen (NYSE:ABC) while also getting a 7% stake in the company, with an option to purchase up to 23%. This will end their current agreement with Cardinal Health and create the largest buyer in the world. It was good news for those holding Walgreen's shares as they rose $2.31 (5.44%) to close at $44.74/share.
Biotechnology
Shares in Arena Pharmaceuticals (NASDAQ:ARNA) continue to fade and yesterday they failed to bounce back above that $8/share level where we have seen bounces in the past. Up next as far as support goes is a bit in the $7.25-7.35 range and after that the shares could be in some trouble. Granted this is technically speaking as we know that there is news due out literally any day regarding the Drug Enforcement Agency's approval of their already decided categorization, but the longer that is pushed out the longer one has to trade on these technicals - which are not good. Either way it is a risky move at this point, but just something we wanted to keep readers abreast about as we had previously commented on it before and some readers got their feathers ruffled as they thought it was an attack. That was not the case, it never is, we just simply like to point out the short-term movements we see from time-to-time for readers who are traders.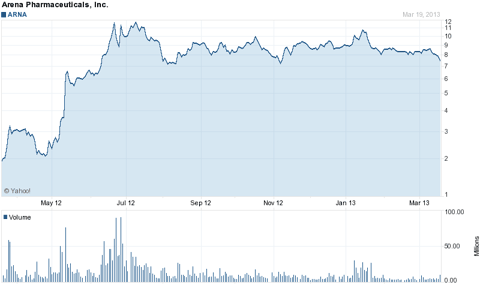 Chart courtesy of Yahoo Finance.
Affymax (NASDAQ:AFFY) is one name which we said stay away from and has since been a rollercoaster. It rose big a few sessions ago because of what appeared to be a short squeeze or simply day traders and computers playing with it, but yesterday fell flat on its face once again. It seems that their problems are worse than feared as they took the dramatic move yesterday to lay-off 75% of their workforce. The announcement was made during the trading session and the shares literally fell off of a cliff after that due to the fact that they also retained the services of an advisor to figure out if they can sell the company or if they should file for bankruptcy. See article from Bloomberg here for more.
It was a rough day yesterday...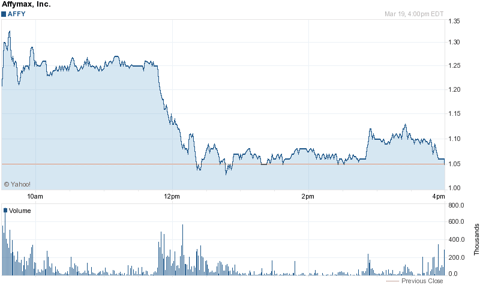 Chart courtesy of Yahoo Finance.
Disclosure: I have no positions in any stocks mentioned, and no plans to initiate any positions within the next 72 hours. I wrote this article myself, and it expresses my own opinions. I am not receiving compensation for it (other than from Seeking Alpha). I have no business relationship with any company whose stock is mentioned in this article.