This series on mortgage REIT (mREIT) preferreds has focused on both hybrid and Agency mREITs. In the Part I we took a look at hybrid mREIT Apollo Residential (NYSE:AMTG) and in Part III we analyzed the preferreds of AG Mortgage Investment Trust (NYSE:MITT). The even posts of this series have focused on Agency mREITs - in Part II we analyzed Annaly Capital Management (NYSE:NLY) and it Part IV we focused on American Capital Agency Corp (NASDAQ:AGNC). Well it's time to buck the trend and in Part V we are going to stick with the Agency mREIT sector as we analyze ARMOUR Residential REIT (NYSE:ARR).
Snapshot
ARMOUR Residential has two preferred stocks outstanding - the Series A 8.25% Cumulative Perpetual Preferred (ticker: ARR-A) which was issued in May 2012 and the Series B 7.875% Cumulative Perpetual Preferred (ticker: ARR-B) which was issued in February 2013. Like the common stock, both preferreds pay monthly dividends on the 27th of each month with record dates of the 15th.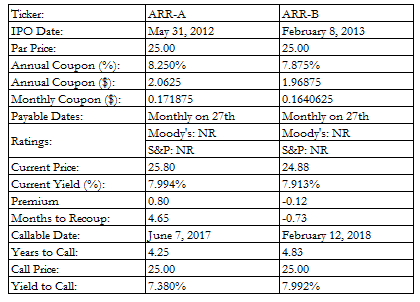 Price History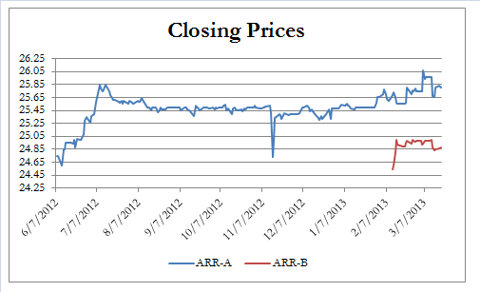 ARR-A has traded well north of ARR-B since the latter's inception. As of Tuesday's close, ARR-A was trading at $25.80 while ARR-B was trading at $24.88.
Current Yield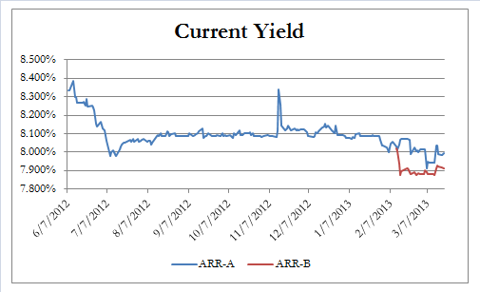 ARR-A has a higher coupon than ARR-B, and while ARR-A has traded at a higher level than ARR-B, it hasn't been enough to completely equalize the current yields (although they are very close). As of March 19, ARR-A and ARR-B have currents yield of 7.994% and 7.913%, respectively.
Liquidity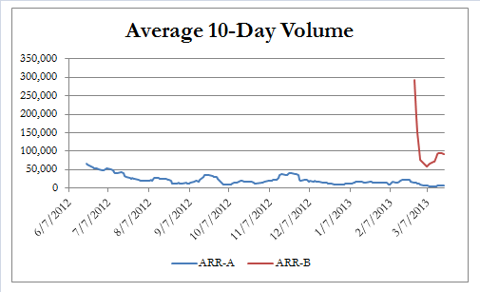 ARR-B has much more 10-day average volume than ARR-A (92,845 for ARR-B vs. 7,520 for ARR-A). A large part of this is due to the fact that there is a large discrepancy in the number of shares outstanding - ARR-A has 1.40 million shares outstanding while ARR-B has 5.40 million. ARR-B's volume should provide sufficient liquidity for the typical investor while ARR-A is probably a little light.
Premium vs. Discount
One major difference between these two ARMOUR Residential issues is that ARR-A trades at a premium to par while ARR-B trades at a discount. For new investors this is a big deal as investors in ARR-B will not have any premium risk whereas investors in ARR-A will have their premium risk outstanding for five months.
ARMOUR Residential REIT
ARMOUR Residential REIT is an mREIT that invests only in Agency mortgages, though their charter allows for them to invest in non-agency product as well. The company pays a monthly dividend that is declared at the start of every quarter. Recently the company has been making headlines as their dividend continues to decrease - they paid $0.09 per month in 2012 Q4, $0.08 per month in 2013 Q1, and they have just announced that they will be paying $0.07 per month in 2013 Q2. While this affects the common stock, this has no affect on the preferred shares which continue to pay out $0.171875 monthly for ARR-A and $0.1640625 monthly for ARR-B.
Peer Group
Being an Agency mREIT, two of ARMOUR Residential's peers are American Capital Agency Corp (AGNC) and Annaly Capital Management (NLY). ARMOUR is unique in paying a monthly dividend while AGNC and Annaly both pay quarterly. One key difference between ARMOUR and these two peers are that ARMOUR primarily invests in floating rate securities while AGNC and Annaly primarily invest in fixed rate mortgages.
Leverage
Between the three peers ARMOUR utilizes the most leverage, while American Capital is a close second (when taking into consideration the forward TBAs put on), and Annaly uses the least amount of leverage at 6.5x.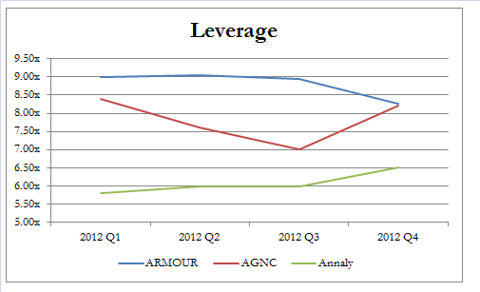 Asset Yield
ARMOUR saw the yield on their assets decline throughout 2012, as did Annaly and American Capital Agency, though AGNC was able to realize a bounce in the fourth quarter while Annaly and ARMOUR saw a continued decline.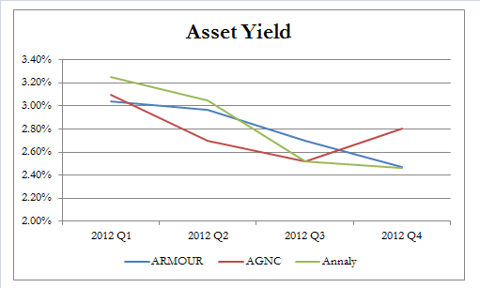 Net Interest Margin
Taking the cost of leverage out of the asset yield is always an important way to analyze mREITs. ARMOUR is a close second of the three peers with a NIM of 1.55%. AGNC has a NIM of 1.60% while Annaly realized a NIM below 1% in the fourth quarter of 2012.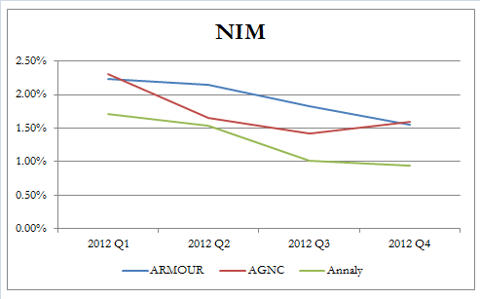 Net Book Value
ARMOUR saw a decrease in Net Book Value from the third quarter to the fourth quarter 2012. It should also be noted that when ARMOUR issued an additional 65 million shares in February 2013, their NBV had declined to $6.70 per share.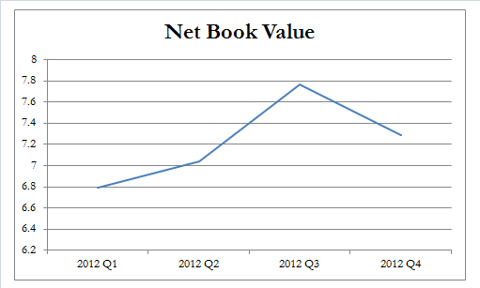 NBV Quarter-over-Quarter Change
ARMOUR saw their net book value decline from the third quarter to the fourth quarter 2012. This was in line with their peers as everyone saw a decline in NBV for the quarter. ARMOUR did see the largest decline (and, as noted above, the decline continued through the first quarter 2013) while Annaly and AGNC did not see as large of a decline in the fourth quarter.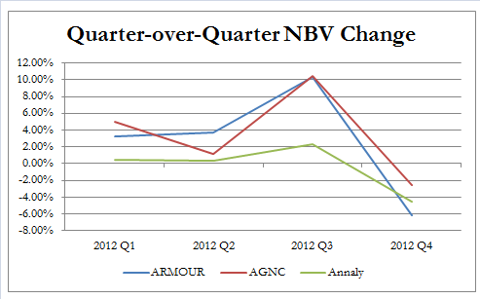 Final Thoughts
ARMOUR Residential is an Agency mREIT that has been under a lot of pressure recently. They have had to cut their monthly dividends in the past couple of quarters, but this isn't something that affects the dividend payments of their preferred shares.
When comparing the two preferreds that ARMOUR has outstanding, ARR-B is clearly the better investment. The current yields are nearly identical and ARR-B trades at a discount (while ARR-A trades at a premium), offers more liquidity, and has a higher yield to call. If you are comfortable with the risks involved with the Agency mREIT industry, ARR-B is certainly an investment you should consider.
Ticker Reference Table: To help find preferred stocks on your trading platform, please see the Preferred Ticker Reference Table that I have posted.
Disclosure: I am long ARR, AMTG, MITT, AGNC, NLY. I wrote this article myself, and it expresses my own opinions. I am not receiving compensation for it (other than from Seeking Alpha). I have no business relationship with any company whose stock is mentioned in this article.
Additional disclosure: This article is for informational purposes only, it is not a recommendation to buy or sell any security and is strictly the opinion of the author. Investors are strongly encouraged to do their own research and discuss potential investments with an investment professional.