Onyx Pharmaceuticals (ONXX) is a global biopharmaceutical company engaged in the development and commercialization of innovative therapies for the treatment of cancer. The company's first product, Nexavar (sorafenib), is a kinase inhibitor partnered with Bayer (OTCPK:BAYRY), and a standard treatment in kidney (RCC) and hepatocellular (HCC) cancer. Nexavar's sales in the increasingly crowded RCC market is expected to gradually decrease as new agents are launched. In HCC, in contrast, few other active agents are available, and Nexavar is the standard of care. However, with Nexavar on the market for more than five years, its growth has decelerated. In addition, Bayer and Onyx are currently jointly promoting Bayer's Stivarga for use in treating colon or rectal cancer, and in patients with advanced gastrointestinal stromal tumors (GIST) in the U.S. As part of a legal settlement reached with Bayer in October last year, Onyx receives a 20% royalty on worldwide sales of this product.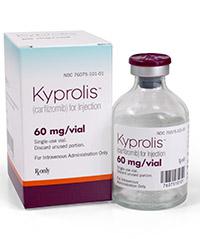 As the primary driver of future growth, Onyx will rely on Kyprolis (carfilzomib), a next-generation protease inhibitor. Kyprolis was approved in the U.S. for use in relapsed and refractory multiple myeloma in July 2012. Given premium pricing to Velcade ($9,950/month versus $9,000/month), and the high unmet need in the salvage setting, Kyprolis' potential is being viewed as robust and a strong launch is expected. On February 21, Onyx reported sales of $45 million for Kyprolis in Q4:12. This gave the drug a market share of 30% of its target market. Additionally, trials in earlier lines of therapy and other settings should drive long-term growth of Kyprolis.
At an analyst day in NYC, which took place on Thursday last week, Onyx's management reiterated confidence in Kyprolis' launch, which is based, in part, on market research showing that 71% of physicians expected to increase their use of Kyprolis in the future. The management estimates that about 1,000 U.S. patients per month are Kyprolis-eligible in the third-line+ setting, and surveyed docs expect to treat over 70% of their eligible patients with a novel agent. In other words, physicians are saying that instead of recycling old therapies, instead of using dexamethasone or using cyto-toxic agents, they're going to pick Kyprolis.
With that said, some investors are concerned that use of Kyprolis will contract over the next several months as Celgene's (NASDAQ:CELG) Pomalyst is launched. However, these fears could be overblown, for several reasons. First, Pomalyst and Kyprolis are more complementary than competitive, as they have different mechanisms of action. Second, despite treatment with Pomalyst, all patients will still progress, and at that time they will be cycled onto Kyprolis. Third, there will continue to be some number of patients who are switched to Kyprolis in early lines because of intolerance to Velcade.
In addition, the management revealed the design of CLARION, Kyprolis' head-to-head trial vs. Velcade in first-line transplant ineligible patients, set to begin in H1:13. CLARION will enroll 882 patients and randomize to Kyprolis or Velcade, each combined with melphalan-prednisone (MP), for 9 cycles. The primary endpoint is superiority on Progression-free survival.
On March 8, the National Comprehensive Cancer Network (NCCN), which creates treatment guidelines, published an update to its treatment guidelines, which represents a vote of confidence in Kyprolis. For the treatment of multiple myeloma, the combination of Kyprolis, Revlimid and dexamethasone was added to the NCCN guidelines under the category "other regimens" as a therapeutic option for patients who are transplant candidates. Importantly, Kyprolis, along with several other agents, was added as an NCCN preferred treatment regimen for salvage therapy. This development is a significant positive for the company for the following reasons:
Reinforces the strong pre-existing support for Kyprolis in the medical community.
Could render the current Wall Street issue of competition in the salvage multiple myeloma setting as less relevant.
May provide another source of near-term sales acceleration and upside to current consensus as the majority of initial Kyprolis use is on-label for more advanced multiple myeloma.
Looking forward, the Kyprolis launch will almost certainly be front and center for investors for the next couple of quarters. The company expects quarter-on-quarter demand growth in 2013 as a result of new patient growth, and believes that growth will come from both established users & expansion of newly adopted clinics. Currently, analysts at Cowen are modeling for Kyprolis worldwide peak sales of $1.86B in 2017. Moreover, investor attention will likely intensify on two important Phase III readouts for Kyprolis - Focus (overall survival in relapsed/refractory multiple myeloma) interim look is expected in 2H13 and Aspire (progression-free survival in relapsed multiple myeloma) interim look is expected in 4Q13 or later.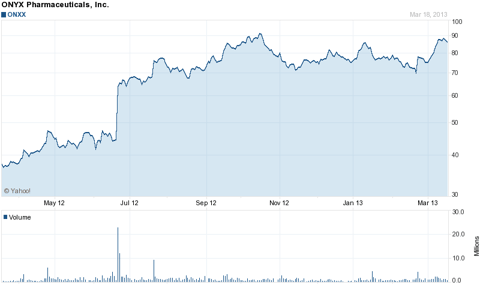 Click to enlarge
Disclosure: I have no positions in any stocks mentioned, and no plans to initiate any positions within the next 72 hours. I wrote this article myself, and it expresses my own opinions. I am not receiving compensation for it (other than from Seeking Alpha). I have no business relationship with any company whose stock is mentioned in this article.
Additional disclosure: Biomed Group is a group of investment professionals and writers. This article was written by Amit Cohen. We did not receive compensation for this article, and we have no business relationship with any company whose stock is mentioned in this article. This information is not to be construed as an offer to buy or sell any security mentioned on this article.