Warren Buffett was in an upbeat mood in his annual letter to Berkshire Hathaway (BRK.A, BRK.B) shareholders, A 14.4% increase in book value in 2012 is not to be sniffed at, even if slightly overshadowed by the S&P 500 (NYSEARCA:SPY) 16% return including dividends. The BH insurance businesses took a prominent role in Mr. Buffett's analysis :
Our insurance operations shot the lights out last year. While giving Berkshire $73 billion of free money to invest, they also delivered a $1.6 billion underwriting gain, the tenth consecutive year of profitable underwriting. This is truly having your cake and eating it too.
This sounds too good to be true. When something falls into that category, it is usually worth a second look. Mr. Buffett obliges, by explaining the rationale for his assertion that insurance operations provide "free money."
Property-casualty ("P/C") insurers receive premiums upfront and pay claims later. In extreme cases, such as those arising from certain workers' compensation accidents, payments can stretch over decades. This collect now, pay-later model leaves us holding large sums - money we call "float" - that will eventually go to others. Meanwhile, we get to invest this float for Berkshire's benefit. If our premiums exceed the total of our expenses and eventual losses, we register an underwriting profit that adds to the investment income our float produces. When such a profit is earned, we enjoy the use of free money - and, better yet, get paid for holding it.
I add the emphasis in bold, as the reader could otherwise lose this critical fact among Mr. Buffett's enthusiasm for the business model. This is that insurance is a business of risk, the only value being to absorb risk that others do not want to run. Premiums must exceed expenses and losses in absolute terms to avoid diluting invested earnings. Insurance is a very competitive market, in which the cost of producing the product is only known many years after the premium is earned - and results are highly volatile. It is not a rare event of the P&C insurance industry to make underwriting losses.
Mr. Buffett acknowledges these facts, but confidently asserts his firm's ability to sidestep the underwriting challenge.
Unfortunately, the wish of all insurers to achieve this happy result creates intense competition, so vigorous in most years that it causes the P/C industry as a whole to operate at a significant underwriting loss. This loss, in effect, is what the industry pays to hold its float. For example, State Farm, by far the country's largest insurer and a well-managed company besides, incurred an underwriting loss in eight of the eleven years ending in 2011. (Their financials for 2012 are not yet available.) There are a lot of ways to lose money in insurance, and the industry never ceases searching for new ones. As noted in the first section of this report, we have now operated at an underwriting profit for ten consecutive years, our pre-tax gain for the period having totaled $18.6 billion. Looking ahead, I believe we will continue to underwrite profitably in most years. If we do, our float will be better than free money.
In this recent article, I explore some of the complexities facing P&C Insurance companies. As readers can see, portfolio mix, and the resulting risk duration are of fundamental importance to insurers. Longer 'tail' portfolios have more investment risk, and insurers need to carefully match their investments to the timing expected for claims to be made against their policies. To ensure that there is enough liquidity to make claims payments when they are due, insurers invest mostly in bonds, typically government bonds. To avoid currency risk, these are usually matched to the currency of the exposures. This means that U.S. insurers are heavily exposed to U.S. government bonds. BH insurance operations have quite an aggressive skew, with large allocations to corporate bonds and overseas sovereign debt.
Fixed Maturity
$m
US Treas.
2,775
State & Muni
2,913
Foreign Sov.
9,892
Corp. Inv
6,659
Corp Non Inv
5,498
MBS
2,247
29,984
Source :BH annual report
Mr. Buffett eloquently explains the challenge with reducing bond yields:
Insurance earnings are now benefiting from "legacy" bond portfolios that deliver much higher yields than will be available when funds are reinvested during the next few years - and perhaps for many years beyond that. Today's bond portfolios are, in effect, wasting assets. Earnings of insurers will be hurt in a significant way as bonds mature and are rolled over.
The following chart shows the dramatic drop in bond yields and how these have moved in the opposite direction to inflation.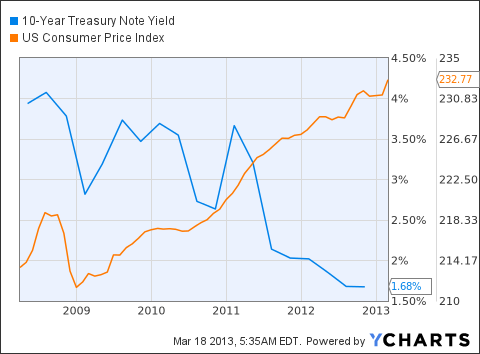 10-Year Treasury Note Yield data by YCharts
However, this is positioned as a challenge that affects the broader insurance industry, while the impact on BH is adroitly stepped around. BH is positioned as somewhat immune to this, due to the ability of the insurance business to underwrite more profitably than the rest of the industry.
The reality is, I believe, more challenging for BH. As the benefit of bond yields has fallen, the firm needs to dramatically step up its underwriting profit contribution to the bottom line. Without this contribution,the BH insurance operations could themselves become "wasting assets." This means that the insurance operations need to generate a step change in their contributions from underwriting, or start to pay policyholders claims from shareholders' funds - a reduction in book value.
As the following table shows, the underwriting profit of the BH insurance operations is, while beating the industry, a small percentage of the impressive float that has been built up. Taking the average of 2011, a high claims year, and 2012, a highly profitable underwriting year, the following table, sourced from the BH annual report, shows the average "UW return on float" was 1.3%.
UW Result
Float
Ave UW return on float
2012
2011
Ave
2012
2011
Ave
% return
BH Re
$ 304
-$ 714
-$ 205
$ 34,821
$ 33,728
$ 34,275
-0.60%
Gen Re
$ 355
$ 144
$ 250
$ 20,128
$ 19,714
$ 19,921
1.25%
GEICO
$ 680
$ 576
$ 628
$ 11,578
$ 11,169
$ 11,374
5.52%
Other
$ 286
$ 242
$ 264
$ 6,598
$ 5,960
$ 6,279
4.20%
$ 1,625
$ 248
$ 937
$ 73,125
$ 70,571
$ 71,848
1.30%
As bond yields roll over, the drop in yields is significant. The following example takes a 2% drop in bond yields. Taking the 2012 float of $73,125m, to close this yield gap, the BH insurance business needs to generate new underwriting profits of $ 1,462m to total $2,399m each year. This would be 256% of the 2011/12 average, or 48% growth on the outstanding result of 2012. The growth of that float also needs to be factored in, as the return gap will grow along with the growth of insurance liabilities.
How can this be achieved? As Mr. Buffett points out, the historical performance of his insurance businesses has been very good - generated by a better than class underwriting result. In order to do this, his managers have been highly selective and known when to step away from underpriced risks. The baseline business results factor this in, so generating a much better claims record seems unlikely. This leaves growth as the only option.
As the table above shows, the BH insurance business is in three major areas - BH Re, Gen Re, and GEICO.
GEICO, as a primary motor insurer writes individual policies to many thousands of drivers - growth here is a slow grind, with each new client earning a few hundred dollars of premium, let alone underwriting profit potential. GEICO is a great business, but can't close the gap on yields quickly.
Gen Re has more scale in its business model. Gen Re has several business channels, but is best known as a direct U.S. casualty reinsurer. This presents two problems to rapid growth: firstly U.S. casualty reinsurance is "long tail" business - growth here adds to float, but doesn't generate quick underwriting profits. The premiums must be set aside at low yields for several years before the earnings can be released. Secondly, as a direct player, Gen Re is reliant on its own sales force and existing relationships to grow - this takes time, and money.
This leaves BH Re - the heavyweight in the pack. In his letter to shareholders, Mr Buffett praises Ajit Jain, the leader of BH Re, exhorting shareholders to "bow deeply to Ajit." He explains:
First by float size is the Berkshire Hathaway Reinsurance Group, run by Ajit Jain. Ajit insures risks that no one else has the desire or the capital to take on. His operation combines capacity, speed, decisiveness and, most important, brains in a manner unique in the insurance business. Yet he never exposes Berkshire to risks that are inappropriate in relation to our resources. Indeed, we are far more conservative in avoiding risk than most large insurers.
Here is the key. My hypothesis is that Mr. Buffett sees an annual hole of $1.46 bn in returns for the business from reduced yields on funds already committed to policyholders. This profit shortfall grows as the business grows. 'Free money' comes with strings attached, the policyholder liabilities.
To bridge this gap, he needs insurance underwriting profits, and BH Re is the best way to generate this quickly. The huge risk here is that BH Re works to a business model of strict risk selection, and to grow this fast must move closer to the market average in terms of risk quality.
Mr Buffett cautions "cost-free float is not an outcome to be expected for the P/C industry as a whole"
In this respect, BH would be taking a gamble - sacrifice the underwriting outperformance for a few years, expecting the yield environment to improve meanwhile, and hope that the underwriting results of the insurance industry will be positive for the period. There is logic in this, as in general insurers will charge more during low yield years - but this is a very volatile business, which makes it a high-risk strategy. To add to the difficulties, there is competition from yield-seeking pension funds and hedge funds pumping capital into the insurance space, and suppressing prices.
So is there any evidence to back up this hypothesis? There is evidence in spades.
Take this headline from an industry trade journal "Insurance Insider"
Berkshire Hathaway's Aon deal signals major shift in strategy. BH mammoth circa $2.5bn Lloyds sidecar with Aon is the most visible demonstration yet of reinsurance supremo Ajit Jain's strategy change from being an in and out opportunistic capital provider for distressed buyers
Source: Insurance Insider (insuranceinsider.com)
The article continues to explain that BH Re has signed a deal to write 7.5% of all the business placed by broker Aon into the Lloyds insurance market, at whatever terms the market charges.
This follows a similar recent deal with rival broker Marsh, for BH to write 12.5% of its global marine business, again at market prices. Other bold moves have been seen in Australia, New Zealand, India, Thailand, and Japan.
| | | | |
| --- | --- | --- | --- |
| Deal | Market | Sector | "Tail" |
| | | | |
| Marsh | Global | Marine | Short |
| Aon | Lloyds | All | Short/med |
| Various | ANZ | Catastrophe | Short |
| Various | India | Catastrophe | Short |
| ACR | Asia | Retrocession | Short |
| Various | Thailand | Property/Flood | Short |
| Various | Japan | EQ/ Fire | Short |
In summary, my theory is that Berkshire is looking to dig its way out of a thorny problem - a short-term yield squeeze in a long-term business. Using BH Re to plug the gap in the interim is a very smart, but risky move. I do not see this as likely to sink the ship, but there is a real risk of seeing some profits leak away - BRK has traditionally been an efficiently leveraged asset play. Until bond yields return to norm, the efficiency of that leverage is dramatically reduced, and could easily turn negative.
Positioning for this as an investor could vary, depending on outlook and portfolio mix.
Bullish on stocks, and wanting to allocate 'risk on' - BRK.B could continue to underperform SPY, unless the insurance underwriting result can grow fast enough to plug the gap in bond yields. Until yields return to normal levels, consider allocating away from BRK.B, and instead choose SPY plus a quality (and well priced) short tail oriented P&C insurance stock.
Neutral on stocks - seeking a balanced risk play - in my view BRK.B still represents a good option here. The non insurance holdings offer performance to closely follow SPY to the upside, but the large bond exposure in the insurance business will benefit from a rotation to 'risk off' assets. The downside is how to evaluate the shift in BH Re strategy, and potential risks surrounding this. Consider a more transparent alternative here via a pure play asset allocation.
Bearish on stocks and looking for a correction - BRK.B is a great option to buy into a market correction. The huge asset base and the ability of Messrs. Buffett and Munger to snap up troubled assets at bargain prices, coupled with the inbuilt bond exposure makes a well timed entry an attractive option.
Disclosure: I am long BRK.B. I wrote this article myself, and it expresses my own opinions. I am not receiving compensation for it (other than from Seeking Alpha). I have no business relationship with any company whose stock is mentioned in this article.
Additional disclosure: This article is for the information of readers only and does not represent advice. The author is not an investment advisor, and readers should take professional advice in respect of any investment decisions.