Looking at the commodity space this morning we see silver showing strength while gold continues to hold steady. Sideways movement at this time for gold is good as we remain above the $1600/ounce level and hopefully build another base to form a solid platform for the next move higher. Tomorrow we get some good economic news out and that shall give us further data to either back up our beliefs in this economy or force us back to the drawing boards.
What we do know is that economic activity will be picking up in Ohio this year and shall remain strong in Texas, North Dakota and the Bakken area extending to other states. We will be watching the Ohio economic data from here on out to see just how measurable the Utica build-out is in economic terms. Our guess is June is the month when it really starts to kick into full gear.
Commodity prices this morning are as follows:
Gold: $1602.70/ounce, down by $0.60/ounce
Silver: $28.96/ounce, up by $0.117/ounce
Oil: $92.81/barrel, up by $0.65/barrel
RBOB Gas: $3.0526/gallon, up by $0.0075/gallon
Natural Gas: $3.949/MMbtu, down by $0.02/MMbtu
Chart of the Day:
It is always a bullish indicator in the commodity arena when the Australian Dollar moves higher against the US Dollar...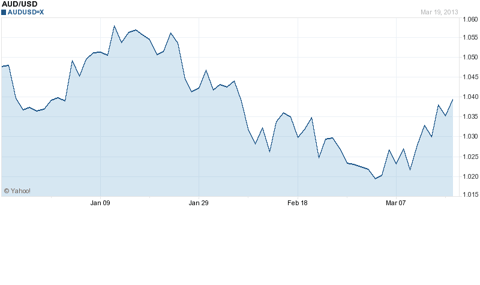 Chart courtesy of Yahoo Finance.
Oil & Natural Gas
Gastar Exploration (NYSEMKT:GST), a name we have discussed in the past, had an impressive rise yesterday on the back of their quarterly results. Shares rose $0.26 (19.12%) to close at $1.62/share on volume of 3.7 million and this continued an upwards move in the stock. The investor excitement also helped push shares through a bit of resistance they were facing and got shares through the $1.50/share level. This $1.75-1.90 range is going to be tricky, but if natural gas continues its move higher, so too shall Gastar. For those interested in reading the transcript of the conference call, it is located here.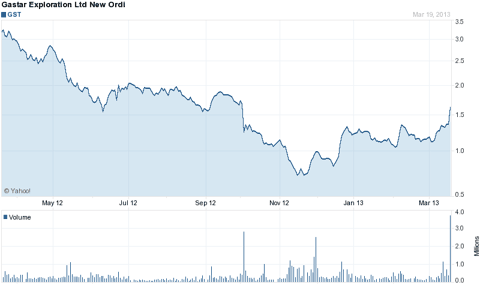 Chart courtesy of Yahoo Finance.
Talk about unforeseen news. That seems to be all that has been announced by Harvest Natural Resources (NYSE:HNR) over the past few months as they have been forced to announce that the sale of their Venezuelan assets to an Indonesian state owned oil company was not approved by the country and now that they will have to go back and restate financial results all the way to 2010. A "going concern qualification" will also be issued by the auditor, which may or may not be serious, as it simply states that they have a question about the firm's ability to stay solvent over the next 12 months...but who would not as we have no idea what this accounting error will result in and if it shall force them to breach any covenants they have on debt, etc. It is not pretty, and due to the myriad of issues here we would simply stay away at this time and let the dust settle, there is no point to being a hero at this point, especially when there are so many other great places to make money in the sector right now.
The trusts that have been created over the past few years from the natural gas drillers and E&P players looking to raise money for drilling continue to come under fire. Yesterday it was the ECA Marcellus Trust I (NYSE:ECT) which fell $4.23 (26.82%) to close at $11.54/share. Their production is natural gas based, and they have declining rates and declining prices for natural gas as their hedges are rolled over from year-to-year. Until natural gas prices reverse these entities will continue to pay less and less in distributions and dramatically miss many of the estimates laid out in their initial SEC paperwork. As we have said before, investors need to beware of these trusts, especially those very much dependent upon one type of production.
Iron-ore/Coal
Looking at the situation with Cliffs Natural Resources (NYSE:CLF), we are getting a bit more worried for those still holding shares. Friends and family have been thanking us for talking them out of buying the shares after the last few pullbacks and with this latest move downwards we are but a hair away from breaching the $20/share level. Yesterday the shares fell $1.44 (6.61%) to close at $20.33/share as 21.8 million shares were traded. It is a new 52-week low for the stock, but it did do this in a weak commodities market yesterday and an analyst downgrade. The downgrade came from Goldman Sachs, which has become a commodity bull recently, which lowered their price target to $20 from $24 based on the company's latest projections.
Is the writing now on the wall that CLF will test its lows from the financial crisis?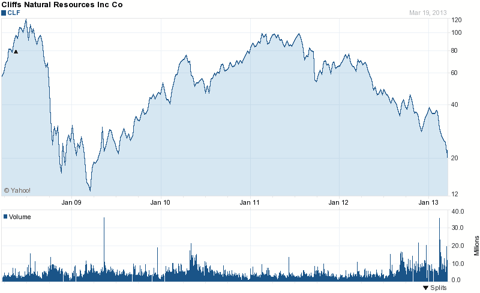 Chart courtesy of Yahoo Finance.
Uranium
For those who have not noticed, UR-Energy (NYSEMKT:URG) has been on a tear. It has risen above the level where we said we wanted to be buyers and closed yesterday at $0.93/share. Volume has picked up and with such a dramatic rise we now think that it would be wise to take profits as there is the summer season coming up and some major wild cards out there which we think are overlooked at the current valuation. If the shares retreat in the next few sessions and re-enter what we believe to be a buying area, we would most certainly once again find ourselves recommending a buy, but now shares have gotten a bit ahead of themselves in the short-term.
The last month has seen a dramatic rise...too much too quick we say.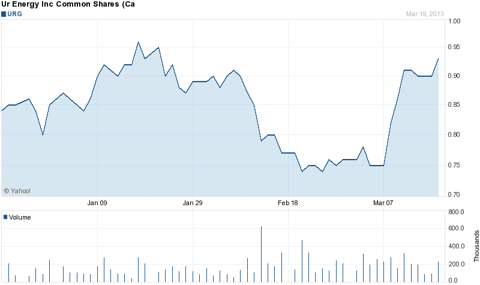 Chart courtesy of Yahoo Finance.
Disclosure: I have no positions in any stocks mentioned, and no plans to initiate any positions within the next 72 hours. I wrote this article myself, and it expresses my own opinions. I am not receiving compensation for it (other than from Seeking Alpha). I have no business relationship with any company whose stock is mentioned in this article.