Shares of MercadoLibre (NASDAQ:MELI) have lately not delivered on the promise of monetizing the vast growth in emerging market consumers. The stock soared from its low of $8.28 in 2008 to just over $90 a share in May 2011, but have been largely range bound between $80 and $100 for the last two years.
While the shares trade at a relatively expensive 43 times trailing earnings, the macroeconomic forces behind the company are immense. The base scenario for a continuation in the trend to internet penetration and e-commerce puts the shares at $183 by 2015. Another scenario, accounting for convergence in e-commerce sales and consumers' increasing access to credit, puts the share more than two times higher. Either scenario makes a strong case for a long position at the current price.
The eBay comparison
Valuing MercadoLibre, analysts quickly make the comparison with eBay (NASDAQ:EBAY) and its growth from the late 1990s. eBay has grown their user base from just 2.2 million in 1998 to well over 100 million today. Revenue at the e-commerce giant has climbed by a factor of 300 from $47.4 million in 1998 to $14.1 billion last year. Investors that recognized the company's potential when it was still a midcap have enjoyed an astounding 2,500% return over the 15 years.
MercadoLibre benefits from the same scalable business model, the same online payment platform, and a similar internet growth environment as eBay before it became the ubiquitous name in online auctions.
The company has an active presence in 13 countries across Latin America including: Mexico, Brazil, Chile and Argentina. Only about 43% of the region's 593.7 million people have internet access, well under the 78.6% internet penetration in North America. That means more than 338 million people, about the total number of people in the United States, are still waiting to get connected and could be potential customers. More than 37 million people visit the site each month, more than three times Amazon's (NASDAQ:AMZN) 11.3 million visitors in the region.
A triple-digit base case
Despite its relative economic strength over the last decade, Latin America still lags other regions in e-commerce and internet access. Though internet growth has averaged 25% annually over the last decade, under half of the population currently has access. E-commerce spending accounts for just 1.5% of total retail sales compared to 5.4% in the United States. As more of the population moves into the middle class, it could be time for region to converge with the rest of the world in terms of internet usage and e-commerce.
Ownership of the shares is positive with institutional ownership over 83% and eBay alone holding 17% of the company. Short interest is extremely high at 23.8% of float and could be a supportive element as sellers come back into the market to cover. The company has $177.5 million in cash and equivalents with a negligible $75,000 in long-term debt.
The table below models earnings and price off of forecast growth in internet access and e-commerce sales. Access to the internet is projected to grow by a 25% annual rate through 2015 to 498 million users. Carrying this rate forward to 2015 would bring the region into convergence with the developed world at an 80% penetration, at which time the rate of growth would probably decline. Research from the IESE Business School in Spain estimates internet retail spending at $12 billion in 2010 and a 17% compound rate of growth through 2015. While this is much higher than the 4.5% expected annual growth in total retail sales, it still leaves e-commerce at only 2.2% of total sales. This is well under the percentage in developed markets and probably presents the most room for an upside surprise.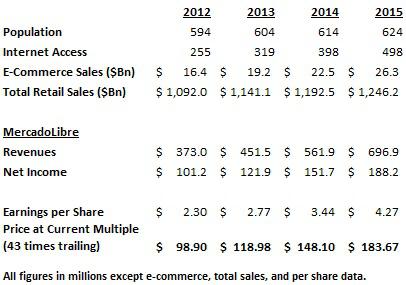 This base case scenario only assumes expected growth rates in internet access and retail sales. The model does not assume any change to the company's share of total e-commerce sales or margins. With little large-scale competition across the region, the company may be able to use its position to gain a larger share of sales or improve margins. Even with no growth in market share or margin, earnings increase to $4.27 per share in 2015. At the current price multiple, the stock would be worth $183.67 per share, almost double from current levels.
How do you say housing boom in Spanish?
The real driver behind MercadoLibre could be the democratization of credit and the ability to use housing equity to increase consumption. The region is experiencing a housing boom as credit finally becomes available to residential consumers. Mortgage loans average just 7% of GDP across the region compared to 65% in the United States. Credit has just never been available on the consumer level but with rates in developed markets at negative real returns, money is flooding into debt markets in the region. This could lead to a rapid growth and securitization in the mortgage industry, already growing at a 14% annual pace since 2003.
Retail sales growth almost doubled in the United States during the housing boom, from a 3.5% pace in 2003 to growth of 6.8% annually to 2006. If the same happened in Latin America, retail sales could jump 9% annually to $1.4 trillion by 2015.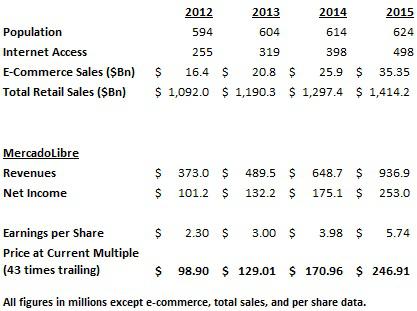 If e-commerce were to increase to 2.5% of total sales, still well below the percentage of total sales in the United States, MercadoLibre could see $936.9 million of revenue in 2015. Applying the current net margin of 27% on the same share count yields $5.74 in earnings per share and a $246.91 valuation at the current price multiple. That 162% return is based off of conservative macroeconomic assumptions and growth in middle class consumption that could be the next theme to hit stocks.
For those cautious about what a real estate boom would mean to the markets, the increase in credit was not the problem in the United States. The problem was the decrease in credit quality as even those with no jobs and no assets were able to take out loans. Stronger macroeconomic trends and a much lower starting point for household leverage should protect Latin America from a housing bubble for at least the next five years.
Competition and other Opportunities
Amazon is probably the biggest threat to future growth. While the $117.2 billion online behemoth is not a significant threat currently, growth in e-commerce spending and margin compression in developed markets could cause the company to refocus on emerging markets. Amazon has recently cut prices on its Kindle line to maintain share in the tablet market and will be looking for other markets to broaden revenue.
The 17% stake in MercadoLibre held by eBay sets up the possibility of collaboration in the future rather than competition.
Investors looking to benefit from the theme of class mobility in the emerging world and greater access to credit may want to look to other American Depository Receipts (ADRs) from the region. Desarrolladora Homex (NYSE:HXM) is a $624 million home development retailer with business in Mexico and Brazil. Cemex (NYSE:CX) is a $13.3 billion construction materials company with sales worldwide but concentrated in Latin America and the United States. Investors may want to steer clear of large, state-owned companies like Petrobras (NYSE:PBR) which may have trouble raising rates as regional governments look to control consumer inflation.
Investment in MercadoLibre is not without its risks. Any stock that trades at 43 times its earnings over the last year is prone to bouts of volatility and losses. The company beat expectations for the fourth quarter with $0.69 per share, up more than 46% from the same period last year, but has been under pressure lately on fears of competition in the region. Short-term risks to investor sentiment are a possibility until regional macro-factors take over.
Over the next few years, the company is set to ride the wave of favorable dynamics in e-commerce and internet growth. As the availability of credit expands to retail customers, investors may just be in for an even bigger surprise.
Disclosure: I have no positions in any stocks mentioned, and no plans to initiate any positions within the next 72 hours. I wrote this article myself, and it expresses my own opinions. I am not receiving compensation for it (other than from Seeking Alpha). I have no business relationship with any company whose stock is mentioned in this article.