This is one of the main questions being faced by many retail investors out there. Stocks or gold - which is better? Or more specifically, when you are looking to invest in SPDR ETFs, should you invest in SPDR S&P 500 (NYSEARCA:SPY) or SPDR Gold ETF (NYSEARCA:GLD)?
To start with, let us look at the graph below.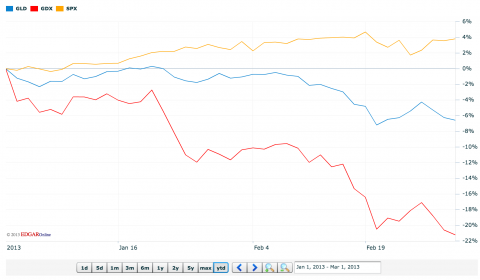 The SPDR S&P 500 has shown resiliency (and better return) in the past few months, compared to SPDR Gold. Looking at this, you might think that it is better to invest in the stock index rather than in gold. But before you make your decision, you have to consider a few factors in here.
1. Stock Overbought Levels - The very first thing to be checked is whether the U.S. equity market is overbought or not. Looking at the image below, it can be concluded that S&P 500 is currently overbought, with a RSI signal of 70-ish.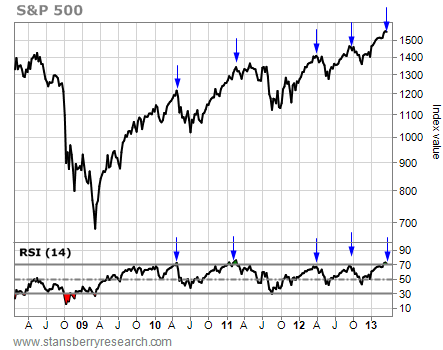 And the index movement above corresponds closely with that of AMEX, which tracks the 75 most institutionally favored stocks out there. With a RSI signal of 68-ish, AMEX is currently overbought as well. This leads me to think that stocks will go for a dip in the short run.
Having said that, it is wise to remember U.S. stocks are trading at reasonable valuations at present. With Ben Bernanke's QE3 in motion, U.S. stocks still have potential to go up.
2. Gold as Safe Haven - In these times of U.S. political uncertainty, investors will want to put their money somewhere "safe." With above-average return and a successful 12-year track record, gold seems to be the perfect option. As such, you can expect higher returns from SPDR Gold very soon.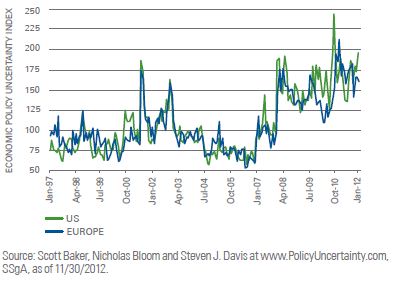 3. Low Fed interest rates - This is another factor that will drive investors toward gold. If you look at the table below, more and more people have flocked to the fixed income-oriented investments.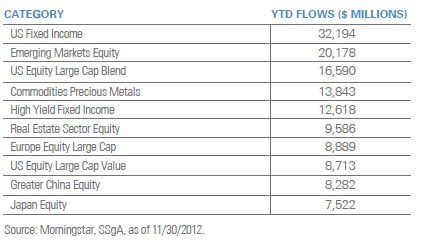 But the question is what happens when total returns from the fixed income products keep declining further or just stay at the present super-low levels. Investors look for "something" with higher return at lower risk. That is when gold comes into the scene. And that's when the price of SPDR gold will skyrocket.
4. USD and gold - People have a wrong notion that gold prices are related inversely with U.S. dollar. And recently, U.S. dollar showed some improvement, which led many to think that gold prices to go down.
But the USD/Gold correlation matrix below indicates that the correlation is not always inverse. Although the price of gold may initially fall for the next one year or so (that is, if USD indeed appreciates in value), it will normalize following that.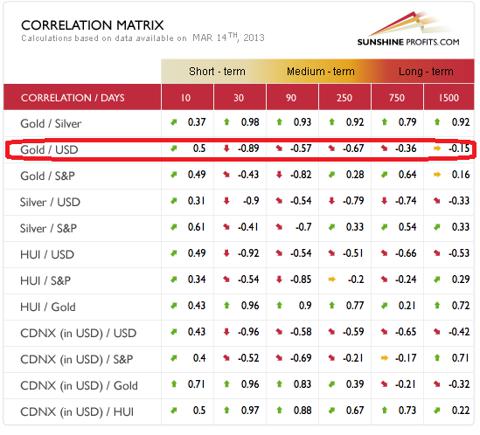 Click to enlarge
(Click to enlarge)
5. Governments Buying Gold As Reserve - "The Bank of Korea's gold buying is part of the long-term diversification of currencies and assets in foreign-exchange reserves," South Korea's central bank said in its statement. "It is of no great importance to try to gauge if it's profitable or not based on short-term price swings."
Russia and Kazakhstan expanded bullion reserves for a fourth straight month in January this year and the World Gold Council expects central banks to remain strong buyers this year after purchasing increased the most in 2012, after almost 5 decades.
If you are looking for some short-term gains, you might want to sell SPDR Gold and buy some SPDR S&P 500. Nonetheless, it must be remembered that unlike stocks and shares, gold does not produce any income, interest or dividends. In other words, it is not just a matter of investment for the investors. And more importantly, investors look upon gold as a "store of wealth," or as preservation of wealth. This will keep the gold prices rising, whether in times of inflation or deflation.
Disclosure: I have no positions in any stocks mentioned, and no plans to initiate any positions within the next 72 hours. I wrote this article myself, and it expresses my own opinions. I am not receiving compensation for it (other than from Seeking Alpha). I have no business relationship with any company whose stock is mentioned in this article.