CenturyLink, Inc. (NYSE:CTL) reported its earnings February 13, 2013 with an earnings surprise of -1.50%. However, it has managed to improve its top line revenue trends coupled with the improvement in its customer base. New capital allocation strategy will also support and enhance its growth opportunities. Further in the article, I will find out the intrinsic value of the company using the discounted free cash flow model and P/E valuation.
CTL is one of the largest telecommunication companies in the United States. With annual sales of $18.3 billion, it provides services such as network access, broadband, wireless, video services in around 54 data centers all across North America, Europe and Asia to businesses, consumers and government organizations.
New Capital Allocation Strategy
CTL has cut its dividends by around 25% from $0.725 to $0.54 per share coupled with an arrangement to buy back shares of $2 billion by February 13, 2015. Due to the unexpected cut back in dividends investors have reacted strongly as the share price experienced a significant decline. I believe investors' reaction was a little harsh because the basic rationale behind this strategy was to drive the top line growth and to increase the cash returns to shareholders in the form of share buybacks.
As mentioned by the CEO, the company wants to maintain its payout ratio to around 60% or less so the dividend cut was the right thing to do. Moreover, debt payments were also made to maintain the credit rating. After the 25% reduction in dividends per share CTL still maintains a very attractive dividend yield in a current low-yield environment.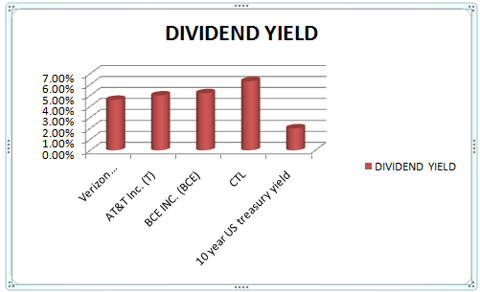 Valuation
To determine the share price, 30% weight will be assigned to debt and 70% weight to equity. Cost of equity and after tax cost of debt is 9.15% and 3.15, respectively, so the required rate will be 7.45%. Moreover, terminal year growth rate is assumed to be 1.0%.
$US Millions
| | | | | |
| --- | --- | --- | --- | --- |
| Years | 2013 | 2014 | 2015 | Terminal Value |
| Estimated Free Cash Flow | 3125 | 3268 | 3345 | 52380 |
| Discount Factor | 0.9307 | 0.8661 | 0.8061 | 0.8061 |
| Present value of Free Cash Flows | 2908 | 2830 | 2696 | 42224 |
Total value of firm= $50658 million
Total Debt= $20600 million
Total value of equity= $30058 million
Public market discount=20%
Public market value= $24046 million
Shares=620 million
Price= $38.78
P/E Multiple Estimate
| | | | |
| --- | --- | --- | --- |
| | 5-yr Average Historical P/E | EPS Forecast | Share Price |
| Bearish Case | 14.1x | $2.55 | $35.95 |
| Bullish Case | 14.1x | $2.79 | $39.34 |
Prices determined from both methods clearly indicate that CTL is undervalued, which indicates an expected rise in the share price. The bearish case also confirms the fact that the market needs to correct itself. Moreover, the assumptions used in the discounted free cash flow model are very moderate and my price target is within the range of $38-39.
Key Highlights of Financial Performance:
Annual operating revenues declined 1.7% for full-year 2012 as compared with 3.8% for full-year 2011.
Prism TV subscriber base increased by 10% as compared with previous quarter. Out of which, 50% of the subscribers were new to CenturyLink.
Significant increase of 4.8% in the strategic revenues, which reached up to $2.1 billion.
Due to access line losses and lower access revenue caused the legacy revenues to decline.
Free cash flow generation of $3.32 billion adjusted for special items and pension contribution.
Conclusion
CTL earnings slightly missed analysts' targets but it is well positioned to deliver strong performance in the years to come. I believe it's a great opportunity to take an exposure on CTL as it promised both price appreciation and high dividend yield. The large decline in the share price on Thursday morning was a panic attack by the investors (traders), which actually provides a great opportunity to enter as the prices are depressed.
Disclosure: I have no positions in any stocks mentioned, and no plans to initiate any positions within the next 72 hours. I wrote this article myself, and it expresses my own opinions. I am not receiving compensation for it (other than from Seeking Alpha). I have no business relationship with any company whose stock is mentioned in this article.