MoSys (NASDAQ:MOSY) CEO, Len Perham stated on February 1, 2013 that 2013 would be a pivotal year. I know many on Wall Street do not take a CEO's words as buy signals, but I believe this comment from Len should be taken very seriously, especially after Tuesday's news: "MoSys Announces 100G Multi-Mode Gearbox PHY For Networking And Communication Line Cards and Modules."
To the average retail investor or basic hedge fund follower, this announcement was mumbo jumbo, but after numerous conversations with industry contacts, I believe that this is a brand new product line for MoSys. The 100G Gearbox opens new markets with the same target customers for Bandwidth Engine I, II and III. This announcement is telling me that the company is now aligning itself with its customers and giving them value added solutions to industry wide hurdles in bandwidth.
The 100G Gearbox is a new integrated circuit (IC) that utilizes MoSys's SerDes technology and unlike the Bandwidth Engine chip, it does not contain memory. It's another bullet in MoSys' portfolio chamber when going to the table with customers or prospects. I believe this product was almost done on the fly and will come in at a much lower cost than the approximate $90 per chip average selling price (ASP) of the Bandwidth Engine chip. As a result, this new 100G Gearbox will increase MoSys's addressable market by several hundred million dollars in 2014 and beyond. I also believe MoSys will bring additional SerDes related products to the market in 2013.
MoSys addressed investors at the Roth conference yesterday which unfortunately will not reach all of the 208 Seeking Alpha followers on the name, but if Piper's meeting last week is any indication then MOSY could break out to $5.75 - $6.00 in the weeks ahead.
Chart: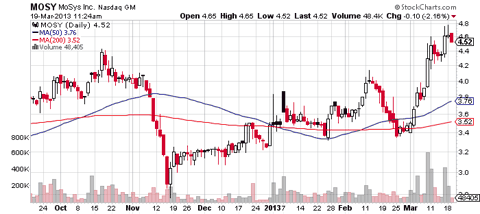 This week, MoSys broke out to a new 52-week high. As it digests it recent move higher with a sideways move on light volume, I'm looking for another break-out in the next 3-4 days as it continues its momentum move higher.
Partners:
I believe that Tuesday's news will have caught the attention of the networking companies who are MoSys' potential partners such as Cavium Networks (NASDAQ:CAVM), Broadcom (BRCM), EZ Chip (EZCH) and LSI Corp (NYSE:LSI). MoSys has just demonstrated that it can get a quality product out there quickly. This is something that these companies value and with such a quick turnaround it will increase its chances of getting key positions on their next generation of line cards.
Catalysts:
I now expect the company to deliver a full plate of optimism and possibly good solid concrete news in Q2 and the second half of 2013 when they report earnings in late April 2013. The stock now seems to have flushed that 6 million share hedge fund out of the shares and the upside of MOSY can now be expressed with what I believe to be a handful of good news items potentially to come.
Benchmark Reiterates Speculative Buy Rating:
Yesterday, Benchmark's Gary Mobley reiterated his buy rating on MoSys after its 100G Gearbox release. This is important to me because it tells me that Gary as an industry veteran with potentially some of the best contacts in the food chain took his time to write up on the name before the company delivers solid evidence of success, hence a customer order or an increased quarterly revenue estimate. Remember, just last month Gary said a win with Cisco Systems (NASDAQ:CSCO), or Juniper Networks (NYSE:JNPR), or Alcatel-Lucent was imminent. These are the types of customers that MoSys has announced it is targeting on its corporate presentation.
Roth Capital and Piper Jaffray:
I believe Roth Capital and/or Piper Jaffray will initiate coverage on MoSys sometime between now and post earnings. Investors should step in and buy MoSys now ahead of any initiation. With a small float, an initiation could cause a spike in the shares as institutions rush into the name. I believe that the downside is limited and the upside is as big as some of the bio-techs we all missed out on in 2012. I'm feeling very bullish that more coverage is coming in the weeks ahead.
The analysts do not want to miss out on Len Perham's last kick of the can especially when he's bringing unexpected products to the market that open up the total available market (TAM) for MoSys. I fully expect more positive news from the company in the short, medium, and long term. The legend has spoken, the legend has just finished his first quarter investor conferences and I believe that if you don't own this name on this slight pullback you'll miss a chance to become a legend yourself in what is proclaimed to be a pivotal year.
Disclosure: I am long MOSY. I wrote this article myself, and it expresses my own opinions. I am not receiving compensation for it. I have no business relationship with any company whose stock is mentioned in this article.