Mexico is attractive from a political economic and market structure standpoint.
Since 2009, Mexico's economy has grown at a rate of around 3-5% per year. Not quite China's hyper investment-driven growth but still respectable and probably more sustainable.
Remarkable stability
Inflation has also been stable ranging around 3-5% since 2009. In fact, the economy has been so stable that the reduction in benchmark interest rates announced earlier this March was the first time the central bank adjusted rates since mid-2009. No other emerging market has had this level of macroeconomic stability.
Mexico's political system is relatively stable too. Although the PRI returned to power after a 12-year hiatus, there appears to be consensus among the major parties about what reforms need to be undertaken. That is remarkable from a developed market standpoint.
Finally, for investors looking to capitalize on this favorable macro-political backdrop, the structure of the country's equity market lets us own companies that have relatively large exposure to domestic growth.

iShares MSCI Mexico Capped (NYSEARCA:EWW) is the only Mexico dedicated ETF. EWW has the most direct consumer sector exposure of any emerging market country ETF.
Consumer sector exposure - select country ETFs

EWW holds large companies active in the beverage, retail, telecoms, materials, industrials and financials sectors of Mexico. EWW is somewhat concentrated with its top 12 of 48 total holdings representing 67% of total fund.
iShares MSCI Mexico Capped - top 12 holdings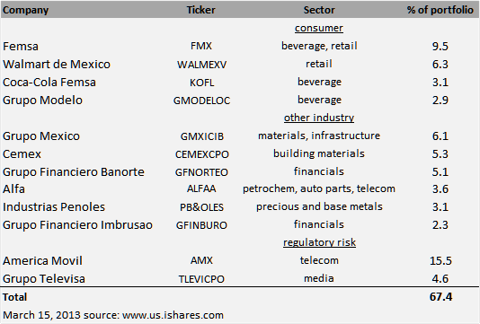 EWW follows the MSCI capped index methodology designed to limit any single issuer to a 25% weight in the fund and limit the sum of all issuers representing more than 5% of the fund to not exceed 50% of the fund's total assets. This is to protect the fund from being too concentrated in a few holdings. EWW is a large and liquid fund trading over $185m/day.
Policy Risks
Two major listed companies in Mexico - America Movil and Grupo Televisa - have benefited from policies that have discouraged competition in their respective sectors; telecoms and TV broadcasting. The new government, led by Enrique Pena Nieto and his party (PRI), has indicated that they may be ready to introduce competition into both sectors. It remains to be seen how aggressively the telecoms and media markets will be liberalized, but it is safe to assume the process will move ahead. America Movil and Grupo Televisa together represent 20% of EWW's portfolio. Their weighing in the fund has come down recently. In late 2012, America Movil alone represented around 22% of the fund's total holdings.
Mexico is young
An important feature of Mexico's investment case is its young demographic. Over 55% of Mexicans are 30 years old or younger. This will be an important long-term driver since 30+ year olds work, save, spend and invest. Some also borrow money for items like cars, homes and other durable goods. This powerful economic growth driver is well in place.
Macro is good
The Mexican economy and inflation are both growing at around 3-5% per annum. This moderate situation enabled the central bank to cut interest rates by 50bps to 4% in early March. Despite the surprise rate cut, the Peso strengthened and has appreciated by around 3% over the past six months.
Mexico's economy depends heavily on trade and particularly exports of manufactured goods. Manufactured goods represent 71% of Mexico's total exports with 79% of its total exports going to the United States. A mere 2% were destined for China. Mexico runs slight budget and trade deficits representing 1-2% of GDP. Unemployment is also low at around 5%.
Reforms appear to have political support
The Mexican government has laid out a reform agenda that the incoming government looks set to continue. At least that is the campaign the leading PRI party campaigned on. Initiatives to reform labor laws and bring more workers into the 'formal' economy and allow labor contracts to be more flexible. Successful implementation of these reforms could create hiring incentives and increase the country's tax base.
Further steps to open the energy market to foreign investment and restructure taxation are delicate steps and could be supportive. The government is considering plans to raise VAT on certain items and close loopholes to simplify the tax system. In addition, pressure may be put on local governments to raise taxes and be less dependent on the federal government. Reform will be challenging as with any country. Fortunately Mexico's leadership appears to recognize this and any progress on reform would be welcome by the markets.
Good from a macro and structural standpoint
Investors seeking exposure to emerging markets need to look no further than Mexico. The invest-able market is structurally one of the most attractive in emerging markets with large exposure to consumer driven companies and industries that can benefit from Mexico's development. The country is also on the cusp of important reforms that will hopefully improve the investment climate. The economy has been moving along at a steady clip and Mexico's demographic profile is attractive. For long-term investors in emerging markets, Mexico is a must own.
Disclosure: I am long EWW. I wrote this article myself, and it expresses my own opinions. I am not receiving compensation for it (other than from Seeking Alpha). I have no business relationship with any company whose stock is mentioned in this article.