If investors thought it was difficult to get federal government approval for projects such as export facilities, new coal mines, and new oil and gas pipelines, it is about to get much, much more difficult. The impact will adversely affect coal mining companies Arch Coal (ACI) and Peabody Coal (BTU), pipeline operator and owner of the proposed Keystone XL pipeline TransCanada (NYSE:TRP), electric utilities seeking to build a nuclear power plant such as Duke (NYSE:DUK) and Dominion Resources (NYSE:D) , and timber companies looking to expand logging such as Plum Creek Timber (NYSE:PCL).
According to a recent article published on Bloomberg titled, Obama Will Use Nixon-Era to Fight Climate Change, the administration is about to issue an executive order to mandate a climate change impact study accompany most all federal permitting processes. The review is not just an environmental impact study on the U.S. environment, but on the global climate as well. For instance, companies looking to acquire a permit to build a coal export facility will now be subject to scrutiny concerning the impact of burning coal in China.
For example, Ambre Energy Ltd. is seeking a permit from the Army Corps of Engineers to build a coal-export facility at the Port of Morrow in Oregon. Under existing rules, officials weighing approval would consider whether ships in the port would foul the water or generate air pollution locally. The Environmental Protection Agency and activist groups say that review should be broadened to account for the greenhouse gases emitted when exported coal is burned in power plants in Asia.
The new guidelines for permitting will include a review of the impact of refining heavy oil from the tar sands in addition to the environmental impact of the construction and operation of the pipeline and will directly influence the building of the Keystone pipeline.
This added regulatory hurdle will be detrimental to expansion of U.S. energy interests on government land and anywhere federal approval is required. For instance, there are currently 10 nuclear power plant combined license applications for new reactors pending at the Nuclear Regulatory Commission. There are over 1.25 billion tons of new coal mining applications pending in the Powder River basin alone. There are over 5.8 million acres of oil and gas leases on federal lands in which the industry has expressed an interest.
Below is a chart from the Bureau of Land Management that outlines the number of well bores spudded on federal land from 1988 to 2012. All of these will be subjected to the new Climate Change Environmental Review.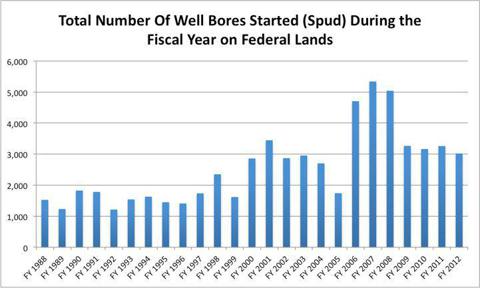 Since the Counsel of Environmental Quality CEQ first announced its proposal, more than three dozen federal approvals were challenged on climate grounds, including a highway project in North Carolina, a methane-venting plan for a coal mine in Colorado, and a research facility in California, according to a chart compiled by the Center for Climate Change Law at Columbia University.
Energy investors need to carefully watch the outcome of this new push by executive order. While it may be overturned by future administrations, the legal precedents adopted by this process will live on. This far-reaching move will affect coal-mining, oil and gas drilling, power plant construction, electric transmission projects, logging, off-shore energy development and all aspects of energy development that requires federal approval.
Come to think of it, this executive order will affect just about everything we do with our national energy resources. All energy investors should take five minutes to read and appreciate the attached article.
Author's Note: Please review important disclaimer in author's profile.
Disclosure: I have no positions in any stocks mentioned, and no plans to initiate any positions within the next 72 hours. I wrote this article myself, and it expresses my own opinions. I am not receiving compensation for it (other than from Seeking Alpha). I have no business relationship with any company whose stock is mentioned in this article.