Over the past year, shares of Anglo Gold Ashanti Ltd (NYSE:AU), one of the world's largest gold miners, are down more than 36%. However, there are three reasons to consider buying AU.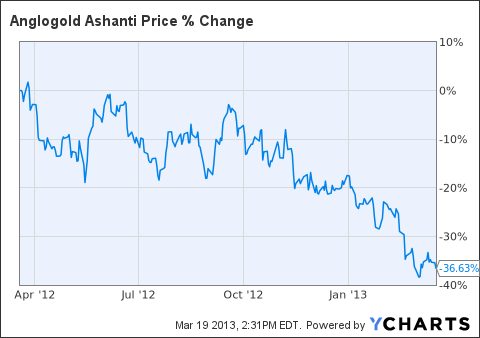 AU data by YCharts
Correlation Break Down With Gold
As shown by the chart below, AU shares are trading at the same level as they were when gold was trading well below $1,000 per ounce. The failure for AU shares to move at least somewhat higher given the surge higher in gold is surprising. Yes, in 2012, AU faced its fair share of production issues but the real value in AU is its underground reserves. In my opinion, investors have been much too focused on the short-term issues with the mining operation itself and not focused enough on the increase in value of underground reserves.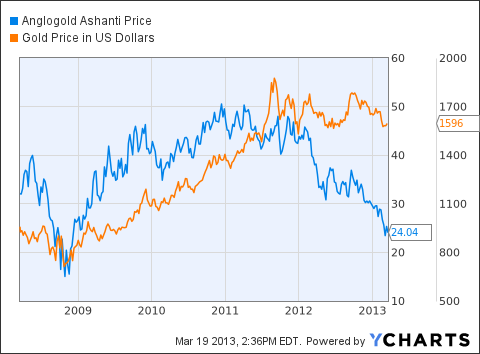 AU data by YCharts
Valuation
As shown by the chart below, AU is trading at historically low valuations. AU famously eliminated its hedging program in 2010. Of course, this was a good decision as gold prices have moved sharply higher since 2010. However, I am of the opinion that it is time for AU to evaluate some strategic alternatives given the company's depressed valuations.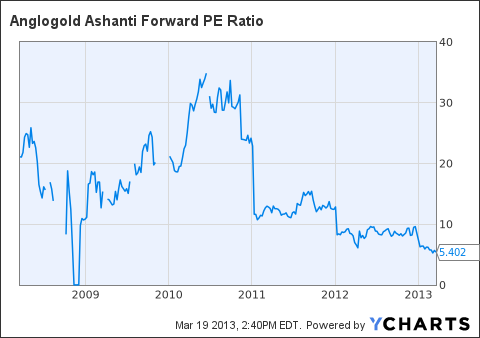 AU Forward PE Ratio data by YCharts
Paulson Exploring AngloGold Split To Increase Value
On February 1, 2013, hedge fund manager John Paulson, AU's largest shareholder proposed that AU split into two companies, a mature South African company and a faster growing international company. I am of the opinion that this would be a positive move for shareholders. However, I believe that there are a variety of alternatives available to gold mining companies looking to bring out value. I recently argued that the world's largest gold miner Barrick Gold (NYSE:ABX) could be a private equity target. Similarly, I believe AU could be a possible private equity target. In any event, Paulson's activism is a positive development for shareholders.
Conclusion
Despite AU's recent struggles, I believe there are reasons to consider buying the stock. AU's lack of consideration for the increase in gold prices over the past five years, current valuation, and activism from hedge fund manager John Paulson are all reasons to consider buying the stock.
Disclosure: I have no positions in any stocks mentioned, but may initiate a long position in AU over the next 72 hours. I wrote this article myself, and it expresses my own opinions. I am not receiving compensation for it (other than from Seeking Alpha). I have no business relationship with any company whose stock is mentioned in this article.