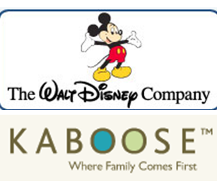 By Robin Wauters
Disney Online, the online publishing business unit of Disney Interactive Media Group (DIMG), announced Wednesday morning that it has acquired a number of assets from Toronto, Canada-based firm Kaboose, in a deal worth CAD 23.3 million (approximately $18.4M). The acquisition encompasses Kaboose.com and other properties including Babyzone.com, AmazingMoms.com, Funschool.com and Zeeks.com.
The assets of Kaboose, which was founded about 10 years ago, will be integrated into Disney Online's line-up of websites.
This network boasts, according to the press release citing comScore Media Metrix figures for February 2009, more than 27.6 million unique visitors per month, making it the No. 1 Community-Family & Parenting Web destination. Kaboose says it received nearly five million unique visitors in February 2009.