Over the past year, shares of Open Table Inc (NASDAQ:OPEN) are up more than 46%. However, there are three reasons why I believe OPEN will continue to rally.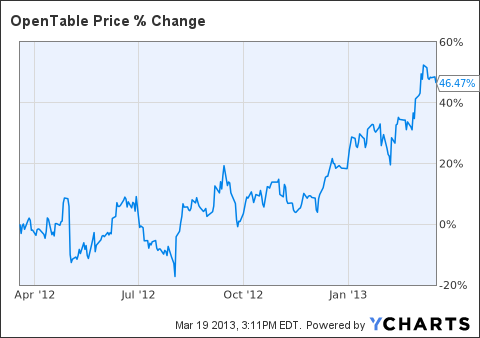 OPEN data by YCharts
Valuations
As shown by the chart below, despite the increase in the stock price, OPEN is trading at a historically low forward PE ratio. Of course, it is difficult to argue that a forward PE ratio of 40 is cheap. That being said, considering the stock once traded at a forward PE well over 100, the current 40 seems pretty reasonable. There is another metric by which OPEN is attractive and that is based on market cap valuation. Currently, OPEN is valued at $1.4 billion. OPEN is the market leader when it comes to online reservations, a market place that shows no signs of slowing. To me, OPEN certainly has the potential to be worth multiples of its current valuation if the company is able to continue on its current path. Perhaps, investors can compare OPEN to great success stories in the online travel booking business such as Priceline and Expedia. Speaking of Priceline and Expedia, OPEN could make an interesting acquisition target. What if, in addition to providing flights, hotels, and travel activities Priceline or Expedia could offer restaurants as part of a vacation package? The possibilities are endless. Yahoo has also been rumored as a possible buyer of OPEN.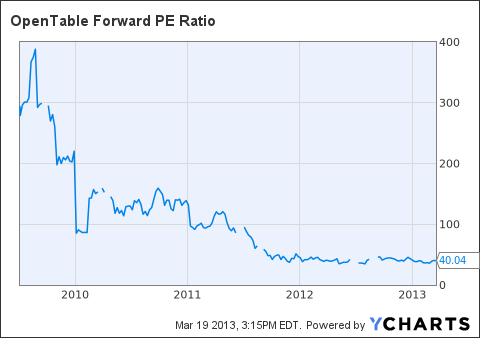 OPEN Forward PE Ratio data by YCharts
Short Interest
Currently, short interest in OPEN stands at 5.29 million shares or 33% of the float. The massive short interest indicates that, despite the sharp move higher, there are still many skeptics about OPEN. This is bullish because it means many investors can still be converted to the bull camp. Also, the high short interest means that, given positive news, OPEN shares could soar as shorts are forced to cover.
Improving Economy
Given the stock market's recent move to all-time highs, along with strong unemployment numbers, it is fair to say the economy is getting stronger. OPEN is poised to benefit from this. As consumers feel better, they are more likely to go out to restaurants to eat. This should lead to something of a boom for the restaurant industry as a whole. Due to this, more restaurants may have the funds needed to support OPEN, which charges restaurants a one-time fee and a monthly fee.
Conclusion
Despite the recent rally, I expect OPEN shares to continue moving higher. The current valuation relative to historic norms, high short interest, and potential benefit from an improving economy are all reasons why OPEN can continue to rally.
Disclosure: I have no positions in any stocks mentioned, and no plans to initiate any positions within the next 72 hours. I wrote this article myself, and it expresses my own opinions. I am not receiving compensation for it (other than from Seeking Alpha). I have no business relationship with any company whose stock is mentioned in this article.