Lululemon (NASDAQ:LULU) is, admittedly, one of my absolute favorite brands out there right now. I love almost everything about them - I love the way they focus on having a yoga-based company in the midst of yoga's massive growing popularity. I love its sleek and clean look. I love its simple, modest logo. I love its stores' layout, and most of all I love how scores and scores of fit women meandering around my city look in its clothing.
(all pictures from lululemon.com)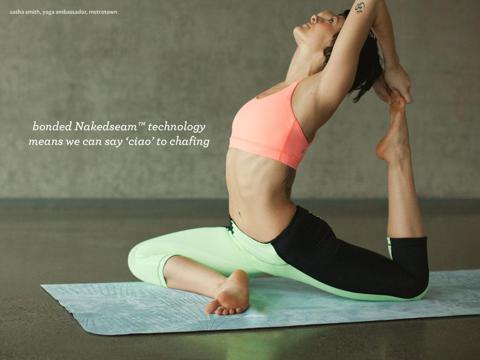 (Click to enlarge)
I have been investing in LULU off and on for years. I took my first position in 2011 after noticing an alarming number of women walking around the Midwest city I live in while donning their clothing. Women and their yoga mats wandering the city on Saturday mornings were nothing new; what was new was the logo adorned strategically on said women's clothing that was often "in the right spot to be noticed".
With a different, yet probably equally as arousing for some investors, kind of "sexy appeal" is Lululemon's 3 year chart.
Here's LULU's vitals, as of 3/20/13:
| | |
| --- | --- |
| Range | 63.71 - 64.48 |
| 52 week | 52.20 - 81.09 |
| Open | 64.18 |
| Vol / Avg. | 234,626.00/2.47M |
| Mkt cap | 9.20B |
| P/E | 39.57 |
| | |
| --- | --- |
| Div/yield | - |
| EPS | 1.61 |
| Shares | 144.16M |
| Beta | 2.17 |
| Inst. own | 39% |
I had a great run with LULU, buying up to the $50's in 2011 and cashing several profits on calls and stock as it began its bounce in the high $60's and low $70's. I haven't had a position since early 2012; not because I didn't believe in the company, but because I didn't have powder during buy opportunities and was occupied with interest in other projects. The recent "see through" issue has put LULU back in the spotlight, so I feel like it's a great time to reaffirm my argument that this company is:
Going to be around for years
Trades at an aggressive P/E ratio but deserves it
Could easily double in market cap
Has tons of untapped growth potential
The only see-through problem this company is having right now is that investors fail to "see through" all the pomp and circumstance of a temporary downgrade and reduction in revenue due to, what some men would probably not even refer to as a mistake.
Relax, ladies, just some good natured humor.
The Buying Opportunity
LULU has shown explosive growth over the past few years and is poised to continue that growth. The pullback on its stock recently is from a PR from the company stating that its Luon pants were being recalled due to being too "sheer". Subsequently, it lowered guidance for the quarter. Lululemon said:
Lululemon estimated that the affected items represent approximately 17 per cent of all women's bottoms in its stores, which will result in a shortage of the affected styles.

The company said the affected pants were available in its stores beginning on March 1.

Shoppers who bought black Luon pants after that date, either online or in stores, are welcome to return the defective pants, the Vancouver-based company said.

"We regret any inconvenience this has caused for our guests," Lululemon CEO Christine Day said in a statement.

"It is always our first priority to protect the quality of our fabrics that keep our guest so loyal to our products. We will accept nothing less than the very highest quality we are known for."

Up to March 17, Lululemon says it was on track for a comparable-store sales increase of 11 per cent on a constant dollar basis and revenue in a range of $350 million to $355 million for the first quarter of the year.

Lululemon now expects comparable-store sales to be up five to eight per cent and revenue in a range of $333 million to $343 million.
Subsequent to this, the stock has been downgraded by several analysts and has recently plunged.
Two words: buying opportunity. This is called a "growing pain". It's a one-time issue that I'm sure is going to cost its in the short-term, but its quick handling of the problem and assurance of respect for the customer means that it's not likely to lose any long-term business over this problem. Furthermore, if it does lose a microscopic amount of business over this, it'll be more than made up from the segments where LULU still has massive growth potential.
With the stock almost 20% off its highs in the $81 region, LULU remains a sure fire buy here.
In addition, LULU calls are getting some action as bullish traders eye up earnings on Thursday:
Bullish bettors have been zeroing in on Lululemon Athletica inc. (NASDAQ:LULU - 66.29)today, which is on tap to report fourth-quarter earnings later this week. More than 7,900 calls have crossed the tape so far, which is almost triple the stock's anticipated intraday call volume. A large portion of today's trading seems to be focused on the newly minted front-month series of options, with speculators hoping for LULU to climb higher over the course of the next few weeks.
Growth Potential
There is tons of room for growth for Lululemon. To get things started, its important to note that the company's primary focus, to this point, has been targeted at women and yoga. The company has 201 locations. Compared to a company like Gap (NYSE:GPS) with over 3,000 total locations, you can see the retail layout for growth is significant.
Something that I notice every once in a small while, is men wearing Lululemon. While I have several of their products myself, it hasn't even come close to catching on yet with men. Once this company expands and decides they want to throw money and resources into a campaign to target some of these clothes to men, they're going to find an entire avenue of success that they haven't even BEGUN to tap into yet.
Furthermore, in that respect, Lululemon is eventually going to start branching out into general athletic wear, not just yoga-based clothing for women. This is a very natural progression for companies that get their start making athletic wear of sorts. They will capitalize on running and tennis clothing, then other sports. Eventually, that will lead to bolstering of general activewear, which can then [like Under Armour (NYSE:UA), Adidas (OTCQX:ADDYY), Puma, Nike (NYSE:NKE)] move straight up into retail clothing.
If there's something that we could learn from Adidas and Puma, it's that moving the line from activewear to everyday wear is possible. Furthermore, it's possible by the way both of these companies did it: they slapped a bit of a higher price tag on their merchandise, and bolstered their image to give the appearance of it being a premium brand. Then, they engaged in serious sportswear sponsorships that got their name, image and logo everywhere.
Lululemon already has that with its price points. The sponsorship thing could be forthcoming in the future. It would be prudent to start with sponsoring gymnastics, tennis, and other female-oriented sports; then from there, move forward. Like other crossover retail/activewear companies such as Under Armour, Columbia Sportswear (NASDAQ:COLM) and North Face, Lululemon has serious potential here. The market for people wearing these brands as everyday fashion and not just for exercise purposes has never been bigger.
Lululemon "gets it". Its style is not unlike their logo or store layout: it's simple, modest, not gaudy, but still hip and extremely stylish. Ultimately, this is going to yield it big growth with the "retail" crowd as well as the "exercise" crowd.
There Are Still Bullish Analysts
Analysts are also still suggesting that LULU is a buy, even in the face of its recent PR folly:
Following Lululemon's announcement that it expects a yoga pants shortage and a "significant impact" on its financial results due to a see-through pant recall, the stock posted its worst three-day loss since August intraday on Tuesday. After the warning, several analysts cut their price targets, but many still maintained "buy" ratings on the stock, citing Lululemon's continued potential for high growth.

"That bucks the trends of the entire retail industry when you think about the macro issues going on in February-the adverse weather that was there," she added. "So the underlying business is healthy-there's a ton of consumer demand. They continue to be the leader in what is the single best growth category in apparel retail."

ISI Group remained even more bullish on Lululemon's growth story with a $100 price target and a "strong buy" rating on the stock. Analysts said the quality issue should be temporary in nature, adding that "it is still one of the best long-term growth stories in all of consumer discretionary, and we would be buying on the pullback."

ISI suggested that the company's relatively small supply chain has been overworked to build inventory and boost comparable sales growth. It added that the company needs to take a more direct interest in its supply chain, an opinion that other analysts echoed.
Let's look and see how LULU fits in, market cap-wise, with the aforementioned companies:
| | |
| --- | --- |
| Nike (NKE) | $48.98 billion |
| Adidas (OTCQX:ADDYY) | $21.53 billion |
| Gap (GPS) | $17.30 billion |
| Lululemon (LULU) | $9.20 billion |
| Under Armor (UA) | $5.11 billion |
| Columbia (COLM) | $2.0 billion |
Conclusion
To say that Lululemon is overvalued is to not consider fully its potential market for growth. With a P/E of about 30 and a $9.20 billion market cap, LULU looks like a healthy juggernaut of a growing company that should be able to continue at or beyond the rate of growth it was sustaining before its recent PR folly. This investor is betting that the ensuing yields from LULU will be as sexy as the fine men and woman that wear their brand.
As always, best of luck to all investors.
Disclosure: I have no positions in any stocks mentioned, but may initiate a long position in LULU over the next 72 hours. I wrote this article myself, and it expresses my own opinions. I am not receiving compensation for it (other than from Seeking Alpha). I have no business relationship with any company whose stock is mentioned in this article.