By Cagdas Ozcan
Questcor Pharmaceuticals (QCOR), a biopharmaceutical company, offers drugs for the cure of multiple sclerosis, infantile spasms and nephrotic syndrome indications. It mainly provides H.P. Acthar Gel, which is an injectable drug for the treatment of acute exacerbations of multiple sclerosis in adults. The company experienced headwinds due to unpleasant industry news. Aetna's (NYSE:AET) Clinical Policy Bulletin on the ineffectiveness of Acthar Gel in some patients had an extremely negative effect on the stock.
The stock was trading for as high as $55 before Aetna's policy bulletin. However, as of the time of writing this article, Questcor stock was trading at around $32.70, with a 52-week range of $17.25 - $58.91. It has a market cap of about $1.9 billion. Questcor has a P/E ratio of 10.3 and forward P/E ratio of 8.1. P/B, P/S and P/CF ratios stand at 11.8, 4.0 and 9.4, respectively. The operating margin is 58.2% while the net profit margin is 38.8% and the company has no debt.
Out of eight analysts covering the stock, five have a buy recommendation, one believes the stock will outperform and two analysts have a neutral recommendation. We have assumed an average five-year annualized growth rate of 7%, which is substantially less than the lofty growth rates attached by the market. We have decided to be on the safe side and we have kept our assumptions conservative.
We can estimate Questcor's fair value using our discounted earnings plus equity model as follows.
Discounted Earnings Plus Equity Model
This model is primarily used for estimating the returns from long-term projects. It is also frequently used to price fair-valued IPOs. The methodology is based on discounting the present value of the future earnings to the current period:
V = E0 + E1 /(1+r) + E2 /(1+r)2 + E3/(1+r)3 + E4/(1+r)4 + E5/(1+r)5+ Disposal Value
V = E0 + E0 (1+g)/(1+r) + E0(1+g)2/(1+r)2 + … + E0(1+g)5/(1+r)5 + E0(1+g)5/[r(1+r)5]
The earnings after the last period act as a perpetuity that creates regular earnings:
Disposal Value = D = E0(1+g)5/[r(1+r)5] = E5 / r
While this formula might look scary for many of us, it easily calculates the fair value of a stock. All we need is the current-period earnings, earnings growth estimate, and the discount rate. To be as objective as possible, I use Morningstar data for my estimates. You can set these parameters as you wish, according to your own diligence.
Valuation
Historically, the average return of the DJI has been around 11% (including dividends). Therefore, I will use 11% as my discount rate.
In order to smooth the results, I will also take the average of ttm EPS along with the mean EPS estimate for the next year. The average EPS for Questcor is $3.04. Average five-year growth forecast is 7%. Book value per share is $11.81.
Fair Value Estimator

V0

E0

$3.04

V1

E0 (1+g)/(1+r)

$2.93

V2

E0((1+g)/(1+r))2

$2.82

V3

E0((1+g)/(1+r))3

$2.72

V4

E0((1+g)/(1+r))4

$2.62

V5

E0((1+g)/(1+r))5

$2.53

D

E0(1+g)5/[r(1+r)5]

$23.00

BV

Equals

$11.81

Fair Value Range

Lower Boundary

$39.68

Upper Boundary

$51.49

Potential

57.45%
(You can download FED+ Fair Value Estimator, here.)
I decided to add the book value per share so that we can distinguish between a low-debt and debt-loaded company. The lower boundary does not include the book value. According to my 5-year discounted-earnings-plus-book-value model, the fair-value range for Questcor is between $39.68 and $51.49 per share. At a price of about $32, Questcor is trading below the lower boundary of its fair value range. The stock still has up to 57% upside potential to reach its fair value maximum.
Summary
After losing more than 50% of its market cap in September, Questcor is steadily moving upwards. The stock returned about 25% so far in this year.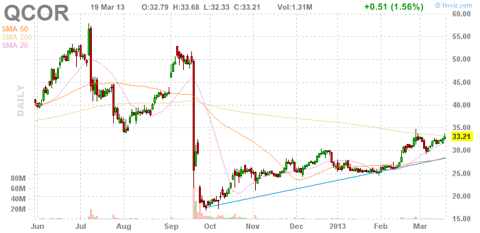 Our fair value model indicates that the stock has substantial upside potential. We have used conservative estimates; as a result, we believe that the upside potential can even be larger than the numbers given by the model. It should be kept in mind that Questcor stock suffered heavily last year due to the reports that Acthar might lose insurance coverage. Furthermore, the marketing practices of the company also came into question, which also resulted in a price decline. However, based solely on the operations, Questcor is one of the most profitable companies in the market, and it has beaten analyst estimates for ten consecutive quarters. We believe that Questcor will continue to be profitable, and it will be a good investment for short-term as well as long-term.
Disclosure: I have no positions in any stocks mentioned, and no plans to initiate any positions within the next 72 hours.
Business relationship disclosure: EfsInvestment is a team of analysts. This article was written by Cagdas Ozcan, one of our equity researchers. We did not receive compensation for this article (other than from Seeking Alpha), and we have no business relationship with any company whose stock is mentioned in this article.