If you're a dividend investor and looking for something to help juice the yield on your portfolio, you have to like what you're seeing in REITs right now. Do a simple search on the highest yield REITs out there and you'll find several on the list with yields of 10% or more. Moreover, valuations on many of these REITs - some of which reside in the single digits - mean that some of them deserve a look for the income-producing part of your portfolio.
Savvy investors know very well that an investment that seems too good to be true often times is and REITs that carry a double digit yield and a single digit P/E could very well fall into that category. REITs in general are not without some downside risks and the major ones are discussed here.
Dividend Risk
REITs are generally considered an excellent diversification tool for portfolios because their characteristics and behaviors are often so different than those of other equities. REITs are required to pay out almost all of their income in the form of dividends so investors look for that yield as the major source of total return on their investment as opposed to other equities that see much of their return come in the form of capital appreciation.
Therefore, the risk that current payout ratios are unsustainable and dividends get cut is very real. Payout ratios on REITs are highly dependent on economic and cyclical factors. As interest rates and/or mortgage defaults start rising, dividend payouts are at greater risk of being reduced.
Prepayment Risk
Decreasing interest rates can pose a danger to REITs as well. As rates drop, prepayment activity tends to pick up through people selling their homes or refinancing their existing mortgages. Higher rate mortgages get paid off and ultimately get replaced by securities with a lower yield pushing the potential dividend yield down.
Interest Rate Risk
As mentioned above already, rising interest rates can change the fortunes of a REIT in a hurry. Higher interest rates tend to result in narrower spreads and lower book values for mortgage-backed securities.
As a result of spread income narrowing, the REIT suddenly is generating less income and has less income to pay out to shareholders. Depending on how rapidly the yield curve starts shifting, changes to the dividend payout rate could potentially be swift and severe.
Operational Risk
Analysts will often examine a REIT's funds from operations as much if not more than its net income or reported earnings. This is done to give a truer measure of a REIT's performance. GAAP requires that REITs depreciate the value of its underlying properties. The fact that these property values generally tend to appreciate over time can make REIT income appear lower than it actually is. FFO takes the bottom line net income number, adds back those depreciation and amortization expenses and subtracts any gains from property sales to arrive at an "adjusted" net income number. FFO is essentially designed to strip away the accounting and non-operational noise to give a better idea of how the REIT is performing.
As we look at individual REITs, we'll look at the reported earnings numbers as well as the funds from operations.
The potential for downside in both a rising and falling interest rate environment means you need to look for REITs that have solid management teams with a history of weathering different interest rate environments while sustaining and growing the REIT's dividend.
The following three REITs fit the bill.
Annaly Capital Management (NYSE:NLY)
Annaly is generally considered one of the best managed REITs in the market and it has the numbers to back it up. The stock is currently trading at about a 2% discount to its book value which suggests that despite its recent growth the stock is not necessarily overvalued. It also carries a P/E ratio of around 9 and an 11.50% dividend yield.
But the question of how sustainable that dividend is definitely applies to Annaly. Take a look at the recent quarterly dividend payouts for Annaly.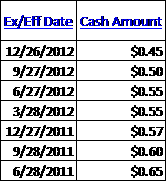 Annaly has been steadily dropping their dividend payouts for the last several quarters and it's worth questioning if this trend should be expected to continue.
The upside is that Annaly just reported solid 4th quarter earnings, has a strong management team in place and should expect to see its bottom line bolstered by the acquisition of Crexus Investment (NYSE:CXS) - a company that will help broaden Annaly's market exposure to commercial paper.
Apollo Commercial Real Estate Finance (NYSE:ARI)
Apollo may be an even better value play than Annaly right now.
Its P/E ratio of 10 and 9.3% dividend yield stand among the best in REITs but those aren't the only numbers you should consider. Apollo is currently trading at a 12% discount to book value which means there's still room for the stock to run.
Further, consider Apollo's dividend distribution history.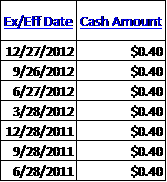 Annaly's dividend payouts may be dropping but Apollo's have been solid as a rock. A steady 9% dividend yield paired with a significant discount to book value positions Apollo as a solid value play.
Starwood Property Trust (NYSE:STWD)
Starwood deals mainly with commercial mortgages and properties and while its financial ratios might not jump out at you in the same way as Annaly's and Apollo's do - it carries a P/E of 16 and a dividend yield of "just" 6.2% - this REIT very much belongs on the list.
Starwood delivered a huge 4th quarter. In that quarter alone, it generated a huge 38% jump in year over year earnings and originated over $1 billion in loans. And, like Annaly, it's getting in the merger and acquisition game. In January, Starwood announced that it will buy LNR Property to expand its commercial real estate portfolio.
Net Income vs. Funds from Operations
Returning to the discussion of FFO, here's a side-by-side look at the net income and funds from operations numbers from all three REITs.

It's interesting to note that while Annaly has the lowest net income per share number of the three by far it also has the highest FFO per share number by far too. That's due in big part to a significant difference in depreciation adjustments between the three. Depreciation expense was a huge factor in Annaly's FFO per share whereas the negative depreciation for Starwood actually helped reduce FFO when compared to net income.
Conclusion
In spite of some of the broad economic challenges that will continue to face the real estate industry, these three REITs would make an excellent core holding to the income portion of your portfolio.
Each has a unique profile - Apollo presents a compelling value, Starwood looks primed for expansion and Annaly has arguably the best management team - and each warrants consideration for your portfolio.
Disclosure: I have no positions in any stocks mentioned, and no plans to initiate any positions within the next 72 hours. I wrote this article myself, and it expresses my own opinions. I am not receiving compensation for it (other than from Seeking Alpha). I have no business relationship with any company whose stock is mentioned in this article.