I have always found one of the most important traits successful investors have is realizing when sentiment is starting to turn on a stock. Finding market laggards that are about to turn into swans can significantly improve portfolio performance. Being a contrarian, I consistently take positions in stocks that are cheap but currently unloved by the market. Doing this successfully requires patience, discipline and courage. Buying these types of equities or adding to existing positions right as sentiment starts to turn on the stock can net one some big winners. It is one of the key reasons I had some huge profits in a myriad of refining stocks in 2012. I got in them during the first half of the year when they were anything but market darlings and rode them to huge gains as sentiment and fundamentals changed on the sector. Here are three stocks that have been laggards versus the overall market over the last six months (See Chart 1) but whose performance has significantly improved recently (Chart 2). They could produce big gains if sentiment has truly turned.
Chart 1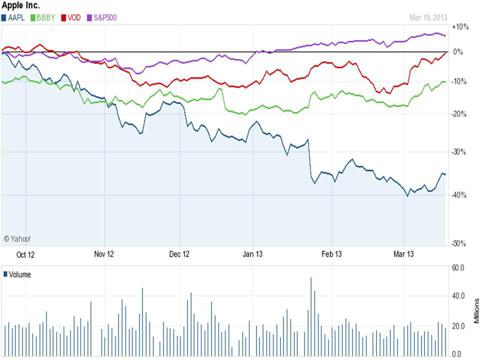 Chart 2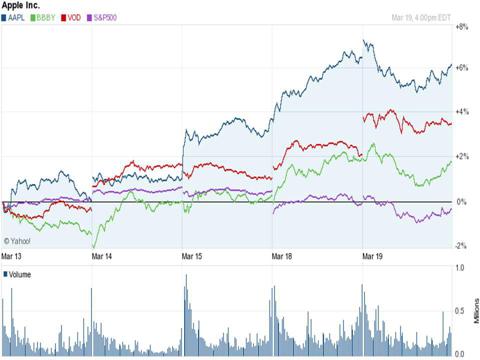 Apple (NASDAQ:AAPL) -
What changed recently - After falling over 280 points over the past six months, the stock has been quite strong over the last week. Two developments are driving this turnaround. First Samsung's Galaxy S IV launched with less than overall stellar reviews. Second, it appears a significant change in the company's dividend payout will be forthcoming over the next few weeks.
Valuation - The stock is cheap using about any valuation metric one cares to use. AAPL has a five year projected PEG way under 1 (.54) and sells for just over 6x 2014's projected earnings once you subtract the almost $140B in cash and short term marketable securities it has on hand. AAPL trades at the bottom of its five year valuation range based on P/E, P/B, P/CF and P/S. The shares also yield 2.4% which is about to go substantially higher.
What will keep the momentum going - Apple has two key catalysts on the horizon. Obviously the first one is their decision on dividend payout/policy. At a minimum I would expect at least a 50% increase in its payout which will give the shares an over 3.5% yield and attract new income orientated investors. The second big catalyst will be its next earnings report a little over a month away. Investors will key in on the company's guidance going forward. Given how pessimistic analysts have been on the company recently, there is probably a good chance the tech giant exceeds dismal expectations.
Bed, Bath & Beyond (NASDAQ:BBBY) -
What changed recently - The company was a subject of a recent glowing Barron's piece. The magazine called the shares undervalued by some 25% and could be worth more than 40% in a buyout. The article also alluded it is the type of business Warren Buffett typically looks to acquire. In addition, reports around the health of the housing market continue to be positive.
Valuation - BBBY sells for just over 12x forward earnings, a discount to its five year average (15.5). It also sells at a five year projected PEG near 1 (1.05) and is expected to produce approximately 7% revenue growth in the year ahead. It has efforts underway to transform its online presence (it only gets 5% of its sales via the internet) and add consumables (Ex, Beer & Wine) to some of its stores. It also has bought approximately 25% of its outstanding stock float back over the last decade from free cash flow.
What will keep the momentum going - The housing recovery is real and appears to be accelerating. Investors who missed the huge run ups in the homebuilders and retailers like Home Depot (NYSE:HD) and Lumber Liquidators (NYSE:LL) over the last year and a half will look for backdoor housing plays like Bed, Bath & Beyond or Williams Sonoma (NYSE:WSM) which just reported a blowout quarter.
Vodafone (NASDAQ:VOD) -
What changed recently - The driver of Vodafone's recent stock market gain is obvious. Verizon (NYSE:VZ) is finally serious about buying out Vodafone's 45% stake in Verizon Wireless. David Einhorn has stated recently, and I agree, that the market is placing little to no value on VOD for this asset. The sale would be worth anywhere from $106B to $137B according to the Wall Street Journal.
Valuation - VOD sells for just 25% over book value. For comparison, Verizon sells at over 4x book value and AT&T (NYSE:T) sells for more than 2x book value. VOD yields just under 5.5% based on 2012's dividend payouts. Despite the juicy dividend, the stock sells at just over 11x forward earnings.
What will keep the momentum going - The buyout of Verizon Wireless makes too much sense to not think it is has a high probability of happening. Interest rates are low, Verizon Wireless is performing well and it would eliminate the need for Verizon to continue to pay a dividend (around $10B annually) to Vodafone. Citigroup believes Verizon could easily raise $80B in debt to make this happen. If the deal goes off at the mid-point of valuation (say $120B), this will leave Vodafone with over 300mm customers for a market cap of around $65b for its non-Verizon wireless businesses. It will also have the financial flexibility to continue to expand its presence in emerging markets. I would have to believe the shares have to climb into at least the low 30's from $28 if deal is struck.
Disclosure: I am long AAPL, BBBY, VOD. I wrote this article myself, and it expresses my own opinions. I am not receiving compensation for it (other than from Seeking Alpha). I have no business relationship with any company whose stock is mentioned in this article.