In reviewing the core holdings of the Team Alpha Retirement Portfolio, I try to find stocks that have a balance of the ingredients I look for in a sound income producing portfolio: Quality products and brand, mega-cap blue chips, dividend paying winners or opportunities, and a dash of capital appreciation potential.
Our Team Alpha portfolio now consists of Chevron (NYSE:CVX) Apple (NASDAQ:AAPL), McDonald's (NYSE:MCD), Exxon Mobil (NYSE:XOM), Johnson & Johnson (NYSE:JNJ), AT&T (NYSE:T), General Electric (NYSE:GE), BlackRock Kelso Capital (NASDAQ:BKCC), KKR Financial (KFN), Procter & Gamble (NYSE:PG), CSX Corp. (NYSE:CSX), Realty Income (NYSE:O), Coca-Cola (NYSE:KO), Annaly Capital (NYSE:NLY), Cisco (NASDAQ:CSCO), Bristol-Myers Squibb (NYSE:BMY), Healthcare Select Sector SPDR (NYSEARCA:XLV), and iShares S&P U.S. Preferred Stock Index Fund (NYSEARCA:PFF).
Here is a breakdown of business sectors that offer us strong diversification:
| | | | | | |
| --- | --- | --- | --- | --- | --- |
| Energy | Technology | Financial | Consumer | Health | Industrial |
| XOM | CSCO | BKCC | KO | JNJ | GE |
| CVX | T | KFN | PG | BMY | CSX |
| | AAPL | PFF | MCD | XLV | |
| | | O | | | |
| | | NLY | | | |
I believe that the portfolio could use a large consumer oriented stock with a truly great brand name to go along with KO, PG, and MCD. As of the last update, the portfolio has a cash position that could easily be deployed to add another core holding:
| | | | |
| --- | --- | --- | --- |
| Stock | #Shares | 02-27-PPS | TotValue |
| XOM | 100 | 89/shr | 8900 |
| JNJ | 100 | 76/shr | 7600 |
| T | 250 | 36/shr | 9000 |
| GE | 500 | 23/shr | 11500 |
| BKCC | 600 | 10/shr | 6000 |
| AAPL | 20 | 449/shr | 8740 |
| PG | 100 | 76/shr | 7600 |
| KO | 100 | 38/shr | 3800 |
| XLV | 200 | 43/shr | 8600 |
| PFF | 100 | 40/shr | 4000 |
| O | 200 | 45/shr | 9000 |
| KFN | 600 | 11/shr | 6600 |
| NLY | 200 | 15/shr | 3000 |
| CSCO | 400 | 21/shr | 8400 |
| CVX | 50 | 116/shr | 5800 |
| BMY | 175 | 37/shr | 6475 |
| MCD | 100 | 97/shr | 9700 |
| CSX | 200 | 23/shr | 4600 |
| Cash Rsvs | x | x | 5871 |
| Tot Value | x | x | 135186 |
While there are hundreds of companies around that could offer some of the ingredients I noted above, Ford Motor Company (NYSE:F) seems to have everything going for it these days.
A 3% dividend yield could also just be the beginning for this stock. A 14% payout ratio gives me a hint that dividend increases could also be right around the corner.
A Peek Under The Hood
Just by looking at a basic chart, a dividend seeking investor can see that the metrics are all there for us to consider holding this stock in our portfolio.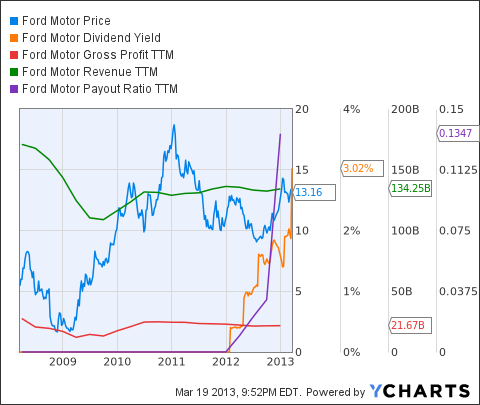 It is no secret that Ford has turned its business around since the depths of the 2007-2009 recession. It has also been hailed as a company that did not take any taxpayer money to bail itself out. In less than 4 years the company has once again become an icon of American manufacturing, even if plenty of the cars are made everywhere around the world.
The company is healing fundamentally:
$134 billion enterprise value.
$25 billion in cash (a 1-4 ratio of debt however).
An operating cash flow of about $9 billion is servicing its debt handily.
A current dividend yield of 3.02% with a payout ratio of only 14%.
Roughly $22 billion in gross profits on about $134 billion in revenues.
The overall business is not perfect of course, and headwinds are still swirling. Highlighted by a 21% drop in sales in Europe. All the major auto manufacturers fell in Europe as the economy in those countries continue to struggle.
Ford closed some major facilities in the face of the weak economy:
Ford is cutting back its European production capacity with three plant closures to stem regional losses.......Ford's F.M sales dropped at twice the rate of the overall market's decline for a third straight month, dropping 20.8 percent to 53,660 cars.
At the same time, Ford has been enjoying a 100% increase in sales within China. It might not be surprising to some since Ford has only recently begun to enter the market in China in a much larger way. In many ways, the sales in China has offset the decline in Europe.
As noted in the report:
Ford pushed forward a surprise sales improvement in February 2013, Ford's wholesale sales reached 105,209 units compared with 71,954. Focus sales nearly doubled in February, with 24,734 wholesales sold compared to 12,592 in February last year.

On the heels of the introduction of the highly anticipated all-new Kuga, Ford launched the Focus ST-the very first Ford performance car to come to China-and announced the pre-sale price for the sleek all-new Fiesta.

Ford will continue with its expansion plans in the Chinese market over the next few months with the introduction of the Ecosport and also the Ford Explorer as well as the facelift Mondeo later this year.
On top of that, Ford also announced that USA sales were up by 9% during this same timeframe. I suppose that is a strong indication of a healing US economy as well. As a result, the company is actually expanding right here on home turf.
The company said it plans to increase North American production by 9 percent in the second quarter compared with the second quarter of 2012.
Given all of these facts, Ford has shown itself to have not only rebuilt the company, but has become very nimble in taking a proactive approach to the markets it does business in.
When a platinum brand name company is offering shareholders a dividend of over 3% to own its shares, I want that stock in my portfolio.
The Bottom Line
I think we could be facing more of the Euro "soap opera" for awhile and it just might be the catalyst the market needs to have a pullback. If that scenario actually comes to fruition, I believe we could add Ford stock at a fair entry price of about $12.25-$12.50/share, in which I will be placing a limit order for 300 shares tomorrow.
If there is no market pullback, I will re-evaluate the price at which I add shares, but Team Alpha will eventually have a position in Ford.
Disclaimer: Please make sure you do your own research and due diligence. This article is not a recommendation to either buy or sell any security and is just the opinion of the author.
Disclosure: I am long AAPL, BKCC, BMY, CSCO, CSX, GE, JNJ, KO, MCD, NLY, O, PFF, T, XLV, XOM. I wrote this article myself, and it expresses my own opinions. I am not receiving compensation for it (other than from Seeking Alpha). I have no business relationship with any company whose stock is mentioned in this article.