Recent times put a huge emphasis on the mobile market. Music on the go, phones, tablets, computers… everything has to be on the move with people to fit their daily lives, and a huge participator in this race is Samsung (OTC:SSNLF). One of the best known electronics companies at this point in time, Samsung is always keeping up with the times to make sure it can stay at the top of its field, and the advent of the Galaxy S4 is no exception. That said, Samsung always has to keep an eye on its biggest competitor in the cellular phone market: The Apple (NASDAQ:AAPL) iPhone.
Comparing Apples to Galaxies
Both have their merits and downfalls, but the Galaxy and iPhone lines are two of the biggest competitors on the market when comparing Android and iOS phones. There are a few things people look for when comparing phones, though. Starting with the iPhone, the main camera is 8 megapixels, with a front camera of 1.2. The Retina display boasts a resolution of 1136x640 pixels across a 4 inch screen. The phone sports the ability to connect to 4G LTE, as well, with a starting price of $649.99 (no contract). The Galaxy S4 has a 13 megapixel rear camera, with a 2 megapixel front camera. While the front cameras aren't really powerful and are used, mainly, for video calls, the rear camera on the Galaxy has much more potential to take better pictures. With its 5 inch, super AMOLED screen with a resolution of 1920x1080 pixels, the clarity of the Galaxy's screen can be said to be much higher. Unfortunately, there has not been a price set for the Galaxy S4, but we can expect prices to be similar to its predecessor at around $550 - $600. That's a significant drop compared with the iPhone.
Market Competition
Even the best products can find a tough time making sales without the proper marketing. Samsung realized this and took note of what Apple has done in the past, holding an event at the Radio City Music Hall in NYC. With over 3000 attendees, Samsung made a huge entrance with the new phone. Among the attendees, there were numerous groups, including reporters, Samsung employees, and even fans who are big on tech toys. Of course, when looking at this, it can be helpful to take a look at the market shares of the bigger competitors. The iPhone held 25.1% of the market in 2012, while Samsung held a whopping 39.6%. Samsung has a cheaper product, as stated in the prices of the S3 and the iPhone 5, above, but there is one key factor that helps Samsung achieve this. Samsung produces a majority of its parts internally, allowing for cheaper production of the electronics. Apple, on the other hand (for the iPhone 5), has lenses made by Largan Precision, casings made by Catcher Technology, and the phones are later assembled by Foxconn. This causes Apple to have a higher price tag, which makes it more difficult to gain ground in market share in many countries in the world.
How Does This Look, Financially?
Having specific portions of the market share can always help in a company's profitability. Apple reported revenue of $164.69B. This was a growth of 17.7%, so Apple still proves to be doing very well, but its stock is still down about 24% from last year at this time. Samsung on the other hand has posted revenue of almost $181B. That's about 17 billion dollars more than Apple. Its growth was 18.5%, and the stock is up nearly 40% compared with this time last year. After viewing these statistics, it is obvious that Samsung is moving in the right direction, while Apple is trying to catch up.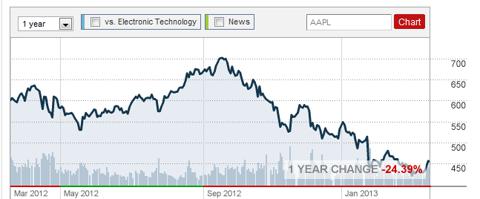 Click to enlarge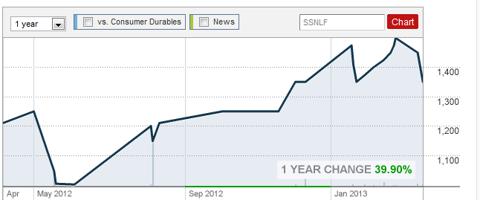 Click to enlarge
Summing It Up
While Apple is certainly a strong competitor, Samsung will be sure to keep pushing forward, and striding toward the top of its game. The S4 shows a lot of promise with the new features unveiled for it. The new features, like being able to pause a video simply by looking away from the screen and being able to scroll through web pages without ever touching the screen will certainly appeal to current fans of the company's phones, and will be sure to attract new customers, as well. Having used an Apple tactic with the Radio City event, Samsung has taken a huge step forward pushing its new phone out onto the market. The revenue numbers also portray the potential to grow even further; this is evident in the stock performance compared with Apple. As a result, Samsung will definitely be a company to keep an eye on for the future.
Disclosure: I have no positions in any stocks mentioned, and no plans to initiate any positions within the next 72 hours. I wrote this article myself, and it expresses my own opinions. I am not receiving compensation for it (other than from Seeking Alpha). I have no business relationship with any company whose stock is mentioned in this article.