While political scandal drips from Malaysian headlines, the iShares MSCI Malaysia Index Fund (NYSEARCA:EWM) has been gathering momentum in recent months, moving from the No. 10 spot on our international momentum table at the end of 2008 to the No. 7 spot on March 24. While newer emerging-market ETFs, particularly those focused on a single country, have failed to gain traction in a slowing economy, EWM's 12-year track record has resulted in solid investor interest, making the fund viable for investors willing to make the uncertain Malaysian gamble.
Like other country-specific emerging market iShares funds,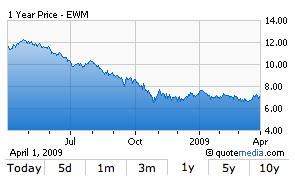 EWM tracks a capitalization-weighted slice of the local stock market, taking into consideration investment restrictions and unavailable strategic shareholdings. The iShares MSCI Malaysia Index comprises 43 Malaysian equities that trade on the local exchange. The most heavily weighted sector in the index is financials, composing nearly 30% of the index. Other prominent areas in the index are industrials, consumer staples and utilities. Malaysia, which depends on global trade to sustain much of its economy, has been devastated by the global economic meltdown. Exports have already collapsed by a third, and current predictions claim that the Malaysian economy could shrink as much as 5% this year. Politically, the situation in Malaysia is also grave. The political structure in Malaysia is faltering beneath a slew of scandals and legislative lockup. The head of the main opposition party is currently awaiting trial on sodomy charges, while the Malaysian state legislature has been debating who should govern for six weeks.
Bumiputra-Commerce Holdings Berhad, EWM's largest holding, belongs to Malaysia's financial sector. Bumiputra-Commerce provides consumer banking, corporate and investment banking, international banking, and other related services in Malaysia, Indonesia and other countries. In a March 19 interview at a private banking conference, BCHB CEO Datuk Nazir Razak asserted, "We have to do our credit valuations, but when there's a sharing of credit losses, you will increase the potential credit." Malaysia's banking system has been slowed by tighter credit checks in recent months and the resulting delay of lending approval. Malaysia's finance minister, Datuk Seri Najib Razak, announced in early March that the government would try to promote lending with a RM60 billion economic stimulus package. The government hopes that the guarantee of some business loans and corporate bond sales could spur the lending market in 2009.
Sime Darby Berhad, the second-largest component in EWM, is the merged entity of three former Malaysian corporations. Sime Darby Berhad primarily bases its business in plantations, property, motor, heavy equipment, energy and utilities. Grouped under its Allied Products and Services division are also healthcare, insurance and home products. While the majority of Sime Darby Berhad's business is conducted abroad, in Malaysia the company owns a controlling share in the supermarket chain Tesco. If the Malaysian market emerges strongly from the global economic downturn, the energy and utilities sectors of the company could grow larger with the increasing population.
The IOI Group, EWM's third-largest holding, actually comprises two listings on the Bursa Malaysia: IOI Corporation Berhad (Plantation) and IOI Properties Berhad (Properties). Like Sime Darby Berhad, the IOI Group is one of the world's leading palm oil producers. While other sectors of the economy have been hammered by trade downturns, plantations in Malaysia have offered some investors relief from the deluge of negative data. A higher threshold of levy payment has been proposed, a move that could promote efficient plantation farmers in the future. AmInvestment Management announced that it was selectively buying plantation stocks in early March, noting their defensive qualities. Andrew Won has begun accumulating shares of well-managed Malaysian plantation companies for their more defensive qualities but is avoiding construction shares, as he expects the industry to remain depressed in the current economic downturn.
Analysts tracking the Bursa Malaysia recently noted that the March 11 stimulus package did not give the anticipated boost to the market. While analysts worldwide are tuned to the U.S. financial banking system for clues, traders have begun to scour developing economies like Malaysia's for bargains. So far EWM's methodology has embraced some of the more "recession proof" areas of the Malaysian market, but prospective investors would be advised to stay tuned to developments abroad and EWM's underlying index.