By Matthew Bradbard
Cocoa prices have been in a steady decline over the last seven months, with May futures lower by 20%. As seen in the chart below, the 9-day MA (red line) just crossed over the 20-day MA (blue line). This has not happened, with the exception of a one-day whipsaw in January, since late November. What's more, it appears we may be finding value in the $2,050 range as prices held on a test of this level two weeks ago and are currently trading about $100 higher.
A longer-term perspective shows cocoa's drop is even more dramatic. In early 2011, cocoa futures traded nearly 75% higher than current levels. And futures were 25% higher just six months ago.
On a relative basis cocoa appears inexpensive to me. Looking back at a weekly chart, futures have not closed under $2,000 since late 2011. I am going out on a limb here ... drawing a line in the sand around the $2,050 level.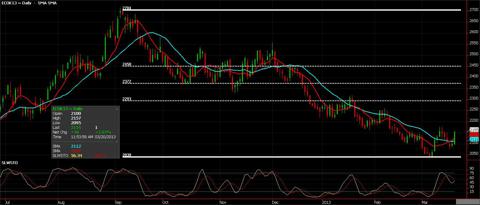 The crux of the problem - why cocoa prices are lower - is sluggish demand, predominantly in Europe. After all, chocolate is viewed as a luxury item ... so perhaps a loaf of bread is a necessity, but when Arianna or Henrich are worried about their employment, or if their money is safe in the bank, they may not be willing to splurge on a chocolate bar. If we start to see signs of improvement in Europe, we should see cocoa demand return.
While I don't expect prices to leap to the levels seen last fall, I do feel it's reasonable to expect a retracement higher, to the 38.2% Fibonacci level at a minimum, and potentially the 50% level (see chart). This move would lift May futures to roughly $2,370.
I'm recommending clients to work into bullish exposure, using the Fibonacci levels as profit-taking objectives. I suggest trading in the July contract, where I see better open interest in the 2200, 2300 and 2400 strikes, relative to the May contract.
I have two favored ways of gaining bullish exposure to cocoa:
1.) Buy futures and sell out-of-the-money (OTM) calls 1:1.
2.) Buy futures while simultaneously buying protective puts 1:1.
Risk Disclaimer: The opinions contained herein are for general information only and not tailored to any specific investor's needs or investment goals. Any opinions expressed in this article are as of the date indicated. Trading futures, options, and Forex involves substantial risk of loss and is not suitable for all investors. Past performance is not necessarily indicative of future results.
Disclosure: I have no positions in any stocks mentioned, and no plans to initiate any positions within the next 72 hours. I wrote this article myself, and it expresses my own opinions. I am not receiving compensation for it. I have no business relationship with any company whose stock is mentioned in this article.