I consider myself a value investor, and typically I try to avoid speculative investments. Although as the father of value investing Benjamin Graham put it, if you do want to try your luck at this game feel free to do so with a small portion of your funds (say 5%) and just remember going in the risks involved and that this is not for the faint of heart.
With that said, I won't go into what is classified as speculation and what is not, a debatable topic in itself, but just suffice to say that in my definition I typically consider turnaround plays that have rapidly lost market share and have negative reported earnings as speculative. There is a high risk that they cease to exist in a few years, but if they do successfully release a new great product and recapture some of the old lost magic the stock is likely to appreciate significantly.
So with these thoughts in mind, I have come to look at BlackBerry, Research in Motion Limited (NASDAQ:BBRY). I think this stock is a worthwhile speculation today, as it has shown the new BB10 is a good product, the stock has seen life recently, and any signs of market share gains and investors could see 50-100% upside in a very short period. On the downside if BB10 fails to capture much share and falls out of favor in the coming months I think the stock will not have nearly as much to drop as it is already priced with quite low expectations. Although the downside risk is substantial in my opinion, I believe the overall risk/reward is more favorable on the upside. To this end, below I've outlined several key points to support my thesis.
The Reemergence of BlackBerry - Is it Real?
As I stated in a recent Apple (NASDAQ:AAPL) article, consumers are extremely fickle when it comes to gadgets and technology such as smartphones. Things can change in a heartbeat. Those who are long-term investors or followers of BlackBerry are all too painfully aware of this. About four years ago the company had 40% or more market share in the U.S. and today this has dropped to single digits. This recent Gartner chart, published in the Financial Post shows its share eroded even further in 2012: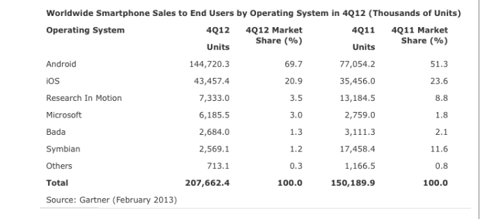 Sales were similar to Microsoft (NASDAQ:MSFT), with only 3.5% share in Q4 2012.
This being said, now is a make or break moment for the company, as the long awaited BB10 OS is being released. The new z10 goes on sale for Verizon customers in the U.S. next week, and has already been available in Canada and the UK for some time. If BlackBerry can show some traction in the coming months after the release, and give any indication that it can emerge as the clear number three player in this market then the stock will appreciate nicely.
Blackberry has traditionally been strong in the enterprise and I think this is where it has the biggest chance to regain share. The new BB10 features Balance, Hub and Protect, which are market differentiating tools that should attract some buyers. I particularly like Balance here, which gives users a very simple and clever way to differentiate their corporate and personal usage of the phone. This is extremely appealing not just for organizational purposes but also security. On a personal note I use a company iPhone as my primary device (also for personal usage), and it would definitely be much better if I could easily separate these two on the phone. For me, this type of differentiation is important and is one example that BB10 is the real deal and has significant chance at winning over enterprise customers again, especially with the strong focus on security.
So far there have been some positive reports about early sales being better than expected - for example RBC recently boosted estimates for the fiscal Q4 of 500k units from 350k. The company also announced a huge order of 1 million units from an established customer. However whether the company can beat expectations here is still very unclear - just a few weeks prior in February some analysts drastically cut estimates. One of the biggest problems was the delayed launch in the U.S. lowered expectations for the number of units to be sold.
I think one important point to realize here though is that this is the first major BlackBerry release since August 2011, which indicates there is likely substantial pent-up demand for the phone - remember, unlike companies such as Nokia (NYSE:NOK) with its Windows 8 Lumia line, BlackBerry has been an established platform for a long time and there were many loyal customers using the phones for years. Some of them have left the platform in recent years not by choice, but simply because their contracts were expiring and without new competitive phones on the market they reluctantly switched to Android or iOS. Now that the company finally has a new phone out which is receiving positive reviews and has features making it quite comparable to the top of the line smartphones on the market, many of this loyal fan base could be lured back. As the CEO stated in mid 2012, a secret weapon of the company is its 80m loyal customer base.
Evidence of this has been from several sources reporting that 50% of z10 sales in Canada and 33% in the UK have been to consumers who did not already own a BlackBerry.
Downside Risks
BlackBerry needs a very successful launch of the z10 and subsequent q10 phones if it is going to be a viable company going forward. The biggest risk I see with this is that the company has put itself in a situation, similar to the Windows phone ecosystem where it is so far behind Android and iOS it will take a really great innovation at this point to regain significant share. One of the main problems here is that users really value the ecosystem that the phone can provide - in particular what apps are available. With only about 70,000 apps available in the initial store this isn't even competitive with the other platforms. Worse, some digging around and most users have concluded the number of "real" apps is significantly smaller. One example given on this blog, states that when you search for Twitter you will get more than 100 results, only 1 of which is the real app and many of the rest are launchers, search apps and other things of very little use.
Current Valuation
Despite negative GAAP earnings, BlackBerry has been cash flow positive in the paste year. Using the TTM FCF/share figure of $1.56, the market is currently assuming the company will only grow cash flow at about 4% per annum going forward, assuming a discount rate of 12%. If you take into account the more than $5/share in cash on the balance sheet, this gets a lot more interesting as the valuation is assuming negative FCF growth. I think in reality it is wise to assume some cash will be needed in the near future to aggressively continue to market the new platform and develop further innovation. I would therefore go on the conservative side here and be comfortable assuming that the market price currently is assuming a growth rate of about 0%. Also clearly with a P/S figure of 0.6, P/B of 0.8, and EV/EBITDA of 3.20 the expectations remain very low.
The Bottom Line
Looking at all of this, the question then is simply - what is a realistic growth rate for the company? Is it really not going to grow at all? For sure, the market share cannot really get much smaller at this point - at about 3%, I think BlackBerry has hit bottom there, especially with BB10 just released. I do not see it growing huge market share, but even an increase to say 5% would be a big initial turnaround.
With world wide smartphone sales set to grow another 30% in 2013 to 865 million units, if BlackBerry could capture 43 million of these (including both new BB10 phones as well as legacy phones) this could conceivably cause the stock to double. More importantly with strong growth of the overall mobile phone market continuing, even with margin compression or continuing restructuring of the company I find it hard to grasp that growth will really be 0%. Of course, I may be wrong and the risks do remain high as the company has a long way to go to restore sustained positive sentiment on its prospects and win back customers. If BlackBerry cannot develop a meaningful ecosystem quickly then the chance of growing share is reduced significantly. However for me the bottom line is clear: with a strong new platform released to initial positive reviews, this puts up a huge buffer, which lessens the downside risk considerably. The upside is therefore a lot more attractive, and BlackBerry is a worthwhile speculative play to consider for the riskier part of your portfolio.
Disclosure: I am long MSFT, AAPL. I wrote this article myself, and it expresses my own opinions. I am not receiving compensation for it (other than from Seeking Alpha). I have no business relationship with any company whose stock is mentioned in this article.
Additional disclosure: I may initiate a long position in BBRY in the next 72 hours.