In August, 2012, the government published the 2025 standards for automakers. The Corporate Average Fuel Economy (NYSEARCA:CAFE) standards require the average fuel efficiency of new cars and trucks to be 54.5 miles per gallon. It is important to note that not every vehicle must meet the 54.5 mpg standard as the standard does call for an average based on the type of vehicle. It is also important to understand the government measures fuel economy in a lab-like environment rather than in real-world situations.
The methods used to achieve the new standards will be varied whether it be start-stop technology using batteries, converting to gasoline direct injection or assembly improvements in welding and bonding. High-mileage technology and improvements in power trains and transmissions are already boosting fuel efficiency. But, there does appear to be consensus that the greatest opportunity to meet the standard is to reduce mass.
The steel industry touts that "Steel is the solution to achieve 54.5 MPG by 2025". Steel will accomplish this by reducing mass, improving fuel economy, reducing total emissions while providing safe vehicles. The automotive materials that are the best solutions are advanced high-strength steels.
At the Great Designs in Steel 2012 event, EDAG presented conclusions from a study entitled "Economic Lightweighting Options for High Volume Production Vehicle Structures for Year 2020 to 2025". The study found that mass reduction up to 23% was feasible. Performance and safety were maintained. The suggested retail price was within 10% of the 2011 price of the baseline vehicle - a midsize sedan.
Two companies capable of contributing to mass reduction in new vehicles are Material Sciences Corporation (NASDAQ:MASC) and Delphi Automotive (NYSE:DLPH). Material Sciences offers acoustical material-based solutions for the automotive industry. Delphi Automotive provides electrical and electronic, powertrain, safety, and thermal technology solutions to the automotive industry.
Material Sciences has a registered trademark on Quiet Steel® - "an engineered viscoelastic layer laminated between two sheets of steel to meet application-specific damping, temperature, stiffness and operating environment needs". At the 2012 Great Designs in Steel event, Material Sciences presented a case study on the future steel vehicle. The conclusion was:
"Quiet Steel® can provide mass and cost reductions, while meeting or exceeding noise, vibration and harshness targets, without changing the packaging space."
Delphi Automotive's engagement in fuel economy is best conveyed by the following slide from its recent Investor Day presentation: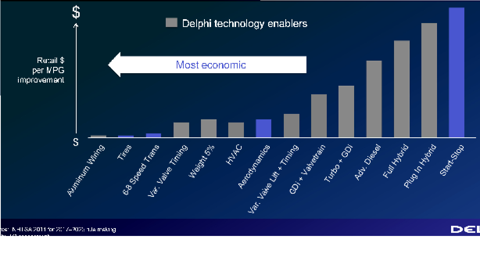 Material Sciences' revenue has weakened slightly from 2010 to date. Material Sciences lost some electrogalvanized business. Additionally, Ford (NYSE:F) converted to plastic fuel tanks impacting Material Sciences' coated products sales. While domestic sales have decreased, international revenues improved 21% from 2011 to 2012. Ample opportunity still existed globally as international sales only comprised 11% of Material Sciences' total revenue in 2012. To date, through nine months in fiscal 2013, international sales continue to improve, specifically for brake products in Asia.
Though revenue fell, earnings per share increased since 2010. In 2012, Material Sciences recorded a milestone year in EPS due to a tax reversal. Even without the adjustment, EPS improved 37% from 2011 to 2012. For fiscal year 2013 which ended in February, 2013, Material Sciences expects both revenue and EPS to decline to a pre-2011 level. On the positive side, it is debt-free and has an active share buyback program. Its long-term EPS growth estimate is 5%.
Delphi Automotive, on the other hand, experienced 15% growth in revenues from 2010 to 2012. Since 2009, new business bookings have almost doubled. EPS growth increased over 50% in the 2010 to 2012 timeframe. Delphi does have a total debt to equity ratio of 87 with $1.1 billion in cash but $2.46 billion in debt. In February, Delphi initiated an annual dividend of $0.68 paid quarterly. Analysts project a long-term EPS growth estimate of nearly 17% for Delphi.
Of the two companies, Delphi Automotive looks primed to deliver value both in the short term and longer term. Material Sciences presents a riskier proposition as it plows through a transitional year. Material Sciences is growing its business globally and with new products, just not yet at a pace fast enough to offset its business losses. Delphi, in China alone, has already experienced a faster growth rate than the market rate of auto purchases. Regarding the CAFE 2025 standard, Material Sciences offers Quiet Steel® to assist the automakers while Delphi has at least ten alternatives in motion.
Disclosure: I have no positions in any stocks mentioned, and no plans to initiate any positions within the next 72 hours. I wrote this article myself, and it expresses my own opinions. I am not receiving compensation for it (other than from Seeking Alpha). I have no business relationship with any company whose stock is mentioned in this article.
Additional disclosure: I may recommend DLPH to my investment club at the April meeting