Morgan Stanley upgraded BlackBerry (NASDAQ:BBRY) today to Overweight with a $22 price target, based on a sum-of-the-parts (SOTP) valuation. Approximately 75% of the target price (or $16.50 per share) comes from cash, working capital, fixed assets and patents. This does not seem like a ringing endorsement, but could establish a floor (though similar arguments have been used many times in the past). I wonder how much of the 9% intra-day jump in the stock came from short covering as opposed to new bullish investors. I am skeptical of Morgan Stanley's belief that "there may be room in the handset market for niche midrange players." When has that worked? As Apple's (NASDAQ:AAPL) situation has shown, the market can ignore valuation for a long time even for top companies. Are BlackBerry's prospects really that compelling, or is it just a breakup play? I prefer the strategy of "investing in the leader, or investing in the cheaper," not the niche midrange.
BlackBerry's Short Interest
Short interest in BlackBerry is very high. As of 2/28/2013, there were 147 million shares sold short, representing ~30% of the shares outstanding. With such a large short interest, it doesn't take much for a short squeeze. The following table shows the growing short interest in the stock: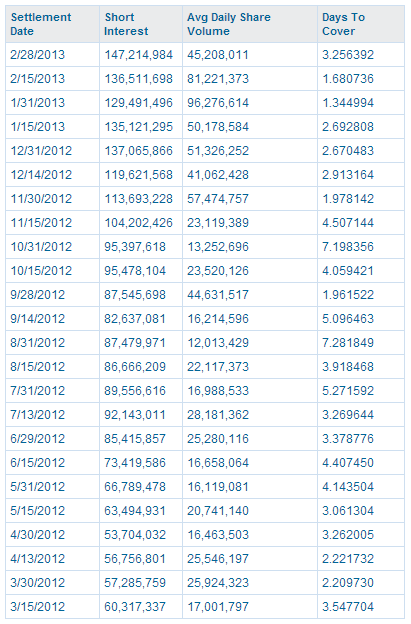 (Source: Nasdaq.com)
Niche Midrange
BlackBerry bulls likely argue that certain consumers and corporations will remain loyal to BlackBerry devices because of its strong enterprise platform, high levels of security, corporate inertia or personal taste. I agree that there will always be people who prefer using BlackBerrys, but I am skeptical that companies can thrive long term with a "niche midrange" strategy. I was the niche that used a Palm device and look what happened to that company. Going for the midrange is challenging in any industry, but especially an industry like consumer devices with a rapid innovation cycle.
How Bullish Is Morgan Stanley's Upgrade?
Morgan Stanley's upgrade seems bullish. The firm went from underweight to overweight over night. The new $22 price target replaces the previous target of $10. However, the assumptions underlying the upgrade seem less enthusiastic.
It seems that the basic argument is that BlackBerry is not going to go out of business and it has some tailwinds now, so BlackBerry can be valued with a SOTP.
In fact, the SOTP assumes that almost 75% of the target value comes from cash, working capital, fixed assets and patents. Interestingly, the 75% represents $16.50 per share, which is just above the current intra-day share price of $16.45 (as of the time of this writing). Clearly, cash, working capital, etc. can establish a floor and could represent the value in an M&A or breakup situation, but the question is should/will valuation matter.
Morgan Stanley doesn't expect BlackBerry to emerge as a strong 3rd mobile operating system. Isn't that the real battle for value?
Morgan Stanley makes interesting points about BlackBerry 10 and the impact on the gross margins that are worth noting. It is important to remember that if BlackBerry has enough cash and does not face significant cash burn, it can buy time to improve itself.
Will Valuation Matter? When?
Over the long term, fundamentals and valuation matter, but in the short term anything can happen. Maybe, BlackBerry will eventually achieve its theoretical valuation, but if you are looking at the long term, it is important to remember that there is tremendous turnover in the consumer device space and many companies eventually fail.
If valuation should matter, it is helpful to compare BlackBerry and Apple, another "cheap" stock. The valuation argument has not helped Apple lately.
AAPL data by YCharts
It is hard to argue with a SOTP valuation that derives 75% of the value from cash and the like. Furthermore, BlackBerry remains a potential M&A candidate and may achieve a premium to the stock price in an M&A deal.
I am more bullish on Apple and think its valuation will matter soon. Here is comparison of the valuations of the two on a P/E basis.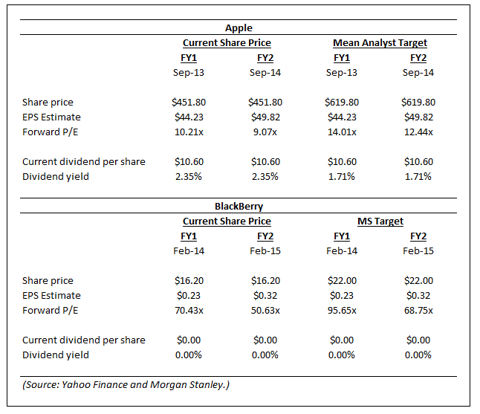 Click to enlarge
(Click to enlarge)
Conclusions
Investors and traders may have different interests in BlackBerry based on their timeframes. In the near term, short covering may move the stock up. From a long-term perspective, a SOTP analysis that establishes a floor, is far different from projecting a bright future. If the bull thesis is based on BlackBerry thriving as a niche midrange company, I am very skeptical. Shorting the stock has its risks, so I am staying away. BlackBerry's stock may work for a trade, but for a long-term investment my motto is buy the leader, or buy the cheaper.
Note
Morgan Stanley's research report is on Scribd. Somebody else put it there, not me.
Disclosure: I am long AAPL. I wrote this article myself, and it expresses my own opinions. I am not receiving compensation for it (other than from Seeking Alpha). I have no business relationship with any company whose stock is mentioned in this article. I may trade any of the stocks mentioned in this article at any time, including in the next 72 hours.
Disclaimer: Please note that I have no information about the actual plans of any of the companies mentioned in this article. I do not speak to the executives of these companies and these thoughts are purely my own observations. They may be accurate or not and any of the trends mentioned above could take a very long time to materialize, if at all, so please do your own homework. If you disagree with me, please feel free to comment below.
The opinions expressed above should not be construed as investment advice. This article is not tailored to specific investment objectives. Reliance on this information for the purpose of buying the securities to which this information relates may expose a person to significant risk. The information contained in this article is not intended to make any offer, inducement, invitation or commitment to purchase, subscribe to, provide or sell any securities, service or product or to provide any recommendations on which one should rely for financial, securities, investment or other advice or to take any decision. Readers are encouraged to seek individual advice from their personal, financial, legal and other advisors before making any investment or financial decisions or purchasing any financial, securities or investment related service or product.
Information provided, whether charts or any other statements regarding market, real estate or other financial information, is obtained from sources, which we and our suppliers believe reliable, but we do not warrant or guarantee the timeliness or accuracy of this information. Nothing in this article should be interpreted to state or imply that past results are an indication of future performance.