Seadrill Ltd. (NYSE:SDRL) gave a presentation at the Credit Suisse Energy Summit on February 5, 2013. In this presentation, Seadrill discussed the prevailing trends in the offshore drilling industry, particularly its current strength, and the company's position in this growing industry. As I have discussed in many previous articles, Seadrill occupies a strong position in this industry and that position could really pay off for investors in the company. I would recommend that all investors review the linked presentation for themselves but I will endeavor to point out the highlights and provide analysis here.
Seadrill is the second largest offshore drilling company in the world, boasting a market cap of $17.17 billion at the time of writing. The company was previously the largest offshore driller but Transocean's (NYSE:RIG) recent rally has vaulted it back into the number one position. The company currently owns and operates a fleet of 73 offshore drilling rigs, although an upcoming deal with SapuraKencana stands to reduce that count through the sale of sixteen tender rigs. This represents substantial growth over the past few years. In 2005, Seadrill had only five rigs.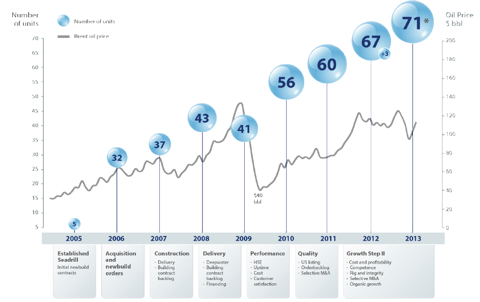 Source: Seadrill, Ltd.
This impressive fleet growth has been the reason for the company's strong EBITDA growth over the same period which will be discussed later in this article. It will also be responsible for strong growth going forward. This will also be discussed later in this article.
Seadrill is strongly diversified internationally, with rigs operating in all major offshore locations. This provides the company with some protection against regime risk.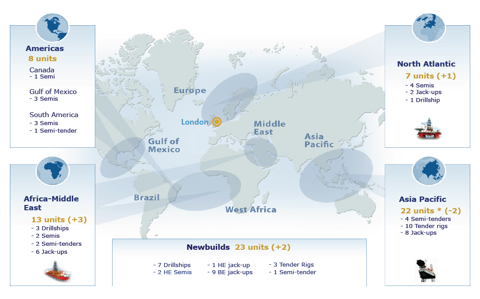 Source: Seadrill, Ltd.
As the graphic clearly shows, Seadrill has rigs operating in many different regions and nations with no overexposure to any one area. The company has its greatest exposure in the Asia Pacific region; however, most of this is due to the company's tender rig operations and that will be solved with the sale of that division to SapuraKencana. There are a few reasons why this global diversification is important. First and foremost is that it provides protection against the actions of any given government. The recent court proceedings against Transocean by authorities in Brazil and the actions of the Obama Administration following the Macondo disaster in 2010 provide proof of how important this protection is. This global diversification could also protect against events such as a nationalization. If a country took the unlikely action of nationalizing all of Seadrill's assets within its borders, the damage to investors would be far less than if the company had most of its assets located there. Secondly, offshore drilling is in some ways a regional market. Rigs can be moved from one region to another but this is a time consuming and expensive process. Additionally, different regions around the world have different dayrates with areas such as West Africa commanding a premium to areas such as the U.S. Gulf of Mexico. Some areas, such as the North Sea, require drilling rigs that have been specially fitted for harsh environment operations. For these reasons, you will sometimes hear drilling companies separate their respective operations into different markets with different dynamics.
2012 was a record-breaking year for offshore discoveries and this will act as a tailwind on the industry going forward. The interesting thing is that these discoveries were not all located in already established offshore regions such as West Africa and the Gulf of Mexico. In fact, the past year has seen discoveries in many areas which previously saw limited offshore development presence, including India, Australia, and Turkey.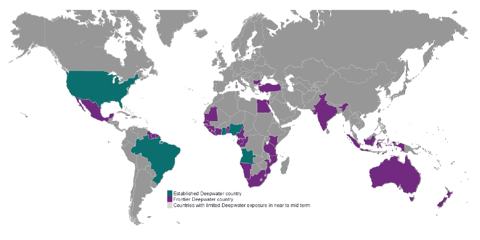 Source: Seadrill, DNB Markets
This represents market expansion and will increase demand for rigs going forward as oil companies seek to exploit and develop the newly discovered resources in these new regions. There also exists the possibility that some of these regions could have additional offshore deposits which would further increase demand for rigs to develop these resources. Exploration and Production companies may also begin demanding more rigs to use in exploring these frontier markets for additional resources. All of these factors will serve to increase the demand for offshore drilling rigs but will do nothing to increase the supply of rigs. This will push dayrates up.
Seadrill has embarked on an aggressive newbuilding program to profit off of this growing demand for offshore drilling rigs. This newbuild program consists of an impressive array of ultra-deepwater, jack-up, and tender rigs that looks to increase the company's presence in every offshore environment. All in all, the company has a total of 25 new rigs (including two jack-ups ordered after this presentation was given) that will come online between now and 2015, a good many of which have already been put under contract.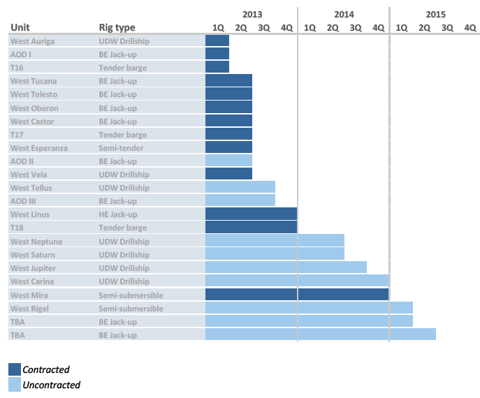 Source: Seadrill, Ltd.
These newbuilds will be Seadrill's primary source of growth going forward (the other being rising dayrates) and the fact that so many of them have already been put under contract all but guarantees that. Seadrill still has to secure contracts for its remaining newbuilds; fortunately, the favorable market conditions make it likely that the company can accomplish that. This should result in steadily growing cash flows over the next two to three years.
The company's forward growth will be a continuation of its strong historical growth. Since 2005, Seadrill has grown its EBITDA at a 43% compound annual rate. This growth is due to the aforementioned growth of the company's fleet over the same period. As already mentioned, the company's large number of newbuilds under construction will push EBITDA up further going forward.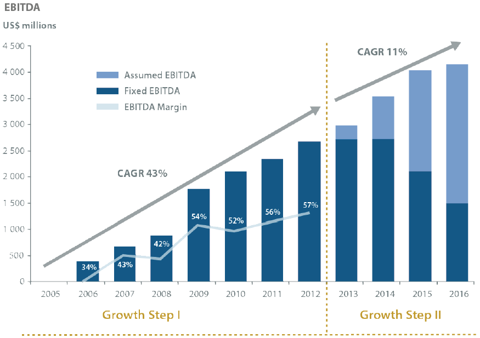 Source: Seadrill, Ltd.
Seadrill expects to grow its EBITDA at an 11% compound annual rate from now until 2016. While this is nowhere near as impressive as the 43% compound annual growth rate that the company achieved over the 2005-2012 period, it is still respectable. Shareholders should also expect to see the company's dividends increase going forward as a direct result of this growth.
Speaking of dividends, Seadrill has a history of raising its dividend as its cash flow grows, a trait that the company shares with other firms that have shipping magnate John Fredriksen as a major shareholder. The company has distributed a total of $5.3 billion in dividends to shareholders since 2005 at a per share rate that has increased almost on a quarterly basis since the first quarter of 2010.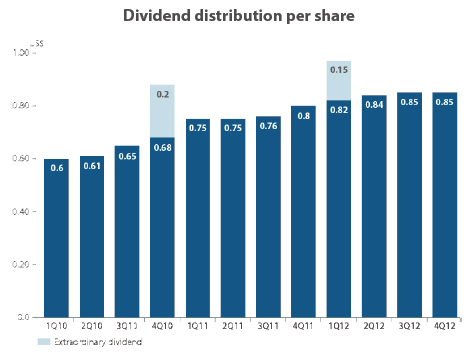 Seadrill stated in its presentation that the current $0.85/share per quarter dividend is now effectively a floor and that the company will keep its dividend either at or above this level for the foreseeable future. The company will see its cash flow decrease once the tender rigs are sold to SapuraKencana so how it will maintain the dividend is uncertain but the large number of new rigs coming online in the first and second quarters of this year may be able to make up for the loss of the tender rigs.
Seadrill's growth story continues to remain strong and the company will likely continue along its growth trajectory over the next few years. This will reward investors with larger dividends and, hopefully, a higher share price going forward.
Disclosure: I am long SDRL. I wrote this article myself, and it expresses my own opinions. I am not receiving compensation for it (other than from Seeking Alpha). I have no business relationship with any company whose stock is mentioned in this article.