When tech stocks are not growing fast enough to please Wall Street, investors can lose interest and even sell the stocks down to levels which appear absurd. Late last year we saw this happen to Hewlett-Packard (NYSE:HPQ) after it announced a large writedown related to its acquisition of "Autonomy." That news took the stock down to about $10, but in just a few months, it has more than doubled off the lows. Investors seem to get fickle with tech stocks and that can create opportunities for those who can look beyond the current market psychology and take a longer-term view. The markets have seen a solid rally and that is making it tougher to find value. However, there are still deals out there if you are willing to buy out-of-favor stocks. There are some top investors who believe that laggards like "old tech" are poised to play catch up.
CNBC's Jim Cramer recently said that it is time to consider buying "old tech" stocks and he stated: "The move into old tech is in its infancy and those left behind stocks are now ready to run." With this in mind, here are a few reasons to consider Intel (NASDAQ:INTC) shares now: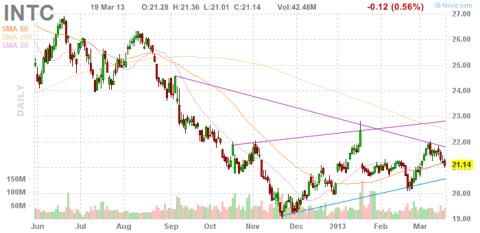 1) As the chart above shows, Intel shares bottomed out at around $19 in late 2012, and it has been trending higher. The stock has been making a series of higher highs, and higher lows, which is generally a bullish trend. The light blue line on the chart shows the lower end support level for the recent trading range. With the stock close to that area now, it makes sense to consider buying. Since it has found support around this level in the past, there might not be a lot of downside at about $21 per share.
2) Cramer did not only say to buy old tech, he is actually bullish on Intel and specifically called it a buy. A CNBC.com article summarizes the March 18, Lightning Round of "Mad Money," and it states:
Cramer thinks this company will soon surprise the Street. He's a buyer. He feels that the second half of 2013 will be better for Intel than what the Street expects.
3) Intel is facing some challenges, which include management turnover as CEO Paul Otellini plans to resign in 2013. However, if the right CEO is appointed, it could create a positive catalyst for the stock. Some investors are also concerned about its mobile chip strategy especially as smartphones and tablets continue to lower demand for traditional PC chips. However, that could be about to change as a recent Bloomberg Businessweek article points out. It states:
Intel finally appears on the verge of giving all the ARM chipmakers Qualcomm (NASDAQ:QCOM), Nvidia (NASDAQ:NVDA), Samsung Electronics (OTC:SSNLF), Apple (NASDAQ:AAPL)-a run in the mobile part of the market. That means all of these companies will face Intel's manufacturing prowess and its relentless march toward better, cheaper chips.
4) With a very generous yield of 4.2%, Intel shares will reward shareholders while waiting for a higher share price. Furthermore, this company has a solid history of raising the dividend on a regular basis. For example, in 2007, Intel's quarterly dividend was 11.25 cents per share, but thanks to regular increases it now pays 22.5 cents per share on a quarterly basis. That means the dividend has doubled in just about 6 years.
While challenges and risks remain, Intel has endured as a leader in this industry for decades. Intel trades for just about 10 times earnings and that appears undervalued when you consider that the average stock in the S&P 500 Index (NYSEARCA:SPY) trades for about 14 times. Judging by the stock price, expectations are low and that could mean this stock is poised to surprise to the upside, especially with the potential catalysts of a new CEO announcement and a more promising mobile chip strategy for 2013.
Here are some key points for INTC:
Current share price: $21.14
The 52-week range is $19.23 to $29.27
Earnings estimates for 2013: $1.93 per share
Earnings estimates for 2014: $2.09 per share
Annual dividend: 90 cents per share, which yields 4.2%
Data sourced from Yahoo Finance. No guarantees or representations are made.
Disclosure: I have no positions in any stocks mentioned, and no plans to initiate any positions within the next 72 hours. I wrote this article myself, and it expresses my own opinions. I am not receiving compensation for it (other than from Seeking Alpha). I have no business relationship with any company whose stock is mentioned in this article.
Disclaimer: Hawkinvest is not a registered investment advisor and does not provide specific investment advice. The information is for informational purposes only. You should always consult a financial advisor.