Home improvement retailers Home Depot (NYSE:HD) and Lowe's (NYSE:LOW) released their quarterly results earlier this month against the backdrop of a housing recovery in the U.S. Home Depot delivered considerably better results as compared to its smaller rival while its share buyback budget is more than three times as big as Lowe's.
Home Depot's fourth-quarter profits were above analysts' estimates. The company's income rose by an impressive 32% from $774 million in the previous year to $1.02 billion, which translated into adjusted profits of $0.67 per share, 3 cents above analysts' estimates. The results also included a sales injection of $242 million coming from Hurricane Sandy repairs. So, what's bad for 4th quarter GDP is sometimes good for the window makers. A nascent recovery in housing has home values increasing for the first time in four years and that converts directly into more business for both firms as customers increase their remodeling spending. The company's net sales increased by 13.9% year over year to $18.2 billion.
On the other hand, Lowe's quarterly revenues dropped by 5% to $11.05 billion while its earnings fell by 10.6% to $288 million or $0.26 per share. The company's EPS remained flat as Lowe's shrunk its float by 10%. However, the Lowe's did manage to beat both top and bottom estimates of $10.84 billion and $0.23 per share respectively.
Home Depot's comparable-store sales increased by 7% overall and 7.1% in the U.S while Lowe's could manage just 1.9% for both metrics, worldwide and domestic.
Home Depot has announced a share repurchase program through which it will spend $17 billion by the end of FY-2015 to buy back its own stock. It has also increased its quarterly dividend by 34% to $0.39 per share. On the other hand, Lowe's also has a two-year $5 billion repurchase plan. But what is obvious is that so many U.S. companies are capable of generating cash but have no practical place to put it. Shrinking the float is great for buoying stock prices and dividends keep the institutional investors happy but we're not talking much about expansion plans at this point. Both retailers have cut their operations to the bone in order to keep cash flows up but organic growth even with the improvements in housing starts and prices paid is still not in the offing, but rather rebuilding the business that existed before Lehman Bros.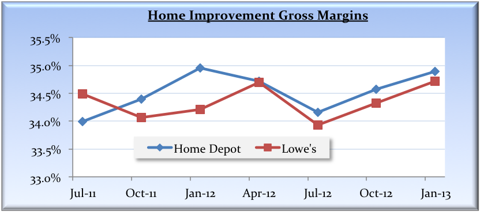 The Gross profit margin of the two companies shows slight movements. While Home Depot's margin has fallen 35.0% in Jan-2012 to 34.9% in Jan-2013, Lowe's is up from 32.2% to 34.7% over the same period.
Home Depot also is more efficient in terms of selling, general and administrative (SG&A) expenses. The company's ratio of SG&A expenses to revenues has consistently stayed below that of its rival. However, the ratio for the two companies has fallen year-over-year, which is shown in the picture above. In other words, the two are now spending less per dollar of their sales now on SG&A expenses than they were before.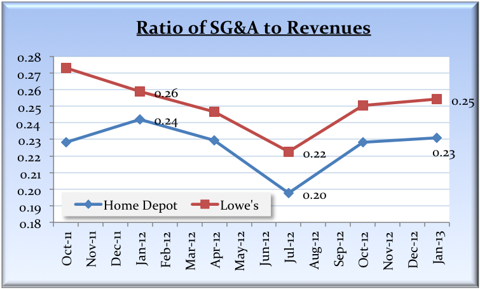 Home Depot's annual profit guidance of $3.37 per share came in below analysts' estimate of $3.49 per share, while Lowe's also gave a guidance which trailed the estimate. The business expects to earn $2.05 per share in FY-2013 as opposed to analysts' estimates of $2.09 per share. With the increase in payroll tax, lackluster economic growth and persistently low labor force participation rate, it is no surprise that EPS outlook of both of the firms is below estimate.
| | | | |
| --- | --- | --- | --- |
| | HD | LOW | KO |
| Stock 6M | 22.9% | 36.0% | +0.4% |
| P/E | 23.5 | 22.8 | 19.7 |
| EPS | 3 | 1.69 | 1.97 |
| Yield | 1.7% | 1.7% | 2.9% |
| ROA | 11.9% | 6.7% | 10.9% |
| ROE | 25.4% | 12.9% | 28.0% |
But, ultimately, if there is any value to be extracted from these firms it is strictly from the yield at this point. These are value stocks trading at growth stock multiples paying dividends that are anemic with respect to consumer defensives with better branding and less downside risk. Coca-Cola (NYSE:KO) comes directly to mind here -- lower P/E, better organic growth prospects in emerging markets, a stock price that has not rallied on hope, a better yield and better management of assets.
Like the story behind the automobile makers, the housing recovery, such as it is, is likely already fully priced into the home improvement majors and now it awaits the pullback from the rally. Since commodities are not coming along with equities to all-time highs one has to factor in the idea that this is a cash flow and liquidity-driven equity rally and housing recovery. When those valuations become rich enough the correction will be swift. While Home Depot is better than Lowe's at this point; neither represents good value at these prices.
Disclosure: I have no positions in any stocks mentioned, and no plans to initiate any positions within the next 72 hours. I wrote this article myself, and it expresses my own opinions. I am not receiving compensation for it (other than from Seeking Alpha). I have no business relationship with any company whose stock is mentioned in this article.