By John Spence & Tom Lydon
One of the worst-performing emerging market ETFs this year, iShares FTSE China 25 (NYSEARCA:FXI), rebounded more than 2% in early U.S. trading Wednesday after a noted technical analyst predicted a strong rally in Chinese stocks.
The China ETF is down about 10% year to date after the government unveiled new measures designed to cool property prices. Investors are also worried about a potential slowdown in the world's second-largest economy as well as more central-bank tightening measures.
Earlier this week, JP Morgan (NYSE:JPM) cut its view on China to underweight and recommended bearish bets against the country's largest banks.
However, the Shanghai Composite on Wednesday rallied nearly 3% for its largest gain in over two months after Tom DeMark at Market Studies LLC predicted the index will rally as much as 28% by September, Bloomberg News reports.
In late 2012, DeMark accurately forecasted a rebound in China's equity market. At the time, he said everyone was negative on Chinese stocks and the bears were exhausted.
Now, Demark says China will continue its climb following the recent pullback.
"Recent declines have already priced in investors' more pessimistic view about economic growth," said Li Jun, a strategist at Central China Securities Co, in the Bloomberg story. "Given that stocks are still not expensive, a rebound is justified."
DeMark, who specializes in turning points in markets, also correctly predicted a retreat in Chinese stocks last month. We "are identifying a low-risk entry zone just beneath today's low of the Shanghai Composite which should be a bottom prior to the resumption of the advance," DeMark said this week, according to the report.
FXI, the China, has fallen below its 200-day exponential moving average.
iShares FTSE China 25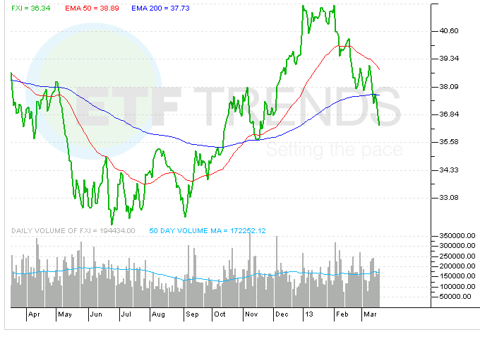 Click to enlarge
Disclosure: I have no positions in any stocks mentioned, and no plans to initiate any positions within the next 72 hours. I wrote this article myself, and it expresses my own opinions. I am not receiving compensation for it. I have no business relationship with any company whose stock is mentioned in this article.