Baytex Energy (NYSE:BTE) is a Canadian oil and natural gas producer. Baytex assets are primarily located in Western Canada, particularly the provinces of Alberta and Saskatchewan. Like other Canadian energy producers, Baytex has suffered due to low realized prices and transportation issues. The stock for Baytex currently offers a monthly dividend of $0.22, or $2.64 per year. At current prices, Baytex yields about 6.3%.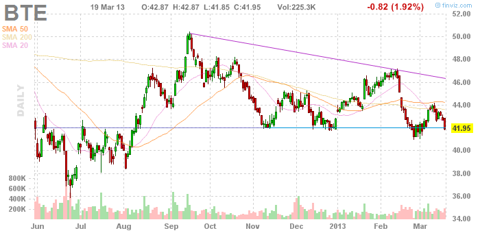 Since I last wrote about Baytex, the stock has barely moved, declining about 1.5%. During full year 2012, Baytex' production mix was similar to full year 2011, being 75% heavy oil, 14% light oil, and 11% natural gas. There was however a shift in the 2P reserves mix, with heavy oil now comprising 77% of reserves compared with 71% in 2011. Light oil reserves decreased, to 16%, from 21%. Natural gas reserves decreased slightly to 7% from 8%. Baytex also saw a doubling of reserves based out of the US, though this makes up only 6% of the total, with Western Canada making up the rest.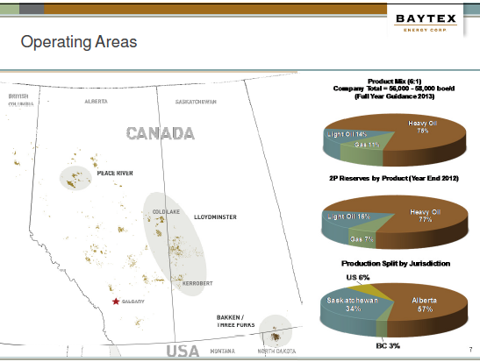 Baytex has seen its reserves steadily grow at a 12% CAGR since 2006. The RLI has increased substantially since 2006, from 11.5 years to 14.5 years. As of year-end 2012, Baytex had about 292 MMBOE of 2P reserves, with a liquids (all oil types plus natural gas liquids) weighting of 93%.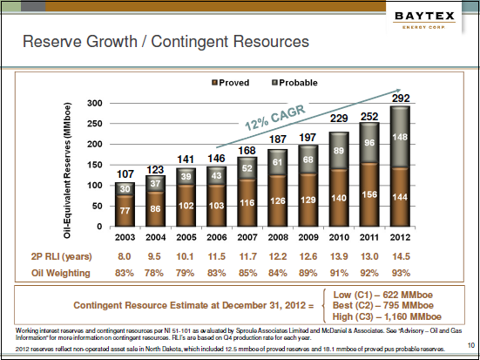 Baytex has also seen its production grow at a 8% CAGR since 2006. Additionally, Baytex has increased the percentage of production that is oil from 73% to 87%. For full year 2012, Baytex produced about 54,000 BOE/d. For 2013, this is expected to increase 5.5% to 57,000 BOE/d and be 89% oil.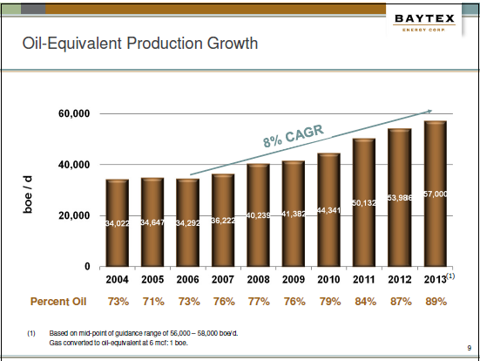 Compared with many of its peers, Baytex has an ironclad balance sheet. As of Q4 2012, Baytex financial metrics were quite good, with total debt at only $600M, or about 10% of its enterprise value, debt to funds from operations ("FFO") at only 1.1X, and debt to EBITDA at 0.8X.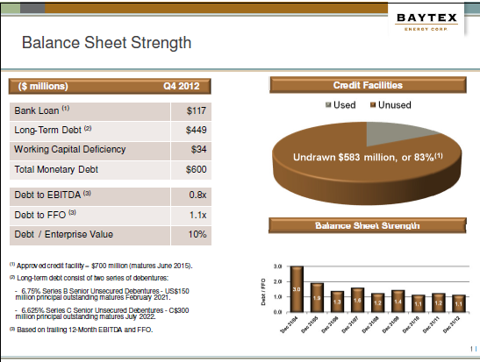 Baytex has one of the safer dividends amongst the Canadian energy producers, with a payout ratio of 40% net of its DRIP. Excluding the DRIP, Baytex dividend payout ratio jumps to about 60%.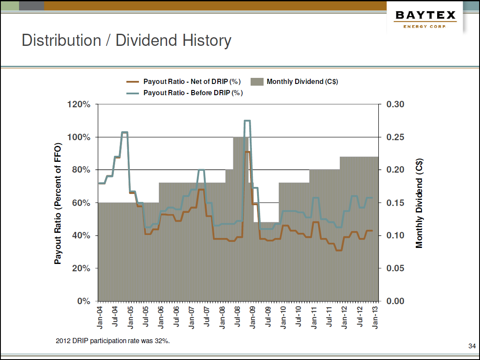 Even with about 40% of its 2013 production hedged, Baytex is highly sensitive to fluctuations in energy prices. For every $1 move in WTI, Baytex would gain or lose $11.9M in FFO net of hedges. Similarly, Baytex would benefit/be hurt by a change in the differential in prices for heavy oil. A 1% move in this differential would add or subtract $10.6M in FFO. Keep in mind that Baytex generated only about $500M in FFO in 2012.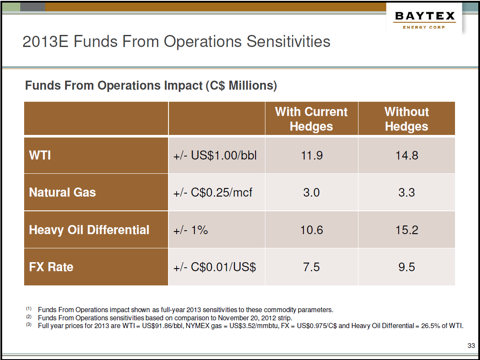 Baytex has made some moves to alleviate some of the pipeline bottleneck issues. As of Q4 2012, Baytex was transporting about 12,000 BOE/d by rail. As of March 2013, this figure has increased 50% to 18,000 BOE/d. Shipping crude oil by rail does increase the costs and therefore reduces Baytex' operating netbacks. For FY 2013, Baytex plans for rail to comprise about 10% of its sales portfolio.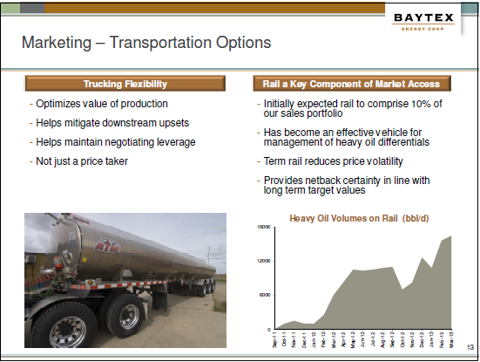 Conclusion
Compared with some of the other Western Canadian energy stocks, Baytex is considered the safest investment. This can be seen by its stock action, with the price for Baytex shares barely moving. This relatively stability also paradoxically makes Baytex a less attractive investment. While Baytex does offer a decent yield at over 6%, this is peanuts compared with Pengrowth (NYSE:PGH) 8.6% and Penn West (NYSE:PWE) 9.4%. Baytex is also not trading at much of a discount to its NAV. While I do like that Baytex has relatively low debt and price stability, I would wait for a large pullback before starting a position in Baytex, since I believe that other stocks in this sector offer higher risk adjusted returns.
Disclosure: I am long PGH. I wrote this article myself, and it expresses my own opinions. I am not receiving compensation for it (other than from Seeking Alpha). I have no business relationship with any company whose stock is mentioned in this article.