I recently wrote an article titled "How Much Is Rentech Worth As A Standalone Company?" that explored the valuation of Rentech (NYSEMKT:RTK). The recent earnings report and conference call has provided more information that allows us to create estimate values going forward and benchmarks.
If we start with the basics, from the graphic below we see that RTK trades around $2.40, has a market cap around $530 million, shares outstanding of about 221 million, and cash of about $103 million.
$86 million of that sits at Rentech ... And following the end of the year, we received about $17 million in distributions from Rentech Nitrogen.
We also see that Rentech Nitrogen (NYSE:RNF) trades around $34.31, has a market cap of around $1.3 billion and 38.80 million shares outstanding. RTK owns 61% of RNF, which is valued at about $809.39 million, which is $279 million in excess of the $530 market capitalization of RTK. Cash plus the RNF holdings come to $4.13/share, $1.73 above the $2.40 stock price of RTK. Those are the basics, and outlined in this graphic: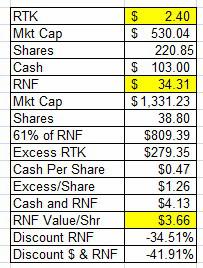 What, then, is RTK worth? From the conference call we leaned that the 2013 RNF distributions are estimated to be $2.60.
We expect Rentech Nitrogen's 2013 consolidated cash available for distribution to be approximately $101 million or $2.60 per unit.
That would make a total distribution of $101 million, $61 million of which would go to RTK for a total of $0.28/share of RTK. Assuming a 60% tax shield and 50% combined tax rate, that would result in an after-tax EPS to RTK of $0.22. That gives RTK an after-tax forward P/E of 10.77. Apply a market P/E of 15 to that value and you get a $3.34 benchmark valuation for RTK stock. That is the value of RTK if they simply collected the RNF distribution, paid taxes on it and sent the residual to shareholders. That of course doesn't happen as RTK has expenses of their own, so that represents a potential value of the RNF cash flows as if RTK simply acted as a collection agency for RNF dividends.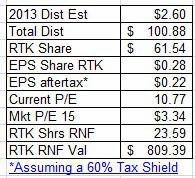 During the conference call, two adjustments were made to the guidance number. The first was to add $0.65 to the $2.60 guidance number to "normalize" it for a total normalized distribution of $3.25 in 2013.
our forecast of 2013 cash available for distribution would have been approximately $0.65 per unit higher
If we use the normalized number as if there were no shut-downs, then we get a forward P/E of 8.61, and a if we apply a market P/E to that value we get a benchmark stock price of $4.18.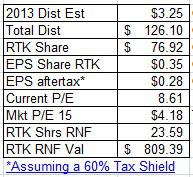 The second adjustment was to add another $0.90 for growth opportunities and expansion of capacity due to come online later this year. That brings the 2013 distribution to $4.15.
If we use the normalized number as if there were no shut-downs and add in the growth and expansion impact, we get a forward PE of 6.75, and if we apply a market P/E to that value we get a benchmark stock price of $5.34.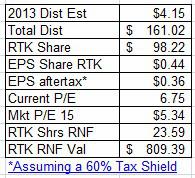 Using the guidance number, normalized number, and normalized number with growth and increased capacity, we get benchmark stock prices using a market P/E of 15 of $3.34, $4.18 and $5.34, all of which are substantially above the current stock price of $2.40. Those of course represent the upper limits of the range, but they provide benchmarks on which to measure RTK's management. Those values represent the value of the earnings they receive from RNF. If RTK isn't adding value to those earnings, the stock price of RTK will trade below those numbers.
How, then, can you justify a $2.40 stock value for RTK? $2.40 is about what the after-tax cash value of RTK's cash and RNF holdings are, assuming selling 61% of RNF would not lower its stock price -- i.e., ceteris paribus.
RTK has $104 in net operating loss carryforwards (NOL), and $103 million in cash.
As of the end of 2012, we have approximately $104 million of net operating loss carryforwards to help offset future federal income taxes ... $86 million of that sits at Rentech, the parent, $56 million within Rentech Nitrogen. And following the end of the year, we received about $17 million in distributions from Rentech Nitrogen.
RTK also has $809 million in RNF stock, worth $460 after-tax assuming a 50% tax rate, full application of the NOLs and no impact on the stock price of RNF upon liquidation. Combine all those factors and you get a potential cash or liquidation value of $563 million or $2.55/share, $0.15 above the current $2.40 stock price of RTK.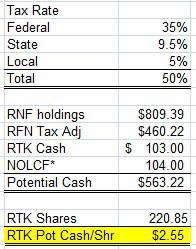 In conclusion, the current stock price of $2.40 and the calculated liquidation value of $2.55 demonstrates that RTK management has a lot of work to do to prove their worth. Fortunately, the recent conference call and earnings release provided the needed information to create benchmark estimates that we can use to analyze RTK's management and stock price. Given RTK currently trades below liquidation value, one would not expect RTK to trade much lower, unless RNF trades lower. Using the valuations calculated above we can use $3.34, $4.18, and $5.34 as benchmark price targets. If RTK doesn't reach those levels, ceteris paribus, it would have been better for RTK to have simply closed all operations, collected the RNF distribution and mailed out the checks. Only time will tell which option would have been better. I'll be sure to write future articles on this issue to see how things are progressing.
Disclaimer: Opinions expressed herein by the author are not an investment recommendation and are not meant to be relied upon in investment decisions. The author is not acting in an investment advisor capacity. This is not an investment research report. The author's opinions expressed herein address only select aspects of potential investment in securities of the companies mentioned and cannot be a substitute for comprehensive investment analysis. Any analysis presented herein is illustrative in nature, limited in scope, based on an incomplete set of information, and has limitations to its accuracy. The author recommends that potential and existing investors conduct thorough investment research of their own, including detailed review of the companies' SEC filings, and consult a qualified investment advisor. The information upon which this material is based was obtained from sources believed to be reliable, but has not been independently verified. Therefore, the author cannot guarantee its accuracy. Any opinions or estimates constitute the author's best judgment as of the date of publication, and are subject to change without notice.
Disclosure: I am long RTK. I wrote this article myself, and it expresses my own opinions. I am not receiving compensation for it (other than from Seeking Alpha). I have no business relationship with any company whose stock is mentioned in this article.