The Carlyle Group (NASDAQ:CG) is a global asset management firm that essentially invests money from diverse sources of capital, such as public pensions, sovereign wealth funds, corporate pensions, endowments, high net worth individuals, insurance companies, banks, etc. It invests the monies of these investors in a variety of different funds that it manages. The investors select one, two, or often many more funds that they wish to invest in. CG then manages that money for them.
The "carry" funds have a life cycle (not all funds are "carry" funds). During the "investment" period of about five years, CG will collect only a 1.5% management fee. The fund then goes into the harvesting mode for several years (and eventually ends). During this period, CG collects 1.0% in management fees plus 20% of the profits after certain goals are met. Often these funds are leveraged in order to provide a greater level of return. Given the amount of money invested, the profits for CG can be considerable. Often the customers' monies are moved at the end of the life cycle from an ending fund to a new fund or funds. The chart below is a good depiction of this process.
Click to enlarge images.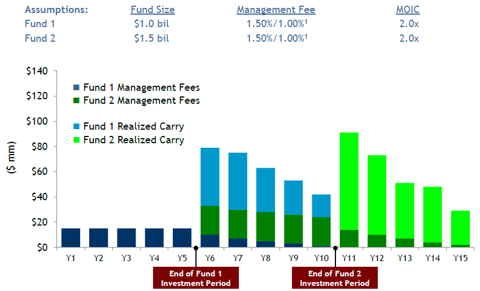 Click to enlarge
CG has $86.6 billion cumulative monies invested in "carry" funds. These funds took a huge hit in the Great Recession as values fell. However, the fund values have regained value and then some. In recent years, CG has been harvesting even higher distributions from these funds than before the Great Recession (see chart below).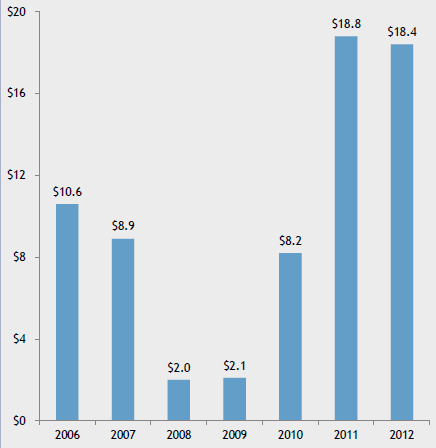 These higher distributions are expected to continue. Logically, the monies put to work at the nadir of the Great Recession should show great profits as the distributions are harvested over the next several years. We have had great growth since the nadir. In other words, CG may be entering the sweet spot of its investment cycle. You can take advantage of this situation by investing in CG's stock. CG has been around for a long time, but it only recently went public on May 3, 2012. Only recently could the average investor take advantage of the skills of the Carlyle Group.
2013 (and perhaps many years thereafter) is expected to be the year of the asset manager. Those asset management companies with great management teams and great expertise are expected to do well. This expected trend is something that a smart investor will want to take advantage of. The following chart shows approximately how and where CG creates value.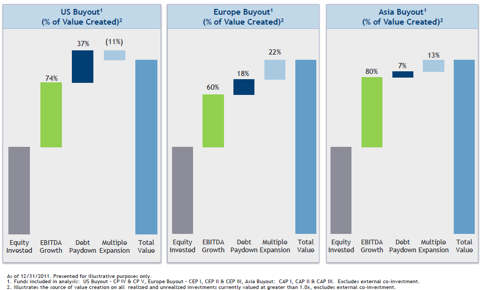 Click to enlarge
The above charts are self-explanatory. One of my main points is that if most companies have been growing revenues and earnings strongly since 2009, CG overseen companies should be among the top performers. The harvesting in CG's funds should be very lucrative for the next several years.
CG tries to create value with a disciplined approach that does not try for the home run on every swing. For 130 deals it had a median MOIC (multiple of invested capital) of 2.3x and an average MOIC of 2.9x. One might expect better in future years due to the 2009 low, but the recent growth numbers are still good.
CG is best known for its private equity funds, but it has also developed many other platforms:
Global Market Strategies is its fastest growing segment through targeted acquisitions and new fund launches.
Real Assets is its leading U.S. and global real estate funds and diversified natural resource investing platform.
Solutions is its early development stages platform with attractive options for growth.
I cannot begin to explain all that CG does in this article. However, the chart below of its revenues and distributable earnings helps to explain what investors are most interested in.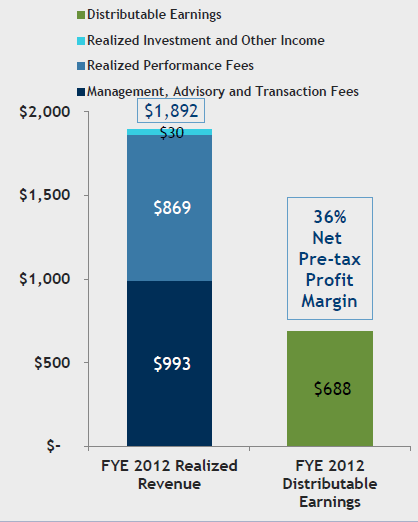 Breaking down what's shown above, the table below shows the distributable earnings, MOIC (all assets), the gross IRR (all assets), Fee-Earnings AUM, and Total AUM for each of CG's main investment categories.
| | | | | | |
| --- | --- | --- | --- | --- | --- |
| Investment Type | Distributable Earnings | MOIC (all assets) | IRR (all assets) | Fee-Earning AUM | Total AUM |
| Corporate Private Equity | $399 million | 1.8x | 26% | $33.8B | $53.3B |
| Global Market Strategies | $168 million | 1.7x | 17% | $31.0 B | $32.5B |
| Real Assets | $102 million | 1.5x | 16% | $29.3B | $40.2B |
Note: Fund of Fund Solutions does not really fall into the above category. Therefore, I have not presented like data for this category. However, the Fund of Funds Solutions AUM for 2012 were $44.1B. Total AUM for all categories for 2012 were $170.2B.
A salient fact is that in 2012 alone Carlyle professionals increased their own investments in Carlyle funds by over $1.4B. Carlyle believes this is a very good indicator for CG's future. For a stock investor, remember too that Carlyle will be harvesting profits from funds started in 2009-11 in the coming years. Each of these years showed good growth. The profits from that growth should be tremendous. Overall this makes CG a great investment for the next few years. Its FPE of 9.03 says it is a solid investment. Its next five years analysts' average EPS growth estimate per annum of 28.70% tells you CG is probably undervalued on an FPE basis. Now would seem to be an appropriate time to buy CG stock. Its 11.05% dividend should assure you that you can wait comfortably for this investment to work out. Over the next several years one would expect both good dividends and good stock growth. CG is a buy.
The one-year chart of CG provides some technical direction for this trade.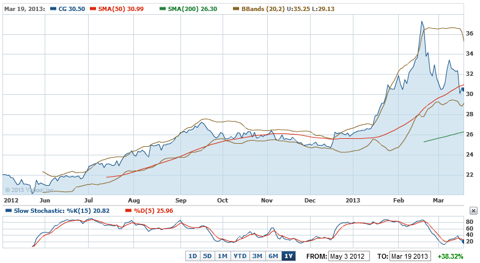 Click to enlarge
The slow stochastic sub chart shows that CG is oversold currently. The main chart shows that CG is in a weakening long-term uptrend. Since the stock popped dramatically at the beginning of 2013, it is quite reasonable that it gave back some of that pop. Now it might consolidate before moving higher. However, investors should keep in mind that U.S. equities are currently overbought. They are due for a pullback. Plus, the January 2013 tax increases along with the recent executive order activating the sequester cuts may push the U.S. economy, which grew at only a +0.1% rate in Q4 2012, into a recession. For this reason it is appropriate to average into CG over the course of 2013. In this way you should avoid any huge down move in stock price due to a recession. A slow-growth environment at best will likely keep the stock from appreciating dramatically as you wait out this worrisome economic time. The 11% dividend will help you wait for that stock you do buy.
Note: Some of the fundamental financial data is from Yahoo Finance.
Disclosure: I have no positions in any stocks mentioned, but may initiate a long position in CG over the next 72 hours. I wrote this article myself, and it expresses my own opinions. I am not receiving compensation for it (other than from Seeking Alpha). I have no business relationship with any company whose stock is mentioned in this article.