Bank of America Corporation (NYSE:BAC) has its business model lined up to increase its dividend. I will focus upon the financial statements and how management has cleaned up the balance sheet. Core unit Merrill Lynch provides a reliable amount of profits. Management has resolved numerous lawsuits. The Federal Reserve has said "Yes" to stock buybacks and preferred share redemptions. If management continues to execute on their turnaround, the company will have ample liquidity to increase dividends for the foreseeable future.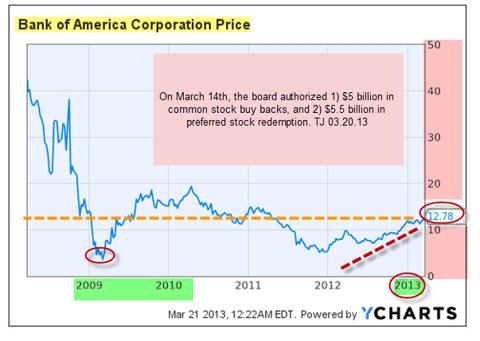 Click to enlarge
Dividends
Over the recent past, Bank of America has paid quarterly dividends of $0.01 since March 27, 2009, as it recovered from the 2008 financial crisis. Its next $0.01 dividend payment is set for March 22, 2013 ($0.04 annualized). With Bank of America shares trading at $12.78, the company offers a paltry and nominal dividend yield of 0.30%, price-to-earnings of 50x and a market capitalization of $135.9 billion (roughly half of its Net Assets).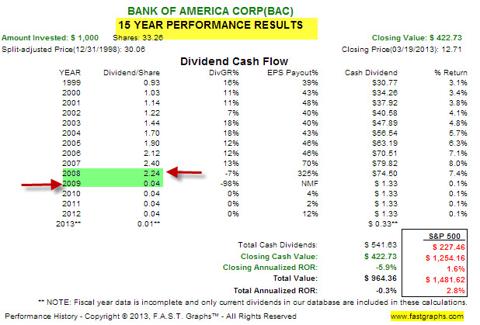 Click to enlarge
On March 14, 2013, the company announced plans to buy back $5 billion of common stock and redeem about $5.5 billion of preferred stock in fiscal 2013. This will serve as a means of returning excess capital to shareholders because the bank now has adequate liquidity and gained the Federal Reserve's approval to do so.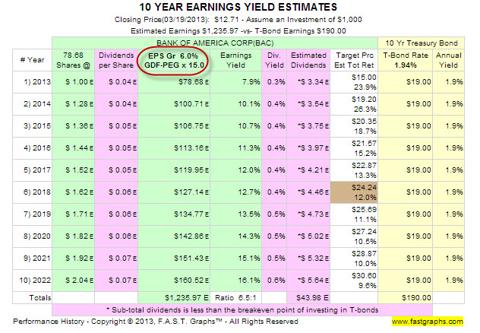 Click to enlarge
Bank of America Background
Bank of America offers banking and financial products and services to individuals, businesses (small and middle market), institutional investors, corporations and governmental agencies. Bank of America is headquartered in Charlotte, North Carolina, and operates both domestically and internationally. The company's primary operating segments include Consumer & Business Banking, Consumer Real Estate Services, Global Banking, Global Markets and Global Wealth & Investment Management. With 5,500 banking centers and over 267,000 employees worldwide, Bank of America is the second largest bank in the US. Much like other financial institutions, Bank of America is still recovering from the financial crisis of 2008.
In this article, I discuss the Bank of America warrants. They serve as a leveraged way to benefit in Bank of America's stock price. These warrants were issued due to the 2008 financial struggles.
Fannie Mae Settlement
At the beginning of 2013, Bank of America resolved claims and disputes - inherited through its acquisition of Countrywide Financial - with the Federal National Mortgage Association (Fannie Mae). The settlement covers soured residential mortgage loans originated by Countrywide between January 2000 and December 2008. Per settlement terms, Bank of America agreed to pay $3.6 billion in cash and buyback $6.75 billion in certain residential mortgage loans from Fannie Mae. While these terms may seem steep, they are expected to save $4 billion in potential losses over the long run.
Bank of America also sold $306 billion of servicing rights on about 2 million residential mortgage loans to Walter Investment Management (WAC) and Nationstar Mortgage Holding (NSM). About 12% of these loans were classified as delinquent for over 60 days. This transfer of servicing rights will be completed by year-end 2013.
Collectively, the actions above significantly relieve Bank of America of its legacy mortgage issues but will cost $2.7 billion against 4Q12 income. Still, Wall Street generally greeted these actions positively.
Fraud Claims at Countrywide
On February 20, 2012, Bank of America sought legal dismissal of fraud claims by the Federal Housing Finance Agency (FHFA) that Countrywide withheld information about the toxicity of the mortgages it originated and sold to Fannie Mae and Freddie Mac between 2005 and 2008.
Representatives for Countrywide claim that Freddie Mac and Fannie Mae "dramatically loosened their own underwriting guidelines in order to maintain their dominant market share and acquire enough loans to satisfy congressionally mandated affordable housing goals". Representatives for Bank of America believe that they should not be held responsible for neglect or fraud committed by Countrywide before the acquisition.
Bank of America is not alone in this. FHFA is concurrently suing 16 other banks including JPMorgan Chase (NYSE:JPM), Citigroup (NYSE:C), Goldman Sachs (NYSE:GS) and Deutsche Bank AG (NYSE:DB).
LIBOR Lawsuit
On March 20, 2013, Bank of America was sued by Freddie Mac for its role in manipulating LIBOR rates to hide balance sheet problems and increase net income. The outcome is yet to be decided, but we could see a fine or settlement sometime in the first half of 2013.
Recent Developments
On February 1, 2013, Bank of America sold its non-U.S. International Wealth Management business - Merrill Lynch Bank (Suisse) - to Julius Baer Group.
On January 23, 2013, Bank of America appointed two new directors to its Board - Arnold Donald, an investment and management consultant, and Lionel Nowell, former Treasurer of PepsiCo Inc. - who are expected to add value with their uniquely relevant expertise.
Potential new lawsuits do still linger, particularly over concerns that Bank of America, among other banks, was materially involved in rigging LIBOR rates and could incur a multi-billion-dollar fine. In addition, the bank could face numerous lawsuits over its mortgage financing practices.
Business Segments
Consumer & Business Banking (CBB)
The Consumer & Business Banking segment of Bank of America provides savings accounts, certificates of deposit, IRAs, checking accounts, investment products, credit cards, personal and automotive loans, capital management and treasury services. At year-end 2012, and total assets stood at $532.5 billion and total deposits were $477.4 billion, up from $518 billion and $462.1 billion, respectively, at year-end 2011. While average loans and leases decreased, credit card delinquency rates decreased. CBB reported $1.4 billion in net income, an 11% increase over 3Q12 and a 15% increase over 4Q11. Full-year net income dropped on lower net interest income, card income, service charges and other income, to $5.3 billion from $7.4 billion.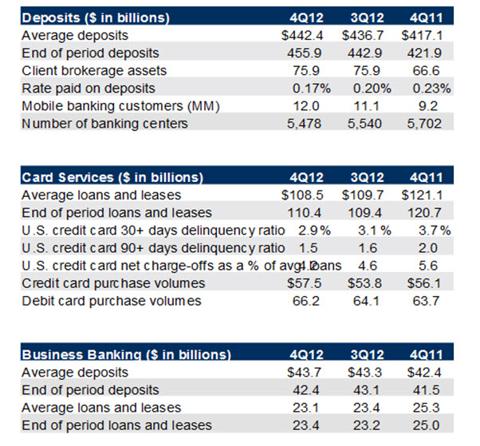 Click to enlarge
Consumer Real Estate Services (CRES)
The Consumer Real Estate Services segment offers fixed and adjustable mortgages, home equity lines of credit and loans, and mortgage servicing related to Legacy Assets. Average loans and leases decreased 11% to $48.3 billion for 4Q12 while retail mortgages increased to $21.5 billion from $20.3 billion. Fourth quarter net income was up 41% to $281 million from $199 million in 4Q11, largely due to improved margins from loan originations.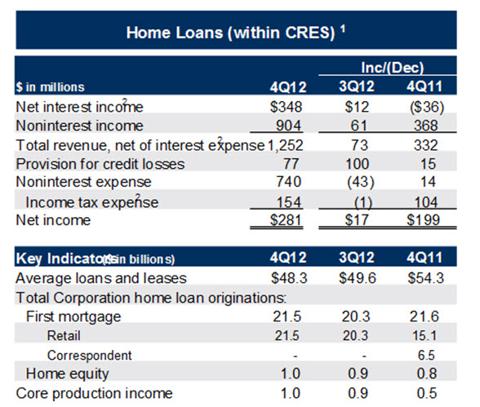 Click to enlarge
Global Banking
The Global Banking segment engages in worldwide commercial loans, leases, trade finance, real estate or other asset based loans, treasury management including foreign exchange, short-term investing, debt and equity underwriting and advisory services. Total revenue, net of interest expense, increased to $1.4 billion in 4Q12 from $95 million in 4Q11, primarily on significantly higher interest and non-interest income tied to higher investment banking fees ($2.4 billion), loans and deposits. Bank of America Merrill Lynch was ranked second globally in investment banking fees for 2012. At year end, loans and leases totaled $288.3 billion.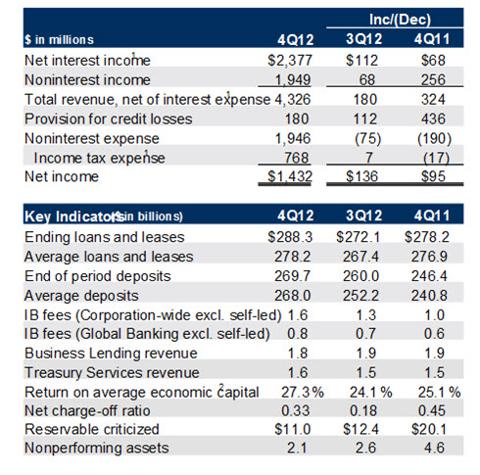 Click to enlarge
Global Markets
The Global Markets segment deals with the selling and trading of investments in primary and secondary markets, serves as a market-maker, clears securities, provides custody services to institutional investors and offers risk management products. Segment revenue was $2.84 billion in 4Q12, more than double its level in 4Q11. Of this, sales and trading contributed $2.5 billion, up 28% over 4Q11.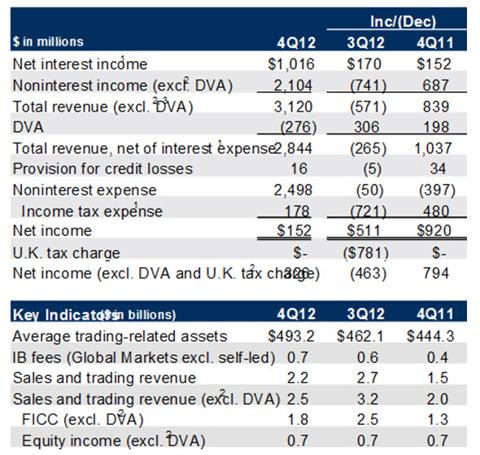 Click to enlarge
Global Wealth & Investment Management (GWIM)
The Global Wealth & Investment Management segment offers estate and financial planning and portfolio management for cash and liability, special asset, philanthropic and retirement plans. Total fourth quarter revenue, net of interest income, jumped to $4.2 billion from $251 million in 4Q11. Increases in deposits, loans and leases and higher AUM flows helped push gains.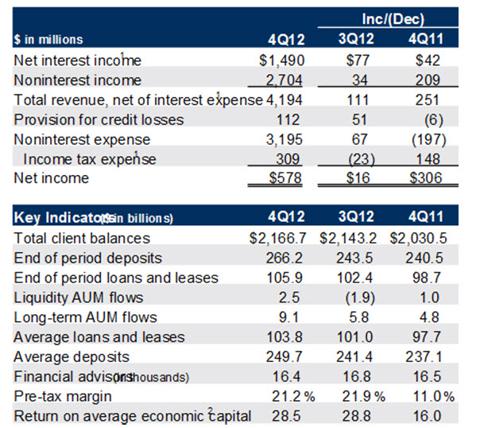 Click to enlarge
Year-End Financials
By Segment
The table below shows 2012 revenue and net income by segment. Consumer & Business Banking brought in the highest revenue ($29 billion) followed by Global Banking ($17.2 billion), Global Wealth & Investment Management ($16.5 billion) and Global Markets ($13.5 billion). Consumer Real Estate contributed the least ($8.8 billion). Profit leading segments included Global Banking and Consumer & Business Banking. The company lost $6.5 billion in its real estate segment, mainly due to settlement expenses.

Click to enlarge
Income Statement
Interest income was down 13% in 2012 to $57.4 billion due to lower consumer loan balances and yields. Interest expenses decreased 23% to $16.7 billion in 2012 from $21.6 billion in 2011, and net interest income was down 9% to $40.6 billion for 2012. Diluted earnings per share increased to $0.25 from $0.01 in FY 2011.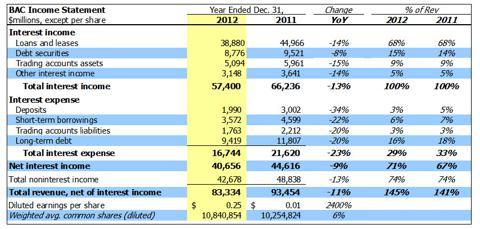 Click to enlarge
Balance Sheet
At year-end, the company had adequate liquidity with $110.7 billion in cash. While interest income from trade account assets was down, the overall value of these assets almost doubled to $237.2 billion, due to a strategic decision to lower risk by increasing holdings of US Treasuries and agency securities. And total assets were up 3.8% to $2.2 trillion.
Total deposits (a liability as these assets ultimately need to be returned to customers) were up 7% to $1.1 trillion and long-term debt was down 26% to $275.6 billion. Overall, total liabilities stood at $1.97 trillion, up 3.9%.
Total stockholders' equity nudged up 3% to $237 billion from $230 billion on strong earnings and an increase in unrealized gains on available-for-sale debt securities.
Operating activities consumed $13.9 billion in cash on increases in trading and derivative instruments and an increase in other assets. Investing activities used $37.2 billion due to net purchases on available-for-sale securities. Financing activities provided $42.4 billion due to a net increase in deposits and securities sold under repurchase agreements that outweighed the $124.4 billion retirement of long-term debt.

Click to enlarge
Summary
Bank of America is working hard to recover from the financial meltdown five years ago. With recent settlements and agreements, near-term net income has taken a hit but these moves position the company well for clear future sailing. In parallel, the bank continues to improve capital ratios, divest non core assets, sell legacy liabilities and return to the business of banking and growth with a healthy balance sheet. While dividends are purely nominal at this time, its commitment to buyback $5 billion in common shares and $5.5 billion in preferred shares reflect increasing confidence in the strength of its balance sheet. While the company's P/E ratio appears high, shares trade for well below book value. This is a compelling stock with potential dividend and capital appreciation upside. Bank of America and its Merrill Lynch investment banking subsidiary are leaders in their segments. Near term, especially in the first half of 2013, Bank of America profits and share price could experience volatility tied to LIBOR and other claims, litigation and settlement.
Disclosure: I am long BAC. I wrote this article myself, and it expresses my own opinions. I am not receiving compensation for it (other than from Seeking Alpha). I have no business relationship with any company whose stock is mentioned in this article.