It's been about a month and a half since I fully reported on Green Mountain Coffee Roasters (NASDAQ:GMCR). At that point, the company had just released its fiscal first quarter earnings report. Green Mountain had a great first quarter, but second quarter guidance was a bit underwhelming. The stock, which had rallied strongly into the report, pulled back a bit, as was the expectation. Since that point, the stock has rallied higher and higher, and is close to its 52-week high. Today, I'll take a look at where expectations stand and see if there is any remaining upside for investors.
A quick recap of their story:
Green Mountain shares traded for more than $110 in late 2011, before a stunning crash thanks to a David Einhorn short position and worse than expected results. Green Mountain's growth was slowing faster than expected, and shares tumbled through the first half of 2012.
On August 1st, 2012, the company's third quarter report changed everything. The company's guidance was well below expectations, but they announced a $500 million stock buyback. Shares briefly hit a low just above $15 a share, but then started rallying. They haven't looked back since. Two good earnings reports since then have further fueled the rally, and despite the brief dip after the latest quarter, shares have headed higher, closing Wednesday at $55.85.
A bit of short covering:
As Green Mountain's struggles picked up during late 2011 and early 2012, the amount of non-believers certainly rose. Between mid-June 2012 and mid-November 2012, the number of shares short more than doubled from 23.25 million to more than 51.44 million. At that high point, roughly 1/3 of the number of shares outstanding were short.
Obviously, as the stock has gone from $15 to the mid $50s, the number of shares short has come down dramatically. A lot of that has to do with the buyback, which I'll get to later on. The chart below shows Green Mountain's short interest since mid-June 2012.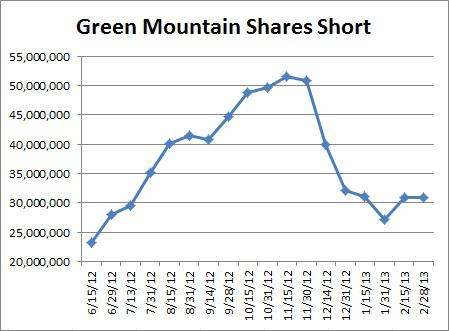 Recently, we've seen a small pop from 27.1 million shares short to 30.8 million. On a percentage basis, the rise is about 13.7%, but we're still more than 20 million shares short below the high. I'm curious to see the mid-March update from NASDAQ, which we should get in about a week. Will the number of shares short rise because the price has jumped, or will the number of shares short decline because we're up about 15% so far in March and shorts can't hold on any longer?
Don't think for an instant the short count is low just because it has come down. It's not. According to their latest earnings release, Green Mountain had almost 148.7 million shares outstanding. That means that the end of February short count still meant more than 20.7% of shares were short. We don't know yet if the company has been buying back shares this quarter, but if they have, the outstanding share count could be down even further. With more than 20% of shares still short, there remains upside in the name on a possible short squeeze.
The buyback plan:
GMCR initiated a two year, $500 million buyback program in August, and the company didn't waste any time starting it up. In the first two quarters of the program, they bought back 7.4 million shares at a cost of $175 million. That works out to an average price around $24, which the stock obviously hasn't seen for quite a while. All of that $175 million was spent before the end of November, because they told us on the Q4 report at the end of November that they had purchased that much already. They did not buy back any shares between the Q4 and Q1 reports.
It is this buyback that has helped fuel the rally and chase away some of the shorts. When a company is planning to buy back a fair amount of stock, the shorts know that any declines in the stock, unless they are dramatic, will give the company an opportunity to come in and purchase shares. Buyback programs can help put a floor in the stock at times, which is why shorts sometimes run away.
The issue here for the company is how to spend that remaining $325 million. Hopefully, they took advantage of the stock in the low to mid $40s when it was there. When they first started the buyback, I worried about a rising share price hurting the program. At $55 a share, the remaining $325 million can only get them about 5.91 million shares. With the stock at $40, they could get back 8.125 million, and at $30, they could get 10.83 million.
The key takeaway here is for new investors, those looking to enter the name now. If you've been in the name for a period of time, you're fine with the buyback not going as far, because you've taken advantage of this rally. But for new investors, they won't be getting as much of a buyback as they would have been 1, 3, or even 6 months ago. That has consequences for earnings per share purposes going forward. If the stock continues to rise, a couple of things could happen. The company will either hold off on buying shares, or they just won't be able to buy back as many. Additionally, in a worst case scenario, they could buy shares high, and if the stock falls, they will have overpaid and shareholders will not be happy.
Is the valuation in line with others?
I could throw out all sorts of valuation numbers, but they are meaningless unless you have other name(s) to compare them to. So for Green Mountain, let's include Starbucks (NASDAQ:SBUX), and SodaStream (NASDAQ:SODA). Yes, SodaStream makes soda, but the Keurig/K-cup to SodaStream/flavor packets comparisons are there. These two companies have been linked at times, and there stocks move together occasionally as well. The following table shows some key expectations (current analyst estimates) and valuation metrics. These are for the companies' current fiscal year ("CFY") and next fiscal year ("NFY").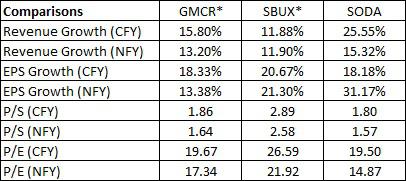 *GMCR and SBUX fiscal years end in September, SODA is calendar.
Green Mountain offers a bit more revenue growth than Starbucks, but a bit less than SodaStream. In terms of earnings per share growth, Green Mountain is comparable to SodaStream and slightly under Starbucks this year. When it comes to the following year, Green Mountain is at the bottom.
When it comes to valuation, I think Green Mountain's is fair. Green Mountain trades at a discount to Starbucks, which probably isn't unreasonable given Green Mountain's past troubles. In comparison to SodaStream, the valuation most likely fits when you account for the buyback that SodaStream doesn't have.
Here in lies the opportunity. If Green Mountain can hit its marks, the valuation could potentially expand to a point closer in line with that of Starbucks. I'm not calling for it to match Starbucks' overnight. However, let's say Green Mountain can do roughly $2.90 in earnings this year (non-GAAP). Current estimates call for $2.84. If that premium could get up to say 22 times earnings, you're looking at a roughly $64 stock. That's about 14% upside from here. If Green Mountain can do better than that, maybe the valuation expands even more.
Current Expectations:
Like I said above, Green Mountain's Q2 guidance was disappointing. The company guided to revenue growth in a range of 14% to 18%, and analysts had been projecting 20.2%. Current estimates now call for 15.8% revenue growth, close to the midpoint of the company's guidance. On an earnings per share front, the company guided to a non-GAAP range of $0.70 to $0.75, which was in-line for estimates of $0.73. Analysts are still at that $0.73 figure today.
At the same time, the company reiterated its fiscal year guidance for 15% to 20% revenue growth. However, due to the weaker than expected Q2 guidance, analysts have cut their revenue estimate from 16.6% to 15.9% growth. The company boosted its earnings per share guidance to a new range of $2.72 to $2.82, from a previous range of $2.64 to $2.74. On that news, analysts have boosted their consensus from $2.71 to $2.84. Green Mountain has generally been fine on the bottom line when it comes to beating expectations, it's been the revenues that have been the issue. Even in the few quarters where the company missed revenues by tens of millions of dollars, they were very close or even still beat on the bottom line.
Conclusion - upside remains, but conditionally:
Green Mountain has seen a tremendous rally in recent months as the company has worked on improving results. A share buyback has also chased away a fair amount of short sellers. The company still shows reasonable growth going forward, and trades at a fair valuation.
To answer the question posed, yes, there is still upside left. Of course, there isn't as much upside as there was at $20 or even $40. Investors are looking for growth, and Green Mountain provides that. The risk that remains here is if the company does not meet those growth expectations. We've seen what happens when the company fails to meet expectations, and the next big test will be their earnings report in about 6 weeks.
Disclosure: I have no positions in any stocks mentioned, but may initiate a long position in GMCR, SODA over the next 72 hours. I wrote this article myself, and it expresses my own opinions. I am not receiving compensation for it (other than from Seeking Alpha). I have no business relationship with any company whose stock is mentioned in this article.
Additional disclosure: Investors are always reminded that before making any investment, you should do your own proper due diligence on any name directly or indirectly mentioned in this article. Investors should also consider seeking advice from a broker or financial adviser before making any investment decisions. Any material in this article should be considered general information, and not relied on as a formal investment recommendation.