Francesca's Holdings (NASDAQ:FRAN) released earnings on Tuesday beating analyst estimates. It also provided a fairly good guidance. The report was consistent with prior reports, and the growth and the expansion of the business are poised to continue. However, short sellers have been pounding on the stock heavily. The short interest increased from 3 million shares a year ago to over 15 million in the latest reporting period, which represents almost half of the free float. Do the shorts have it right? Is Francesca's just a fad, or can we see here a major short squeeze in the future?
Evidence and the fundamentals point to the latter. The company is growing its store count, earnings and sales are rising, and the company seems undervalued at the moment, in regard to the expected growth it is projected to achieve.
Earnings highlights
Francesca's reported fourth quarter EPS of $0.33, above analyst estimate of $0.30, up 73% over the same quarter last year. Revenue was up 40% to $86.7 million compared to $84.9 million analysts were expecting.
The company guided first quarter earnings in $0.25 to $0.26 range versus analyst estimates for $0.26, and revenue in $79.5 million to $80.5 million range, above street consensus for $78.36 million. For the full year, the company expects 23% to 26% earnings growth, which translates into $1.27 to $1.30 EPS, with the low end being the analyst estimate for the year. Revenue is expected in $365 million to $370 million versus analyst expectations for $370.9 million revenue.
Francesca's ended the year with 360 boutiques, and plans to eventually have 900 boutiques. That leaves it with much more room to grow. The company plans to open 80 new boutiques this year. The management was also pleased with its online business development, citing that it was an undeveloped business at Francesca's. The growth of the direct to consumer segment in 2012 was 55% over 2011, and 65% in the fourth quarter, representing 1.9% of total company sales.
Comparable store growth is down to 9.2% in the fourth quarter, compared to 14.7% in prior year. For the first quarter, the company expects comparable boutique sales in 4% to 5% range. The comparable growth seems to be slowing down, but further growth of earnings and revenue is expected with the company's aggressive growth strategy. By year's end, the store count will be at roughly 50% of the expected number. So there is much more room to grow from here.
Valuation
Francesca's currently has a trailing PE of 29.75; the forward PE is 17, and the PEG ratio is 0.71. The company is undervalued given these metrics, and has room for its share price to grow.
Short interest
There seems to be a large bet against the Francesca's bright future prospects. The short interest stands at 45.6% of free float as of February 28th. There has been a substantial increase in short interest over the last year, from 3 million in March 2012, to 15.8 million by end of February. Short ratio is also very high at 19, which means that at the current average level of volume, it would take 19 days to cover all the shorts. Short interest and short ratio are at the highest level in one year.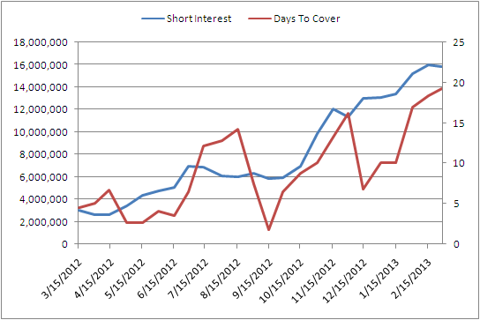 Source for data: Nasdaq.com
Price action
Francesca's is in a consolidation for quite some time now. A decisive break over $30 level in above average volume would be very bullish for the stock, and might cause a short squeeze.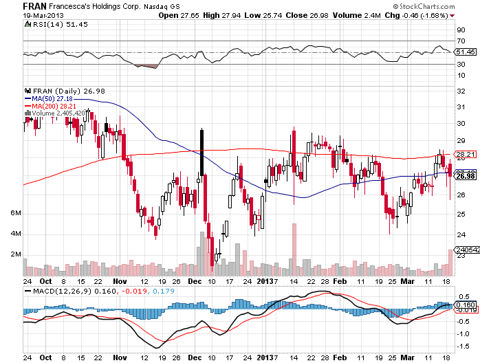 Conclusion
Francesca's growth seems to be on track. Past earnings and sales growth, and expected growth in the future, together with a reasonable valuation gives an investor a great opportunity at current price levels. Technically, a break above $30 level in above average volume might push the price higher with an impending short squeeze.
Disclosure: I have no positions in any stocks mentioned, but may initiate a long position in FRAN over the next 72 hours. I wrote this article myself, and it expresses my own opinions. I am not receiving compensation for it (other than from Seeking Alpha). I have no business relationship with any company whose stock is mentioned in this article.