Why the question arises
Heartware (NASDAQ:HTWR) has completed a public offering of 1,725,000 shares of Common Stock at $86.45 to raise gross proceeds of ~$150 million.
Together with existing cash and investments that will give Heartware close to $250 million in cash and cash equivalents. The announcement includes in part -
HeartWare intends to use the net proceeds from the offering for working capital and general corporate purposes, including ............. acquisition or licensing of or investment in complementary products, technologies or businesses.
In a comment on my recent article, "Sunshine Heart: Potential '10 Bagger' In 4 Years, '100 Bagger' In 10 Years", the question has been asked whether this Heartware equity raising could be for a takeover bid for Sunshine Heart (NASDAQ:SSH).
About Heartware and Sunshine Heart

The question above is very understandable.
Both Sunshine Heart and Heartware have developed mechanical assist devices for treatment of patients with Congestive Heart Failure (CHF).
There is a great need for these devices as current drug therapy generally only slows the progression of the disease but does not halt it.
Heartware's device is the HVAD, an implantable Left Ventricular Assist Device (LVAD), which operates in a similar manner to Thoratec's (NASDAQ:THOR) Heartmate II LVAD. Both of these LVADs are blood contacting devices with risks of stroke from blood clotting. The dangers are such that use is restricted to NYHA Class IIIB and Class IV patients.
Sunshine Heart's C-pulse system targets an estimated 5,200,000 NYHA Class III and ambulatory Class IV patients in the USA and EU. This is a much larger target market than the 50,000 to 100,000 patient population competed for by Heartware and Thoratec.
Sunshine Heart's C-pulse system is non-blood contacting and so does not have the stroke risk of the LVADs from Heartware and Thoratec.
C-Pulse has successfully completed a 20-patient feasibility trial which resulted in 60% of patients improving by at least one NYHA class and a re-hospitalization rate of only 5% at 6 months (~40% re-hospitalization rate within 6 months expected for patients on maximal drug therapy) (see here).
C-Pulse is now commencing a 388 patient Pivotal Trial to compare re-hospitalization rates of 194 patients implanted with C-pulse against 194 patients on maximal medical therapy. The primary endpoint of the trial will be reduction in worsening heart failure events leading to hospitalization, advanced heart failure therapies and heart failure related mortality (compared to the control group on drug therapy). FDA has granted CMS Category B3 status. Because of this designation, it is also anticipated that participating trial centers will be reimbursed by CMS and most private insurance providers.
Some background

Sunshine Heart would obviously be an attractive takeover prospect for either Heartware or Thoratec. It would give either one of them access to a much larger and virtually uncontested target market for mechanical heart assist devices.
Thoratec made a $282 million, cash and scrip takeover bid for Heartware when it was at about the same stage of clinical development as Sunshine Heart is today. The takeover did not proceed due to regulatory objections. But the offer gave Heartware "street cred," and its share price is probably benefiting from that event even today.
At the time, HeartWare had completed an international clinical trial for the HVAD involving five investigational centers in Europe and Australia, obtained CE Mark approval for commercial sales in Europe, and the device was the subject of a 150-patient clinical trial in the United States for a Bridge-to-Transplant indication.
That compares to Sunshine Heart C-Pulse which has completed a feasibility trial, has obtained CE Mark approval in Europe, and is currently the subject of an FDA approved 388 patient Pivotal Trial for NYHA Class III and ambulatory Class IV indication. Marketing approval is expected after a one year follow up of the trial. Sunshine Heart's market cap is currently ~$60 million, a fraction of the above-mentioned takeover offer for Heartware at a similar stage of development.
Due to device safety issues related to incidence of stroke, Heartware's HVAD is largely confined to use for NYHA Class IV patients where Thoratec is the market leader. By acquiring Sunshine Heart and its C-Pulse technology, Heartware would have a target market sector in which it is not in fierce competition with Thoratec.
Why a Heartware bid is unlikely

It is the fierce competition with Thoratec that makes me think Heartware is unlikely to be bidding for Sunshine Heart at this time.
Table 1 below shows the incumbent, Thoratec, is a well-oiled machine, producing healthy profits and cash flows. Thoratec grew year-on-year revenues by 16.3% in 2012, a faster rate than the 10.4% recorded in 2011.
Table 1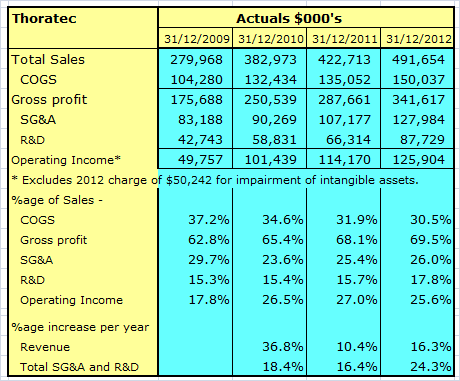 Thoratec enjoys strong gross margins and appears to have SG&A and R&D expense well under control, despite ongoing trials, roll out of new centers, and intense R&D to develop next generation products. Thoratec has undertaken share buybacks but still had cash reserves at end of 2012 of around $250 million.
Table 2 below shows the challenger, Heartware, reported an increased operating loss of $77.594 million in 2012, despite a 34% year-on-year increase in sales (a lessening in growth rate from the 50% increase in 2011).
Table 2
Heartware is close to matching Thoratec's level of R&D expenditure. This is understandable as they are both working on next generation devices, fully implantable systems, and other similar initiatives. But Thoratec is generating more than sufficient cash to fund this from operations while Heartware is not.
Thoratec's SG&A is running at about 26% of sales. Heartware's SG&A is running at around 49% of sales. The higher percentage for Heartware could be due to scale or the cost of ramping up. It could also be due to a greater effort and cost for Heartware to acquire sales. This situation might continue.
Heartware's Q4 2012 Results - Earnings Call Transcript, erroneously shows Heartware sold 445 HVAD units in the 4th quarter 2012. But the correct number is 345 units comprised of OUS 211 units and USA 134 units. The USA figure includes some units previously on consignment which were invoiced in December following a change in arrangements. So normalized USA sales in the December quarter might be somewhat below the 134 units reported as sold. Excitement about Heartware's increased market penetration might be overdone.
Will 2013 be any better for Heartware?
In the Q4 Earnings Call the following indications were given for 2013 -
OUS Sales expected to be flat in the 1st half with increases in the back half of 2013. That suggests limited increase in what is still by far the largest sales segment;
Gross Margin expected to increase to plus or minus 60% in 2013; and
SG&A and R&D expected to continue to trend upwards (Table 2 above shows the significant upward trend in these costs in prior years).
Using the above indications, a projection for 2013 has been developed showing an operating loss of $68 million (see Table 3 below). Any loss will require funding.
Table 3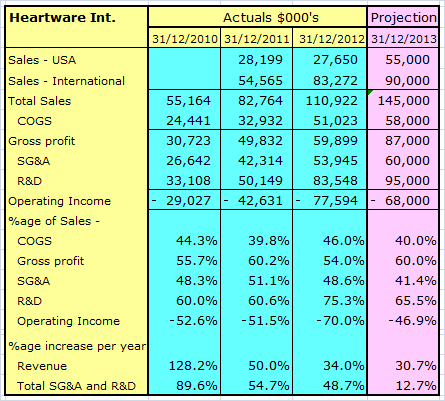 Other drains on cash will likely arise from increases in Receivables and Inventory as sales revenue grows.
Based on Heartware's sales for 2012 year, receivables at end of 2012 represented 83 days of sales compared to 66 for 2011 year. That is to say, average collection time for debtors in 2012 was 83 days compared to 66 days in 2011. In contrast, Thoratec debt collection times were 51 days in 2011 reducing to 45 days in 2012. Long collection times can be a reflection of the quality of the receivables, or in Heartware's case it could be due, perhaps, to longer reimbursement times for off-label sales.
Using similar calculations to those for receivables, Heartware's inventory at end of 2012 represented 275 days of stock on hand versus 117 days for Thoratec. Apart from the carrying cost, holding large inventories can lead to write-downs for obsolescence.
Heartware had $102.8 million in cash and investments at 31 December 2012.
Increases in receivables and inventories, in addition to a projected $68 million operating loss, could result in 2013 cash funding requirements for Heartware of well over $70 million.
Without the just completed new capital raising, further losses in 2014 could have quickly consumed the balance of cash and investments available.
Conclusion:
The current capital raising by Heartware is most likely to be for the very necessary purpose of funding operations through to achievement of profitability and positive operating cash flows.
In his article, "HeartWare Is Premium-Priced Growth, But Could Still Go Higher", Stephen Simpson has suggested that the current Heartware share price is at an "already rich valuation."
There is no desperate need for cash. But now was possibly a very opportune time for Heartware to go to the equity markets to raise additional cash for future needs.
For the foregoing reasons, it is considered highly unlikely that the equity capital raising was intended to fund a takeover of Sunshine Heart.
At the same time, Heartware has strong institutional support. It could most likely raise the capital required for a takeover bid for Sunshine Heart, if it decided to pursue that course of action.
As described in my article, "Sunshine Heart: Potential '10 Bagger' In 4 Years, '100 Bagger' In 10 Years," the company has huge potential growth ahead of it that could attract interest from large medical device companies.
If Heartware were to make a bid for Sunshine Heart, it would likely give rise to competing bids from Thoratec and larger players such as St Jude (NYSE:STJ), Medtronic (NYSE:MDT) and Johnson & Johnson (NYSE:JNJ).
Disclosure: I am long SSH. I wrote this article myself, and it expresses my own opinions. I am not receiving compensation for it. I have no business relationship with any company whose stock is mentioned in this article.