MFA Financial Inc. (NYSE:MFA) is a self-advised REIT that owns and manages a pool of Agency and non-Agency RMBS, primarily secured by pools of hybrid and ARM mortgage loans on single family residences. It has been doing so well lately that its board declared a special cash dividend of $0.50 per share of common stock. This was payable to stockholders of record on March 15, 2013 on April 10, 2013. This has already played out; but the positive reasons for it are still in place. Plus taxable income for 2012 is still in excess of distributions even with the special dividend. The board is expected to declare dividends in 2013 to address any undistributed 2012 taxable income. This means distributions/dividends in 2013 should be slightly higher than many are expecting. Investors can likely expect more great performance.
In Q4 2012 MFA had net income of $0.19 per share with core earnings of $0.20 per share. Book value grew from $8.80 at Q3 2012 end to $8.89 at Q4 2012 end. This was excellent considering many other mortgage REITs lost book value in Q4 2012. From the end of Q4 2011, MFA raised its book value +$2.15 (about 32%) per share from $6.74 to $8.89. As of January 31, 2013, MFA stated its book value at $9.40 per share. This means that MFA is now trading at a discount to book value with a price per share of $9.16 at the close on Wednesday March 20, 2013.
Non-Agency MBS have continued to gain value. The Fed is buying huge amounts of MBS each month. This is putting upward pressure on non-Agency MBS as many investors are being forced into that marketplace by the lack of supply of Agency MBS. The supply of non-Agency MBS has also decreased considerably due to tightened loan requirements, etc. since 2007. The chart below depicts this decrease in non-Agency MBS supply.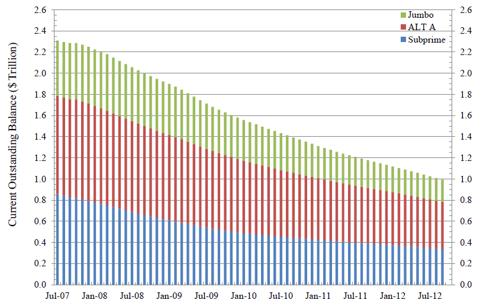 The housing market has also improved. This has led to home price appreciation. This in turn has led to a decrease in loan to value ratios for many of the mortgages underlying MFA's non-Agency portfolio, which has reduced estimated future losses. Hence in Q4 2012 MFA transferred $81 million to accretable discount from its credit reserve. MFA transferred $152.5 million from its credit reserve for all of 2012.
For agency securities mortgage rates have gone up in Q1 2013 versus rates in Q4 2012. This means net interest rate spreads have widened. MFA states they are seeing spreads of 125 bps in Q1 2013. This is only 2 bps wider than the Q4 2012 net interest rate spread of 123 bps; but any plus is welcome. It is a more significant improvement over the 113 bps spread of Q3 2012.
The following table of MFA's portfolio MBS assets as of December 31, 2012 allows one to give relative value to the above data.

Most of the non-Agency MBS were bought at an approximately 73% discount to face value. It is easy to see how these could contribute a lot of profits as the non-Agency MBS gain in value in a recovering housing market. Plus with the gain in housing prices and an improved real estate market, the non-Agency MBS will hurt MFA much less if they fall into foreclosure. They could even possibly bring MFA gains instead of losses. One of the fastest recovering areas in the US is California. This is where many of the loans for MFA's MBS were originated. The chart below shows the recent rises in MFA's top five California ownership counties as of September 2012.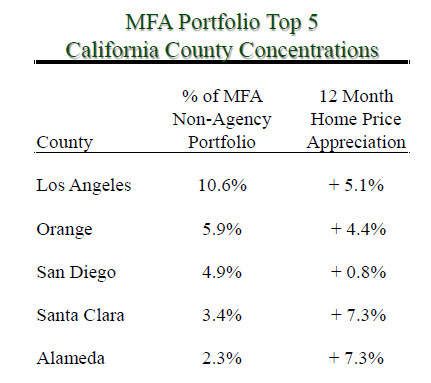 The above is a dated table. The gains have increased even more since September 2012. Still it does give one the flavor for the recent trend. MFA is a good steady dividend paying stock that is well positioned for today's Fed driven real estate market. It should profit handsomely from the non-Agency market. It is a buy.
The two year chart of MFA provides some technical direction to this trade.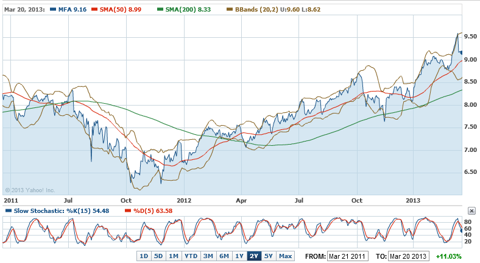 The slow stochastic sub chart shows that MFA is neither overbought nor oversold. The main chart shows that MFA has been in a strong uptrend since late 2011. The good recent results should encourage investors to buy MFA rather than to sell it. The non-Agency MBS holdings seem ideally suited to the current market. They may prove extremely profitable. With a P/E of 11.00, MFA is technically and fundamentally a buy. In fact the average analysts' recommendation is 2.2 (a buy); and the CAPS rating is five stars (a strong buy).
However, about 50% of a stock's price movement is due to the movement of the overall market. The overall market is overbought currently. It is over due for a pullback. Many of the markets' most knowledgeable forecasters are calling for one. On top of this the trouble in the EU is worsening. Cyprus is close to a default. The US may go into a recession in 2013. The Q4 2012 US GDP growth rate was only +0.1%. Since the beginning of the year payroll tax increases of +2.9% have been enacted. The "rich" have been hit with still more taxes on capital gains and dividends. Plus the sequester has been signed into effect by Obama. Some believe these factors will have a roughly -2% effect on US GDP growth in 2013. This makes a recession likely. For all of these reasons a prudent investor may wish to average into MFA over the course of 2013. In this way the investor should obtain an overall good average entry price for MFA.
NOTE: Some of the above fundamental financial data is from Yahoo Finance.
Good Luck Trading.
Disclosure: I have no positions in any stocks mentioned, but may initiate a long position in MFA over the next 72 hours. I wrote this article myself, and it expresses my own opinions. I am not receiving compensation for it (other than from Seeking Alpha). I have no business relationship with any company whose stock is mentioned in this article.