It has become a familiar pattern over the last several years since the outbreak of the financial crisis. Stocks start the calendar year with a powerful surge, peak in the early spring and then fall into correction. After bottoming in the summer to early fall, stocks then regain their footing and close the year on a strong note. Such has been the pattern in 2010, 2011 and 2012. And as we move through 2013, this familiar set up appears to be playing out once again.
This understandably has many on Wall Street calling for yet another springtime peak and summertime swoon in the next few months. While this may certainly be the case, one critically important difference may lead to an outcome that completely defies such expectations and sends the market propelling further to the upside through the summer.
Before going any further, it is important to note that any such rally scenario continuing further into 2013 has absolutely nothing to do with fundamentals. Make no mistake; this is a stock market (NYSEARCA:SPY) that should have corrected lower a long time ago. Economic growth has ground to a halt in the U.S. and has already fallen into recession in many parts of the world. Corporate earnings growth has also turned negative and profit margins appear to have rolled over from historical peak levels. And the outlook is fraught with uncertainties ranging from higher taxes to a persistently cloudy regulatory climate to increasing fiscal constraint to the persistent threat of crisis from Europe and the Middle East. Amid all of these risks, stocks are arguably overvalued and have been trading near or beyond technically overbought levels for nearly all of 2013 thus far. Yet none of this seems to matter, as the stock market continues to drift higher day after day.
So what then is driving the stock market ever higher today? It is, of course, the persistent flow of balance sheet expanding monetary stimulus from the U.S. Federal Reserve complements of the daily U.S. Treasury purchases launched on January 4 as part of their latest QE3 program. It has also been these very same forces that have helped propel stocks higher in past years. But despite this past support, we've seen this same fluctuating pattern set up as we moved through each of the last few calendar years. And as we look at 2013 in this context, stocks appear to be heading down the exact same path once again.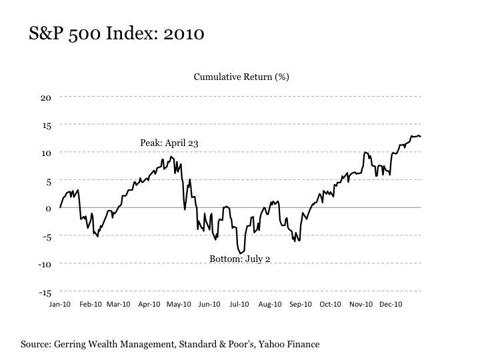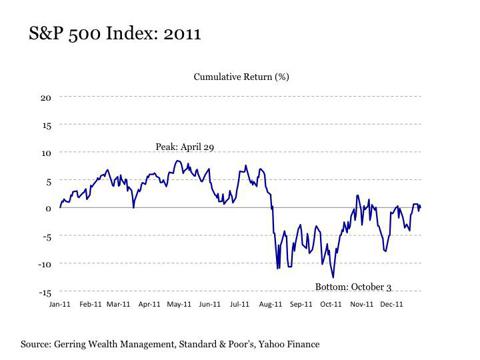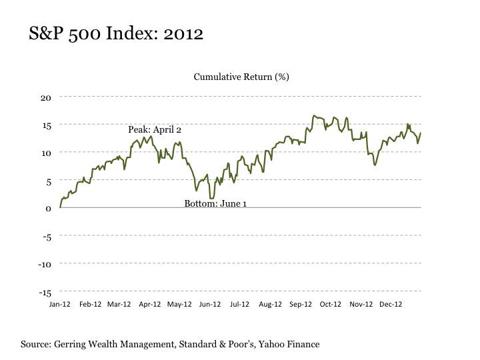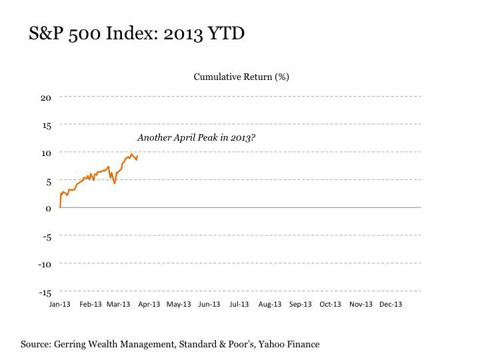 But one key fact is distinctly different this year versus past years. It is the timing of major balance sheet expanding monetary stimulus programs. And this fact alone has the potential to result in an entirely different outcome in 2013.
In 2010, the Fed's QE1 stimulus program drew to a close on March 31. And it was precisely 16 trading days later on April 23 that the stock market peaked before plunging by -16% through early July.
In 2011, the Fed's QE2 stimulus program drew to a close on June 30. Of course, investors knew all along that the Fed's program would be ending on this date, and they were also keenly aware of what happened when QE1 ended in 2010. As a result, it is very possible that the stock market peaked in late April at least in part due to anticipation of QE2 coming to an end in June. And once this program finally concluded, it was exactly 15 trading days later on July 22 that the stock market reached its final top before dropping by -17% over the next two weeks and -18% through the beginning of October.
In 2012, it wasn't the Fed but the European Central Bank (ECB) instead that was pumping liquidity into the market. First at the very end of December 2011 and again at the end of February 2012, the ECB injected $1.33 trillion into the financial system through its LTRO program. And it was precisely 23 trading days after the ECB's program was finished on April 2 that the stock market peaked before declining by -10% through the beginning of June.
In each of the past three years, stocks were being propelled higher in the early part of the year by massive balance sheet expanding monetary stimulus programs either from the U.S Federal Reserve or the European Central Bank. In each of the past three years, these stimulus programs came to an end as scheduled. And it was only after balance sheet expanding monetary stimulus was gone when stock markets entered into a definitively sharp correction lower.
But in 2013, the latest Fed stimulus program has no scheduled end date. It is not expected to draw to a close in the spring, or any time before the end of the year. The liquidity is flowing freely from the Fed, and this is likely to continue for the foreseeable future. As a result, it is for this reason alone that very we may see markets defy the springtime correction pattern this time around and continue higher into the summer and the remainder of the year. Once again, such a move would make little to no fundamental sense, but today's stock market stopped making sense a long time ago now.
This does not at all mean that investors should become complacent on the notion that the Fed alone can lift stock prices ever higher. For some other key differences are also present in 2013. First, the size of the daily U.S. Treasury purchases under the current QE3 stimulus program is only half of what was being purchased under QE2. Second, the Fed had the complementary support of expansionary fiscal policy in past years, but in 2013 fiscal policy is taking a decidedly restrictive turn. Third, inflation pressures are being recognized and addressed more proactively today in critical markets like China, leading to more restrictive fiscal and monetary policies from the emerging world versus what was seen in the past. Fourth, the risk of a full-blown crisis event is growing with each passing day, the latest example of which is the ongoing situation in Cyprus. Lastly, the stock market's response to stimulus has become increasingly muted with each successive program. And as the experience in the aftermath of the tech bubble from 2000 to 2003 reminds us, the stock market can also enter into a long and grueling decline even if the Fed is aggressively providing stimulus.
Thus, maintaining an allocation to stocks remains reasonable in the current environment if for no other reason than the ongoing flood of Fed liquidity has the potential to drive stock prices to unthinkable heights in the coming months. But any such allocations should be viewed with increasing scrutiny and a shorter-term time horizon the higher the stock market climbs, as the risk of a break lower becomes ever greater. Emphasizing quality over beta through positions such as the S&P 500 Low Volatility ETF (NYSEARCA:SPLV), McDonald's (NYSE:MCD) and Verizon (NYSE:VZ) also provides a prudent way to maintain stock exposures while managing against downside risk.
Complementing these stock allocations with positions that also stand to benefit from aggressive money printing is also worthwhile both from a total returns perspective as well as serving as a hedge against the stock market. Leading among these are precious metals including gold (NYSEARCA:GLD) and silver (NYSEARCA:SLV), both of which have notably underperformed thus far during QE3. Those interested in establishing exposures to this area of the market in a securities portfolio are well served to consider the Central GoldTrust (NYSEMKT:GTU), the Central Fund of Canada (NYSEMKT:CEF), the Sprott Physical Silver Trust (NYSEARCA:PSLV) and Silver Wheaton (NYSE:SLW). Lastly, positions such as Build America Bonds (NYSEARCA:BAB) and long-term U.S. Treasuries (NYSEARCA:TLT) also provide a lower risk way to establish a negatively correlated hedge against a stock market decline while still providing for upside potential as stocks continue to rally.
Whether 2013 follows the recent historical pattern remains to be seen. We should know much more in the next few weeks, particularly as the recent events in Europe continue to unfold. In the meantime, it remains worthwhile to be prepared for any and all outcomes both bullish and bearish for the stock market.
Disclosure: I am long SPLV, MCD, VZ, SLW, GTU, CEF, BAB, PSLV. I wrote this article myself, and it expresses my own opinions. I am not receiving compensation for it (other than from Seeking Alpha). I have no business relationship with any company whose stock is mentioned in this article.
Disclaimer: This post is for information purposes only. There are risks involved with investing including loss of principal. Gerring Wealth Management (GWM) makes no explicit or implicit guarantee with respect to performance or the outcome of any investment or projections made by GWM. There is no guarantee that the goals of the strategies discussed by GWM will be met.