The situation in Cyprus has taken a turn for the worst as the EU and ECB said that an accord had to be reached by Monday or they would shut off the cheap financing they have been supplying the island nation. In the past we imagine that Greece and/or Turkey could have been called upon to lend the money 50% each to help the battered island's finances, but with Greece obviously not in a position to do that and Turkey probably incapable of doing it alone it leaves Russia as the lone 'white knight'. It shall be interesting to see how this plays out over the weekend, but markets do not like uncertainty and that is precisely what we shall have for the next two trading sessions and possibly for a third on Monday if no accord is reached.
Chart of the Day:
The data is now breaking below the 350k level on both the weekly and 4-week average which is most certainly bullish. Estimates are calling for a bump up in the numbers this week, but the trend appears to have been established long ago and although we shall see this curve flatten out soon as it only has about 10% more to fall we should see a prolonged movement sideways at which time our attention has to shift towards the continuing claims numbers (for we would want to see decreases there to indicate that people are being hired and not lingering on the sidelines).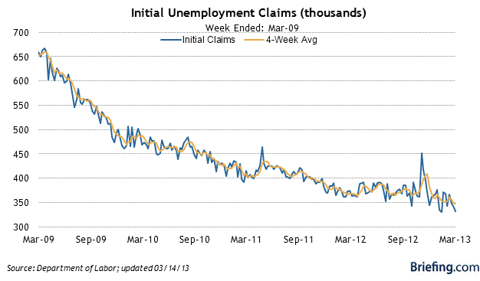 Click to enlarge
Chart courtesy of Briefing.com
We have economic news due out today, and it is as follows:
Initial Claims (8:30 AM EST): 345k
Continuing Claims (8:30 AM EST): 3065k
FHFA Housing Price Index (9:00 AM EST): N/A
Existing Home Sales (10:00 AM EST): 5.0 million
Philadelphia Fed (10:00 AM EST): -3.0
Leading Indicators (10:00 AM EST): 0.5%
Natural Gas Inventories (10:30 AM EST): N/A
Asian markets finished mixed today:
All Ordinaries - down 0.12%
Shanghai Composite - up 0.30%
Nikkei 225 - up 1.34%
NZSE 50 - down 0.16%
Seoul Composite - down 0.44%
In Europe markets are trading lower this morning:
CAC 40 - down 1.18%
DAX - down 1.00%
FTSE 100 - down 0.87%
OSE - down 0.24%
Retail
We have been big critics of Best Buy (NYSE:BBY) having been correct all the way down from $28 to the lows and then being on the wrong side during this latest rally. We are still not sold on the entire plan for the turnaround but recognize that the narrative surrounding the chain has changed over the past few months and that when this happens it is best to walk away and return later if your thesis still appears to be intact. This has been the case at JC Penney and others which saw dramatic rises on the appearance of good news, so we will have to wait and see how this shakes out. Price matching 20 other retailers who are online and lack the overhead of a nationwide network of stores seems a bit crazy to us, but Wal-Mart has been able to price match anyone locally for decades so the idea may not be all that crazy. This morning we would book the profits left from that initial sell recommendation as we are moving to neutral on this one...especially as it is tax season with refunds coming in and March Madness is upon us (big sales of flat screens?).
We were soooo right until the bottom, and have since been ohhh sooo wrong! Normally a V-Shaped Recovery does not happen, but they flipped the script with recent moves.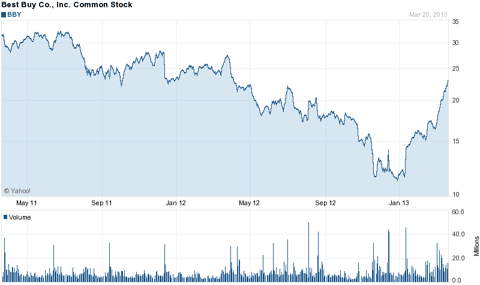 Click to enlarge
Chart courtesy of Yahoo Finance.
The rally at Walgreen (WAG) continues with shares rising another $1.28 (2.86%) yesterday as shares closed at $46.02/share. Volume was once again strong with 15.6 million shares trading hands and the more we look at this deal that they have done the more we like it. They are effectively taking a page out of CVS's (NYSE:CVS) and looking to buy in bulk, but also taking ownership in their partners. The fact that Walgreen is not buying outright their partners we like better as it keeps the company more of a pure-play and less of a diversified drug retailer/distributor/plan administrator. We like this story, as we have stated before, and think that those looking for measured growth and a little yield might find this an attractive addition to your retirement holdings.
Homebuilders
Toll Brothers (NYSE:TOL) got a bit of a boost from Lennar yesterday, along with the rest of the housing sector, after Lennar reported strong earnings and stated that they believed the housing market was only going to improve further. For those of you who are regular readers you may remember the chart we featured as the 'Chart of the Day' where we discussed the housing data and how much better things would get if we simply got back to our normalized rate. That shall be something to continue to watch, but it is apparent that the builders are indeed benefiting from the current market imbalance caused by the past few years when financing was difficult for many buyers, including first time home buyers and jumbo loan borrowers, to attain. We continue to be bullish of anything and everything related to the home sector.
Transports
As we have discussed in past articles recently, we are watching the transports for any sign of troubles ahead. We have them broken down between railroads, trucking, delivery, shipping (sub-sectors here), etc, etc. Yesterday we saw where FedEx (NYSE:FDX) delivered disappointing results and a weaker outlook for their overall business as well as the all important North America-to-Asia shipping channel. Already having seen a shift towards their regular deliveries to the continent it seems that the shift has continued and the company will be forced to cut down on flights in order to cut costs. They are already in the midst of a restructuring and this will add to that. FedEx is usually a good economic indicator, but we are reluctant to make too much out of this news right now as it appears that the company is simply experiencing better cost management by customers who are shipping at cheaper rates rather than the most expensive overnight and two-day air delivery.
Biotechnology
Putting the move in perspective...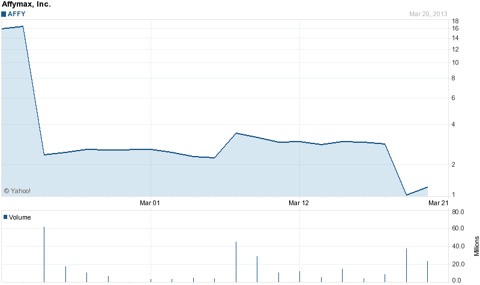 Click to enlarge
Chart courtesy of Yahoo Finance.
We love fireworks and train wrecks (only on non-reality TV and the big screen, of course) and the situation at Affymax (NASDAQ:AFFY) is just that. It is a slow motion train wreck happening right before our eyes. Day traders and computers are the only ones gaming this one and it appears to us to be a hot potato. The shares shot up $0.21 (20.00%) yesterday to close at $1.26/share after having been clobbered the day before, which is a typical bounce. The company has let go of much of their staff and now have a skeleton workforce. Any buyer here would be their current partner, some large pharmaceutical company which thinks they could use the technology or at least fix the current drug/get it approved with a strict label or a very deep pocketed investor wanting to take a risk that they can work through all of this. No matter how you look at it, the price is too rich right now for anyone to take that leap of faith and we would expect any takeover to really be a takeunder at the current prices. Buyer beware.
Disclosure: I have no positions in any stocks mentioned, and no plans to initiate any positions within the next 72 hours. I wrote this article myself, and it expresses my own opinions. I am not receiving compensation for it (other than from Seeking Alpha). I have no business relationship with any company whose stock is mentioned in this article.