Back in May 28 2012, I wrote the article "Revisiting The Coal Sector With An Alternate Altman Z-Score Model". In it, I used an alternate Altman Z-score model to gauge the risk of several coal equities, namely Patriot Coal, Arch Coal (ACI), Alpha Natural Resources (ANR) and Peabody Energy (BTU). This alternate analysis allowed me to establish that the near-term risk for Arch Coal, Alpha Natural Resources and Peabody Energy was bearable, whilst the risk for Patriot Coal wasn't. It was thus worthy to have undertaken the analysis.
Today, I will the same analysis on the three equities which are still solvent: Arch Coal, Alpha Natural Resources and Peabody Energy.
The methodology
I will be using the alternate Altman z-score, whose changes from the original consist of:
The alternate model does not include T5;

In the alternate model, T4 = Book Value of Equity / Total Liabilities;

The weights are different, with Z = 6.56T1 + 3.26T2 + 6.72T3 + 1.05T4 ;

The interpretation of the results is done according to a different set of values (Z > 2.6 is safe; 1.1 < Z < 2.6 is the grey zone; Z < 1.1 is the distress zone).

This z-score is more adequate for non-manufacturing companies, namely those that are capital intensive like the mining companies.
Calculation
The following data was sourced from the latest 10-Ks for the three companies: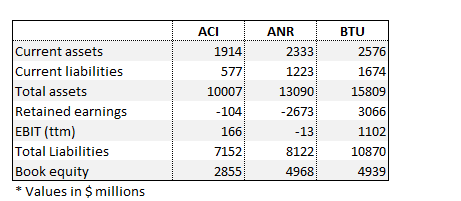 With this data we obtained the following results:

Interpretation
For the purpose of interpreting the results, I'll also reproduce below the table from the previous exercise.

There are several conclusions we can draw:
Arch Coal improved its risk profile slightly (from Z = 1.31 to Z = 1.37), even in the face of an unfavorable coal market. This allows it to stay in the grey zone (1.1 < Z < 2.6) and thus makes it the kind of equity one can speculate long on when trying to catch an improved coal cycle;

Peabody Energy continued showing the lowest risk but still saw some deterioration (from Z = 2.50 to Z = 1.95);

More worryingly, Alpha Natural Resources fell into the danger zone (Z = 0.53 < 1.1). It's perhaps thus not a surprise that it trades at a significantly lower valuation than, say, Arch Coal. Alpha Natural Resource's ill-timed acquisition of Massey Energy back in early 2011 is certainly to blame for this poor showing under duress.

Conclusion
Although no near-term risk seems to exist for Alpha Natural Resources, its poor showing should probably exclude it from future long speculations in this sector. It won't be unreasonable if it gets hit with insolvency speculation, which makes it too risky at this point.
Arch Coal and Peabody Energy remain decent candidates for coal-recovery trades if and when those present themselves. It's also commendable that Arch Coal managed to keep its risk profile intact for a whole year under very trying conditions.
Disclosure: I have no positions in any stocks mentioned, but may initiate a long position in ACI over the next 72 hours. I wrote this article myself, and it expresses my own opinions. I am not receiving compensation for it (other than from Seeking Alpha). I have no business relationship with any company whose stock is mentioned in this article.