Lorillard (NYSE:LO) recently announced another $500 million share repurchase program. This made me curious, so I decided to take a closer look. In this article, I will be zooming in on Lorillard, while comparing it to Phillip Morris International (NYSE:PM), and Altria Group (NYSE:MO).
Financial info for these three companies can be found on LO's investor relations page, MO's investor relations page and PM's investor relations page. I've used the Morningstar website to find LO's historical p/e ratios. The graphs in this article were made by me.
First of all, let's see how the Lorillard share repurchase programs compare to PM and MO's.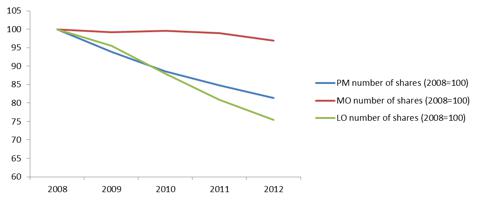 As we can see in the graph above, LO has reduced its number of shares at a far higher pace then MO and PM. This has done wonders for the earnings per share, which have gone up from $1.72 in 2008 to $2.81 in 2012, giving LO a 13% annual EPS growth rate. Net earnings have only grown by 5.5% YoY. I think this really shows how effective large amounts of share repurchases can be in terms of increasing EPS.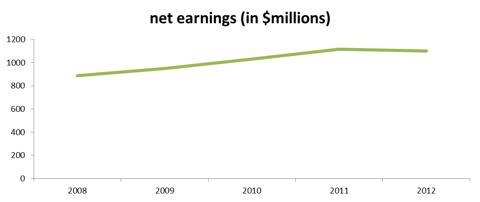 LO recently announced it would raise its dividend to $0.55/quarter. At current valuations, that would give us a 5.5% dividend. Between 2009 (the first full year of dividend payments) and 2012, the dividend has gone from $1.28 to $2.07, giving it an annual dividend growth rate of 17.4%. If we include the 2013 expected dividend of $2.20, the annual DGR is still at 14.5%.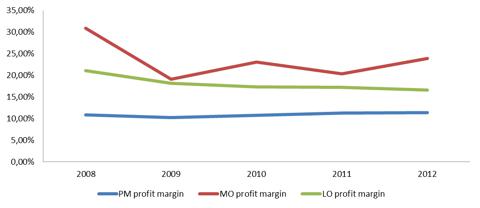 Lorillard has had pretty stable profit margins compared to its competitors. Its profit margin far outpaces PM's, but MO is still the king in terms of getting the most profit out of each dollar in sales. This is mostly due to the fact that MO gets a large part of its revenue from the Marlboro brand, which carry a premium price.
As I have stated earlier, the key to increasing EPS for Lorillard is the purchase of its own shares. Therefore, before deciding to invest in LO, let's try to determine if they will be able to continue their share repurchase programs, by taking a look at the amount of cash & cash equivalents.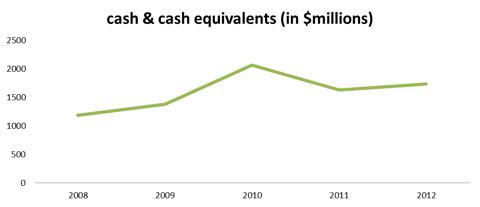 As we can see in this graph, despite buying back huge amounts of shares, LO still has 1.7 billion dollars in cash and cash equivalents (that's $4.45 per share). This will allow it to continue buying back shares, and reduces the chance of a dividend cut.
Lastly, I'd like to take a look at LO's valuation. The graph below shows LO's valuation as compared to MO, PM and the industry average.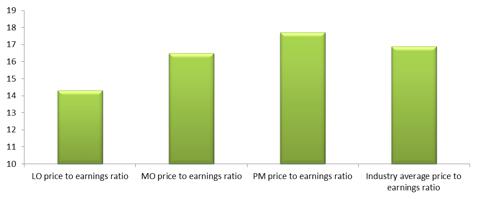 Lorillard is clearly the cheapest here, with a p/e of 14.2 compared to MO's 16.5 and PM's 17.7. The industry average price is at 16.9 times earnings.
LO has traded at low valuation for the largest part of the last 10 years, as can be seen in the graph below. It's 10 year average p/e is at 12.1, which is somewhat lower than its current valuation. However, LO has only paid a dividend since 2008, and if we look at that time frame, the current valuation seems to be near the average. Lorillard has made quite a drop down from its high of $47.02 last July, and I believe at the current price level ($40.34), LO would be a good stock to own.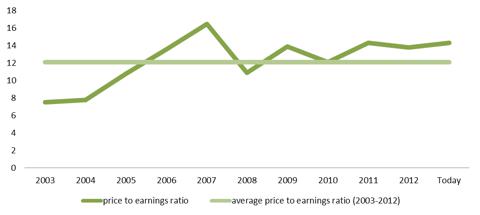 I'd love to hear your opinion on Lorillard, feel free to comment below!
Disclosure: I have no positions in any stocks mentioned, but may initiate a long position in LO, MO over the next 72 hours. I wrote this article myself, and it expresses my own opinions. I am not receiving compensation for it (other than from Seeking Alpha). I have no business relationship with any company whose stock is mentioned in this article.