Ensco Plc (NYSE:ESV) provides offshore contract drilling services worldwide. Like competitors Seadrill (NYSE:SDRL), Diamond Offshore (NYSE:DO), and Noble Corp. (NYSE:NE), Ensco has underperformed the market in 2013. Taking a closer look at the macro conditions and how Ensco itself is positioned, there is potential for this 3.5% dividend yielding company to catch up and possibly excel in the quarters ahead.
Macro Influences
Interestingly, the epicenter of oil supply is beginning to shift from the Middle East to North America, while demand is moving from North America to Asia. Average daily oil production from 2011 to early 2013 increased only 1.5% for OPEC, while the U.S. was up 20%, Canada up nearly 12%, and Asia adding only 1.4%. In terms of oil consumption in 2013, the U.S. and Europe are expected to decline by 1.6% and 7% respectively. Asia is estimated to grow 6.6%, with China being its largest driver at an 8.1% growth projection.
In 2011, the U.S. consumed an average of 18.95 million barrels per day (mbpd), while the Big 3 of Asia - China, Japan and India, consumed 17.21 mbpd. Two years later in 2013, the estimate is that the U.S. will average 18.65 mbpd, but the Big 3 of Asia will consume 18.28 mbpd, nearly closing the gap with the U.S.
The shift of supply and demand appears to be happening more rapidly than many expected, but the ability to explore and expand oil production closer to the demand growth in Asia offers significant opportunities. Ensco is supporting these shifts with over 25% of its 74 rigs positioned in the Asia Pacific region.
As shown below, since 2010, Ensco has had a reasonably good correlation (73%) to the price of West Texas Inter (WTI) crude prices. Crude oil is sometimes seen as a proxy for global economic activity. Given the supply & demand shift noted above, and most economists expecting general improvement in global economic conditions, Ensco is positioned nicely to take advantage of the macroeconomic trends.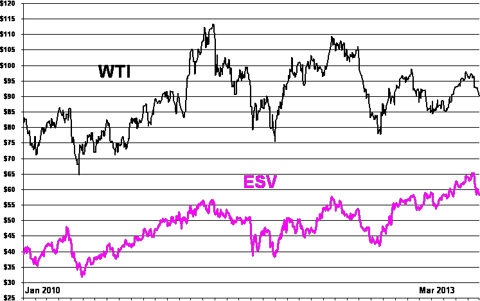 Operational Performance
A good indication of future profitability of a driller's operations are the rates and margins generated by its fleet of rigs, and its backlogs. Ensco's fleet is comprised of rigs known as "floaters" and "jack-ups" that are contracted for service by oil companies and others. Like other service providers, Ensco reports its daily contracted rates for operating its rigs along with backlogs. This is a helpful metric in evaluating future financial trends and potential profitability. In the tables below, you will see Ensco ended 2012 with its key operating measures setting up for an improving picture in 2013.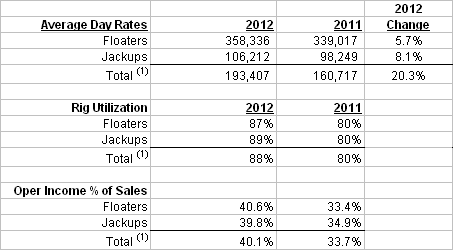 From a revenue and margin perspective, 2012 floater revenue growth was 77% with floaters comprising 63% of revenues at 40.6% operating margin rates. Jack-ups contributed 35% of revenue and generated 39.8% operating margins. The 4th quarter of 2012 was fairly consistent in terms of revenue mix, but margins climbed to 41.9% for floaters, while jack-ups were relatively flat at 39.7%.
Another promising operational development for Ensco is the average age of its jack-up rigs, which is 7 years. The industry's existing equipment is getting old. According to Dana Scott of Mazak Corporation, "of the 474 jack-up rigs used in the worldwide fleet, 317 are 25 years and older - approaching the end of their useful life. New jack-up rigs are being built right now, there is going to be a tremendous amount of deep-water drilling."
Financials
A few key statistics I like to monitor for any company I invest in are margin trends, free cash flows, and debt. As you will find in the table of comparatives below, Ensco is maintaining nice comps with improving quarter over quarter sales, margin rates, and cash flows. Additionally, it has lowered its debt and thus, reduced interest expenses.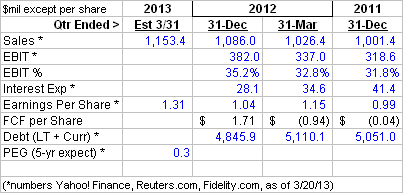 Ensco confirmed its strong cash flow outlook when it recently increased its annual dividend by 33% from $1.50 to $2.00 per share. The dividend payout ratio is 40% on diluted ttm EPS, allowing room for future dividend growth. Looking at P/E ratios, ESV's projected PEG of 0.3 is the lowest among its major competitors. Even by current year estimates, with Ensco's stock priced in the upper $50's, it would be considered undervalued at 8.6x compared to the Oil & Gas Drilling & Exploration industry average of 14.
Conclusion
While economic headwinds could weigh more on demand for offshore oil exploration, the bias for global growth seems greater than it does for a contraction at this stage. As China and India continue to increase their consumption levels, not to mention risks of instability in the Middle East and/or a weakening dollar, demand for oil and current price levels seem to have established a floor in the $80-90/barrel range.
Ensco finished 2012 in a strong operational and financial position, and appears well situated to meet future market demands as well as increase its profitability and cash flow going forward.
Disclosure: I am long ESV. I wrote this article myself, and it expresses my own opinions. I am not receiving compensation for it (other than from Seeking Alpha). I have no business relationship with any company whose stock is mentioned in this article.