Why would McDonald's (MCD) not use filetofish.com to capitalize on its most ignored sandwich the one time of year 23.9% of the US population is compelled to consume it at least once a week (lent)? Where is the website counterpart to the viral Arnold phenom that is "Gimme-that-filet-o-fish"? Where is the follow-through?
First, some history. According to USA Today, the filet-o-fish (one "L") was "invented" in 1962 in Cincinnati by McDonald's owner Lou Groen for the sole purpose of satisfying the demands of his predominately Catholic clientele on Fridays. Comprised of fried fish, half a slice of cheese, and tartar sauce, it has since gone on to sell, amazingly, at a rate of 300 million patties per year.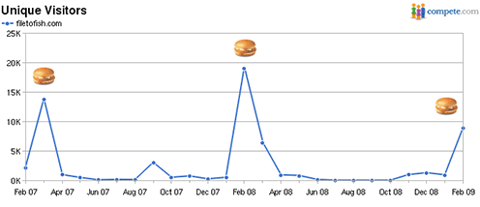 So given the history and the Canonical rules, it seems like McDonald's would want to seriously chase the Catholic dollar online; however, filetofish.com has been left suspiciously derelict. If you look at Unique Visitors during Lent for the past three years, you can smell the scent of demand. With no memorable substantial web-presence or campaign tie in (that I know of, or that the Wayback Machine could show me) there are still organic spikes in UVs to filetofish.com during the pre-Easter season. Admittedly, the data is a little thin here (low sample), but the seasonal variance is obviously undeniable.
There is a unique opportunity for McDonald's to execute a campaign once a year AND to follow through with a related "filet" inspired web presence. By matching Catholic consumers' weekly demands for fish with the often forgotten, often maligned, filet-o-fish, McDonald's could briefly capture some fish sandwich market share.