What do you do with a stock that refuses to rally even in the face of a 20 some-odd percent gain in the market? The answer is to Short It! There is a common sense trader's assumption that if a stock can't participate in a strong market, it will become even weaker when the market quits going up.
Now I'm not one to take cute phrases at face value - or to short a stock based solely on the chart pattern, but for American Public Education (APEI) we have enough negative issues stacking up to create a good argument for shorting the stock. And it helps to realize that the market is confirming that APEI is not an emerging leader in this rapidly advancing market.
Looking into the fundamentals of this company, it is tough to call this a "lagging business." The online educator boasts 45,000 students representing all 50 states and 130 different countries. Earnings have grown tremendously since the IPO in 2007. In fact, Zachstocks covered APEI shortly after the IPO with positive expectations. But that was during a strong market period where investors were willing to pay huge premiums for exiting stories… I don't have to tell you that times have changed.
Currently the stock is trading near $43 while the expected earnings for this year is $1.20. That means investors are willing to pay $35 for every dollar that the company earns. Why would you pay so much? Well, its because investors have been programmed to expect the company to beat estimates and to grow by huge percentages each year. While this strategy works incredibly well in a bull market, its a dangerous game to play when times are more difficult.
Imagine for a minute that the company has difficulty adding new students. Maybe federal (or private) loan programs are reduced or require more documentation. What if the company announced that instead of $1.20, the company would only earn $1.00 per share this year. That's still a good thing right? It would still represent a 6% increase over last years earnings. Not too shabby considering the environment we are in right now.
But the problem is that the stock price is implying huge growth. That's why investors pay 35 times earnings. If that huge growth is gone, the multiple investors are willing to pay will also go. We could be generous and say that the new multiple would still be 20 times earnings. But that would leave us with a stock price of $20 - or 53% below the current price. That's a pretty scary scenario - and not that far fetched either.
In the past month we have made significant gains in long opportunities. Shanda Interactive (NASDAQ:SNDA) is actually up 53% since we recommended the stock in January. Similar gains have been made in Continental Resources (NYSE:CLR) and LDK Solar (NYSE:LDK). We have several Long Ideas that continue to make money as the market climbs. But it is important to have some defensive plays on the field as well. And stocks like APEI which are expensive, but not participating in this rally make for great short candidates.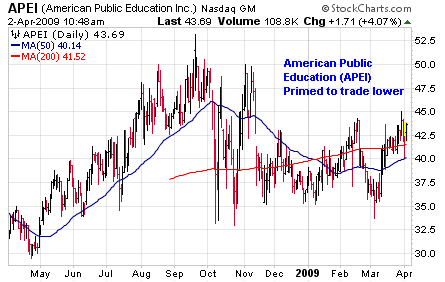 Disclosure: Author does not have a position in APEI