Caterpillar, Inc. (NYSE:CAT) is one of the world's best known brands and its heavy machinery is used in numerous industries including construction, farming, mining, heavy infrastructure, and others. However, even as many market indexes race to record highs, this stock has significantly underperformed.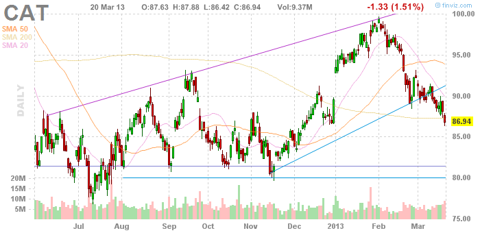 As the chart above shows, this stock topped out at nearly $100 per share earlier this year. Now the stock is in a downtrend and it has even dropped below key supports levels which include the 50 and 200 day moving averages. The chart also shows that in the past several months this stock has found support at around $80, and that might be where the stock is now headed. With Caterpillar shares acting weak in the face of a significant market rally, you have to consider that the share price could fall even further in a market correction.
Furthermore, there appears to be little reason for investors to buy Caterpillar now, especially as the company just reported a steep drop in orders. It announced that global sales declined by 13% in the three month period ending in February. This is even worse than the 4% decline it reported in January. What might be most alarming is that sales in Asia were down 26%, since this is another indicator that China's economy is showing signs of weakness. Many investors are concerned that China has a real estate bubble, and "ghost cities" where highrises have been built with little or no occupancy. If China's economy is starting to roll over, that could significantly impact companies like Caterpillar. A real estate collapse in China would have global implications and it could fuel a major market correction. Sales in North America were also down by about 12% and that was also weaker than what some analysts expected. These sales declines exacerbate what have been already high levels of inventory for Caterpillar.
With relatively high levels of inventory, and global sales declining, investors might increase focus on the balance sheet. Caterpillar has about $3.3 billion in cash, but this is far outweighed by debt of about $40 billion. It also has pension obligations that could weigh on the stock, especially if sales and profits continue to decline. Furthermore, the stock is not that cheap on a price to earnings ratio. Analysts expect the company to earn about $8 per share for 2013. This puts the price to earnings ratio at about 11 times, which is below the average for the S&P 500 Index (NYSEARCA:SPY), however, earnings estimates could be too high for Caterpillar in light of the recent sales report. Plus, industrial companies like Caterpillar typically trade at a lower price to earnings multiple when compared to the S&P 500 Index. With the fundamentals looking weak in many areas, and with the stock in a downtrend, it seems best to wait for it to reach a more solid support level around $80, before considering a buy.
Here are some key points for CAT:
Current share price: $86.72
The 52 week range is $78.25 to $111.35
Earnings estimates for 2013: $8.03 per share
Earnings estimates for 2014: $9.40 per share
Annual dividend: $2.08 per share which yields 2.3%
Data is sourced from Yahoo Finance. No guarantees or representations are made. Hawkinvest is not a registered investment advisor and does not provide specific investment advice. The information is for informational purposes only. You should always consult a financial advisor.
Disclosure: I have no positions in any stocks mentioned, and no plans to initiate any positions within the next 72 hours. I wrote this article myself, and it expresses my own opinions. I am not receiving compensation for it (other than from Seeking Alpha). I have no business relationship with any company whose stock is mentioned in this article.