Starbucks (NASDAQ:SBUX) has been expanding its presence into the farming business in order to manage the supply chains of its growing coffee empire with the highest standards in coffee beans. Assuming farming generates a profit, it can also be assumed that the best hedge against rising and falling coffee bean prices could be the self-production of the coffee beans themselves.
Leslie Patton from Bloomberg states that:
The farm, which employs about 70 people, "has plenty of land for us to be able to experiment with varieties," Craig Russell, senior vice president of global coffee, said in an interview today. "We would not rule out whether we'd need other property," Russell said. The company did not disclose how much it paid. The 240-hectare (593-acre) holding will help support growers and their families while allowing Starbucks to create new blends of coffee to sell, Chief Executive Officer Howard Schultz said in a statement.
The recent development will result in: Starbucks' business structure becoming more vertically integrated. The vertical integration of the business comes with some advantages and disadvantages.
Pros
The farm will be used to grow higher valued coffee crops. The savings could result in an immediate improvement, in profits. It is highly likely that the 593 acre property will be used to its most valuable economic use. Higher value coffee blends can be sold at higher rates in certain foreign markets.
The crops have an immediate market(SBUX's coffee shops). The market (Starbucks Coffee shops) prices coffee at well above the equilibrium market price (the futures exchange). Starbucks is able to further maximize profits on its goods and services.
The cost of goods sold will be directly tied to the farm. The cost of operating a farm only increases gradually. Factors that would affect the cost of operating a farm would include property taxes, wages, water, electric utilities, and fertilizers. Since Starbucks is going the ethically sourced route, natural fertilizers would be implemented. The costs of the aforementioned inputs gradually increase over time which would lead to a gradual increase in the cost of goods sold.
Cons
Large up-front investment. The company did not disclose the cost of acquiring this farmland. It can be assumed that it is extremely fertile land and that it meets certain requirements for growing higher value coffee beans, otherwise management would not have acquired that land. That being the case, it is highly-likely that the company has spent a substantial amount of capital on the farm.
Starbucks management bought land which would add to the long-term investment item on the balance sheet. This would reduce the return on asset ratio, which would hurt the implied effectiveness of management.
Uncertainty due to land purchase. Investors may not be fully aware of the pros and cons of the land acquisition. The price that was paid for the land was also undisclosed but will be disclosed in the upcoming earnings announcement. Investors may sell stock in order to lock in gains for the year due to uncertainty.
Investors hoping for a bigger dividend may be disappointed as cash from investing expenditure is likely to increase.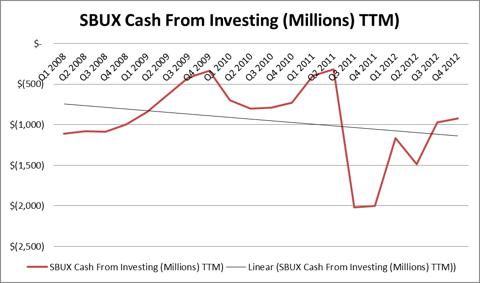 The above figure is represented in negatives. This represents the cash outflow that comes from investing into capital expenditures. In this case, land could substantially decrease the cash generated from investment. The coffee farms, reduces the hope of a better dividend, more share buy-backs, or a higher store foot print.
Conclusion
After weighing the pros and cons of the business acquisition of a farm, I believe that Starbucks' management has made the right decision with regards to its recent purchase. Better managed costs could generate more profit than an increase in stores or share buybacks. The company is taking greater responsibility for managing its corporate mission "ethically sourced beans." I maintain my price target of $72 per share in 2013 to 2014.
The recent business development gives me further reason to sustain my optimism in the coffee franchise.
Source: Information pertaining to Starbucks came from the shareholder annual report, Bloomberg, and Ycharts.
Disclosure: I have no positions in any stocks mentioned, and no plans to initiate any positions within the next 72 hours. I wrote this article myself, and it expresses my own opinions. I am not receiving compensation for it (other than from Seeking Alpha). I have no business relationship with any company whose stock is mentioned in this article.