In part 1 I introduced the reader to Rare Earth Elements (REEs, hereon). I explained why I think REE prices will rise. I then introduced the reader to the 17 REEs - the 15 lanthanides, scandium and yttrium. I also briefly discussed the concept of Rare Earth Minerals (REMs, hereon), which are minerals that contain REEs. i concluded by introducing the reader to the four REEs - cerium, dysprosium, terbium, and yttrium - that I believe will most factor into REE investment decisions.
In part 2 I discuss specific REE investment opportunities. Investors can either buy REEs outright through a small Canadian holding company called Dacha Strategic Metals (OTCPK:DCHAF), or they can purchase mining companies.
Before I discuss specific REE investments, I want to emphasize that the stocks of these companies are extremely volatile, and investing in them is not for the faint of heart. Furthermore, of the REE companies that are available for investment in the United States, only a couple of them are currently in production. None of them are profitable, and none of them pay dividends. Consequently I offer the following advice:
1: Unless you decide to make REE investing your area of expertise, do not allocate more than a small percentage of your assets to these companies.
2: Be patient. If you are excited and emotional and end up allocating all or most of your REE investment capital all at once don't be surprised to see losses of 50% or more. If you are patient you will be in a position to take advantage of these enormous price swings. That isn't to say that you shouldn't allocate any of your capital right away. If I am correct some REE investments may be undervalued by a minimum of 80%, 90%.
3: Do a lot of research, especially on the mining companies. There is plenty of information on REEs and REE-related companies, but it is not available the way information about, say, copper and copper mining companies is available. Copper futures are traded by people on exchanges all over the world. Data points such as: (1) the price of copper, (2) global inventories of copper, (3) and estimated mine production and recycling supply are readily available. Only rough estimates of these data points can be made for REEs. Use the estimates as a reference point and be conservative in your own calculations. If Ucore Rare Metals (OTCQX:UURAF) says that they will be producing 120 tons of dysprosium by 2016, I would base my investment decision on them producing, say, 60 tons of dysprosium by 2017.
That being said, given the reasons I outline in part 1, wisely chosen REE investments should be outrageously profitable, and I would not be surprised to see the best (and luckiest!) companies achieve shareholder returns of 5,000% or more. Most companies, however, will probably go to zero.
In what follows I discuss specific companies. I divide them into two categories: REE holding companies, of which Dacha Strategic Metals is the only one, and REE mining companies.
1: Dacha Strategic Metals
The simplest and lowest risk way to get exposure to REEs is to simply buy Dacha Strategic Metals. That is not to say that the shares are not volatile. They are, in fact, extremely volatile, as the following chart illustrates.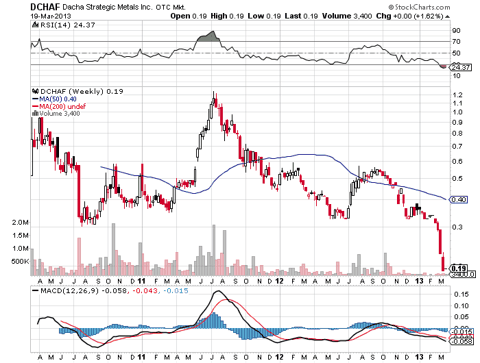 This is a reflection of Dacha's low market capitalization of just $14.5 million and the high volatility of REE prices.
Dacha Strategic Metals buys, stores, and trades specific REEs. Consequently investors do not have to worry about mining risks such as share dilution, mining costs, or political issues that come with mining in certain jurisdictions. Furthermore, investors do not have to worry about wasting investment capital by getting exposure to REEs with unfavorable supply-demand fundamentals, such as cerium. Dacha almost exclusively holds dysprosium and terbium in oxide or alloy form (a less pure form that is easier to store but less valuable per mass unit). The company also holds small amounts of yttrium, neodymium and gadolinium.
The shares currently trade at a discount to their NAV. The company's current market capitalization is $14.4 million. While the company has not updated its holdings' NAV since November, 2012, using its stated metal holdings at the time and the prices given by metalprices.com for dysprosium and terbium alloys and oxides, Dacha had an NAV of roughly $40 million as of February 17, 2013. However shares of Dacha have fallen by almost 40% in the last month so that should give investors an idea of what has happened to dysprosium and terbium prices during that time period (as I state in part 1 the current price data is available by paid subscription only, and so I cannot give out this information). Nevertheless Dacha shares trade at a meaningful discount to NAV. Management has taken advantage of the disconnect between Dacha's share price and its NAV in the past by selling assets in order to buy back stock.
The only drawback to Dacha is that they do not hold a significant amount of yttrium, which, as I pointed out in part 1, has extremely favorable supply-demand fundamentals and is considered to be of the highest strategic importance for the U.S. Department of Defense. Fortunately, investors who are looking for exposure to yttrium can look to mining stocks, as I discuss presently.
2: Mining Companies
Investors who are interested in buying shares in REE mining companies must keep in mind what I mentioned in part 1 about REMs, namely that most REMs contain certain REEs, but that other REEs, dysprosium and terbium in particular for the sake of this discussion, are not necessarily found in any REMs. Consequently, statements made by REE mining companies concerning their resources and reserves of particular REEs must be taken with a grain of salt unless the REEs in question are consistently found in the REMs that the company claims to own.
Fortunately investors who are bullish on dysprosium and terbium, which are not necessarily found in any REMs, have access to Dacha Strategic Metals. While mining companies such as Ucore Rare Metals and Tasman Metals (NYSEMKT:TAS) claim to have dysprosium and terbium deposits, the certainty of these claims is not as high as the certainty that these companies have deposits of particular REMs. Because the most common REMs, including bastnaesite and monazite, primarily contain cerium (which do not have favorable supply-demand fundamentals), most REE mining companies will end up being cerium producers that occasionally get lucky and find significant deposits of dysprosium, terbium, and europium. Consequently most REE mining companies are highly speculative.
Yttrium is the only REE with extremely favorable supply-demand fundamentals that is the central element of an REM: xenotime. Consequently, the strategy that I have developed in selecting REE mining companies to invest in is to focus on those that have found significant xenotime deposits, and to view statements of dysprosium and terbium resources as speculative, yet not unrealistic. Using this strategy the one REE mining company I have zeroed in on is Ucore Rare Metals. I will discuss other companies, the stocks of which make for good speculation, but I am concerned that these companies may turn out to be cerium producers with trace amounts of the quality REEs. I also discuss the most popular REE mining company, Molycorp (MCP), although I cannot recommend the shares.
Investors in REE mining companies must be aware of the fact that not only is future production uncertain, but mining costs are uncertain as well. Separating REMs into their individual REE components (which will usually be in the form of Rare Element Oxides) is an extremely intricate and expensive process, and it uses technologies that have not yet been perfected. Consequently investors who are considering purchasing shares in REE mining companies must be convinced that the prices of the better REEs will not only appreciate, but will appreciate substantially in order to justify their investments.
Ucore Rare Metals
Ucore Rare Metals has a large project in Alaska, Bokan Mountain, that focuses on dysprosium, although they also have exposure to several other REEs as well as uranium, which I am very bullish on (see my article Beyond Oil: Playing The Downtrodden Energy Commodities). Most importantly, however, Ucore is the only REE company that I have researched where there is an explicit statement in their 43-101 for Bokan Mountain that there is a significant xenotime finding.
According to Jack Lifton in an interview given to The Critical Metals Report on June 19, 2012, Ucore plans to produce approximately 120 tons of dysprosium and 20 tons of terbium when Bokan Mountain commences production in (hopefully) 2016. Given current prices and the fact that Ucore currently has a market capitalization of only $50 million, Ucore shares can potentially perform incredibly well even if they can only mine half of the dysprosium and terbium that they claim to be able to. While their xenotime resource is not quantified it comprises a significant amount of a 2.6 kilometer vein (a vein is a strip of ore that mining companies focus on when extracted desired metals and minerals) that they found on Bokan Mountain, and only a small portion of this vein needs to be xenotime to provide them Ucore with thousands of tons of yttrium, thus making it an incredibly attractive investment given its current market capitalization. One issue with Ucore is that it has just over $3 million in cash and so they will almost certainly have to dilute shareholders as they develop their Bokan Mountain project.
There is one more fact to point out about Ucore that makes it an especially attractive investment. I have already mentioned that the Department of Defense has claimed that several REEs are strategic metals for America's national security. Ucore is unique in that the DoD has formed a partnership with them in order to develop their Bokan Mountain project. In an October 1st, 2012 press release Ucore states:
"[T]he United States Department of Defense (DOD) has contracted with Ucore via the Company's US operating subsidiary Landmark Alaska L.P. to conduct a mineralogical and metallurgical study on the Company's Bokan Mountain heavy REE property in Southeast Alaska. The program, to be managed by DOD under the Defense Logistics Agency (DLA) will focus on possible development of Bokan Mountain, America's largest NI 43-101 compliant heavy rare earth resource, to meet the requirements of the Department of Defense for an ongoing supply of critical heavy REE's. Under the agreement, Ucore will provide DOD with the most up-to-date data on the Bokan project's mineralogy and proprietary bench and pilot scale Solid Phase Extraction (SPE) nanotechnology research."
This gives me enormous confidence in the company's ability to build the mine. When this announcement came out the stock went from about $0.40 to $0.60 in one day. Now the shares are under $0.33 because REE prices have fallen dramatically. While the decline is justified it has given investors another opportunity to purchase shares at an excellent price.
Tasman Metals Ltd.
Tasman Metals Ltd. potentially has an enormous dysprosium and terbium resources at their Nora Karr project in Sweden. If Tasman can produce the 350 tons of dysprosium that Lifton suggests then with its $58 million market capitalization the company may very well outperform Ucore.
Tasman expects to begin production around the same time as Ucore so investors must be patient, however they have more than twice the cash that Ucore has so they will not have to dilute shareholders as much. Again I must emphasize that I am skeptical of Tasman's (and Lifton's) statements regarding their future production targets, yet I don't think they are unrealistic. With that being said this is a good stock for speculators with a high risk appetite to consider.
Great Western Minerals Group
Great Western Minerals Group (OTCPK:GWMGF) has a project, the Steemkampskraal mine, in South Africa that is anticipated to produce 34 tons of dysprosium. While this is not nearly as much as Ucore and Tasman I include the company in this article because it will be producing as early as 2014, which means investors do not have to wait several years for cash-flow as with the two companies I discuss above. However I am not as optimistic about this company as I am about Ucore and Tasman. While Great Western Minerals has extremely high REM grades it will primarily mine monazite, which is basically cerium with some lanthanum. Given that (1) the company has a market capitalization of $72 million, (2) they only intend to produce 34 tons of dysprosium, and (3) the mine is in South Africa, which is a politically unstable region, if I am going to speculate on a monazite-dominant REE mining company, then I would rather take my chances with Tasman Metals. However I could be wrong if: (1) dysprosium prices take off, (2) Great Western Minerals can produce the dysprosium they claim to be able to, and (3) the company uses its head start to make acquisitions.
Molycorp
In 2010 and 2011 investing in REEs was almost synonymous with investing in Molycorp, and so I decided to include it in this article. Now that the shares are down 90% from their peak I think that a lot of people have realized that a significant amount of their revenues come from cerium, which has poor supply-demand fundamentals, especially relative to dysprosium, yttrium and terbium. Molycorp does have some dysprosium resources, however by 2015 they estimate that they will be producing only seven tons, which is minuscule compared to what Ucore and Tasman may produce. One thing that Molycorp has going for it is that they produce a significant amount of lanthanum, which doesn't have the supply-demand fundamentals that the rarer REEs have, but it was mentioned by the American Resources Policy Network as a strategic element for America's national defense and it could prove to be a good investment. That being said I still think that investors should avoid Molycorp given: (1) its $1 billion market capitalization, (2) the opportunity presented by Ucore and (3) the relative safety of simply buying Dacha Strategic Metals.
Disclosure: I am long OTCPK:DCHAF, OTCQX:UURAF. I wrote this article myself, and it expresses my own opinions. I am not receiving compensation for it (other than from Seeking Alpha). I have no business relationship with any company whose stock is mentioned in this article.