After the typical April/May sell of last year, Mela Sciences (MELA) became a target by hedge fund managers seeking additional leverage with a speculative small cap equity position. In July 2012, consecutive news releases regarding one of the firm's key products, MelaFind, marked a major turning point in MELA's stocks price -- the change that some thought was going to yield much more than it actually did. Unfortunately, MELA's most recent financial results were not promising for investors holding long positions. Furthermore, the financial results for even the past three quarters did not strike investors with the same positive appeal that MELA's product provided following the rumor on the street. Based on the chart shown below, it appears it's been a straight down line since July. Short sellers took advantage of this speculative security, and drove its price to merely nothing - depleting its value by over 165%.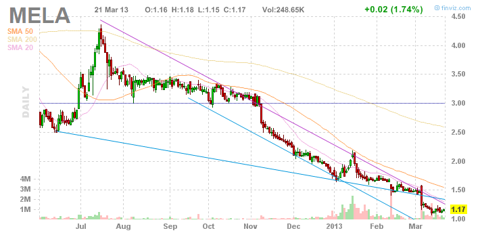 Click to enlarge
(Click to enlarge)
As you are starting to realize, a large amount of uncertainty has been priced into MELA's stock, but I am sure many investors are wondering what will reduce the magnitude of this uncertainty. MELA is a creditable firm with a dedicated management team. MelaFind has proven to be successful, but its security price has yet to reflect this. So far, investors have only gained exposure to high levels of volatility, and have yet to witness sustainable price movements. This article is going to provide an overview to MELA's key product, set the demand for its product, and outline its new financing agreement. To conclude, readers will be provided with relevant factors that have the potential to stabilize MELA's stock price, and ultimately augment shareholder value.
MelaFind®
MelaFind is a non-invasive medical instrument designed to provide information for dermatologists that cannot be found through normal melanoma skin examinations. The general function of the device is basic, however the results it provides are not. MelaFind uses light from visible to near-infrared wavelengths to analyze skin lesions that can range up to as much as 2.5mm beneath the skin. Specifically, the information provided can be used for a biopsy decision-making process. As of now, MelaFind is approved by the U.S. Food and Drug Administration for use in the US. In addition, it has been approved for use in the European Union as well.
After the initial launch of MelaFind in March 2012, MELA's management implemented a very "hands on" approach for how its product is provided to its customers. First, the product is purchased by the physician for roughly $10,000. Following, the product is then installed into the physicians office, which is included in the original cost. The second source of revenue derives from each scan. MELA charges physicians a fixed price per scan, which is subject to variation. But according to the most recent data available, it appears MELA receives$50 per scan. This is relatively cheap considering in some cases physicians can easily charge up to $350 per scan.
Recently, MELA presented its current research at the 71st Annual Meeting of the American Academy of Dermatology (AAD). This served as an opportunity for MELA to expand its customer base and establish its brand name. The findings presented revealed evidence that MelaFind has been successful in increasing the melanoma detection rates of resident dermatologists when choosing to biopsy melanoma at its most curable stage. Here are several additional statistics regarding the functionality and improvements to MelaFind that were released at the presentation:
"The study, led by Drs. Jane A. Yoo and Darrell S. Rigel, asked 121resident dermatologists to evaluate 24 pigmented lesions that had previously been analyzed by MelaFind®. Biopsy performance results were compared before and after using the MelaFind® "High" or "Low"Disorganization score. Prior to factoring in results from MelaFind®,dermatology residents' biopsy sensitivity was 57%. After reviewing MelaFind® results, sensitivity improved to 77%. The results, combined with data from a similar study of attending dermatologists, showed that utilizing MelaFind® can significantly improve the melanoma detection rates of dermatologists at any experience level."
When Will A Demand Shock Strike?
Melanoma is one the deadliest forms of skin cancer and its presence is only becoming more common. Statistics reveal the number for cases of melanoma discovered each year is increasing at a compounding rate. According to the American Melanoma Foundation, there is more than 1 million new cases of skin cancer detected each year, and 1 out of every 58 men and women will be diagnosed with skin cancer in their lifetime. A recent study from theNational Cancer Institute estimates there will be over 76,690 new cases of melanoma detected nation wide in FY 2013, which implies a significantly large market potential.
Unfortunately, as bad as it may seem, the growing number of melanoma cases are increasing the size of MELA's market potential. According to a statement made by Dr. Joesph Gulfo (President and CEOof MELA) at the recent conference, "Only 24% of American adults have has a skin check with a dermatologist." Given on average that 1 in every 58 men and women will be diagnosed with skin cancer in their lifetime, dermatologist check ups for skin cancer are simply going to become more prevalent. Overall, MelaFind has proven its effectiveness. It is now time for management to market its product to its full extent.
MELA Secured A New Source of Funds
MELA's intention for sustaining its operations appears to be in the right direction. On March 15th, MELA's management announced it entered a contractual Loan and Security Agreement with Hercules Technology Growth Capital Inc. (NASDAQ:HTGC). This agreement provided MELA with $6 million in funds that is accessible immediately. Also, included is a revolving credit line providing the option of drawing an additional $4 million in excess capital. The option to access additional funds is not indefinite and expires on March 17th,2014. Here are several details on the loan:
The loan is subject to a 10.45% interest rate.
The maturity date of the loan November 1st, 2016.
The loan is secured by a lien against all of MELA's tangible assets.
In addition to the loan, HTGC received a warrant to purchase that number of shares of MELA's common stock equal to 775,000 divided by the exercise price of the warrant. According to the terms of the agreement, the lowest possible price is $1.18, which was the closing price of MELA's common stock on March 15th.
What's Next?
Since January 2013, MELA has increased its sales effort this year focusing on spreading the use of MelaFind to new physicians. In addition, MELA is striving to raise patient awareness of its product, and market it towards patients as an effective, yet cost benefit solution. Looking forward, the determining factor for MELA will hevaily rely on the extent to which its product is marketed and spread to physicians across the United States. MELA's profit margins are directly linked to its product MelaFind, and further success for MELA down the road relies on it as well. Bearing the high risk associated with relying on the success of a single product would normally reflect poor management, however the fact that MelaFind has already proven its effectiveness makes this high risk substantially lower. It is important for investors to understand that if the number of physicians using MelaFind decreases or MELA struggles with the number of new installations in FY 2013, is security price has the potential to suffer even further.
Overall, stability in MELA's security price will derive from advancements at the managerial level. Specifically, management's ability of targeting new physicians and promoting the use of its product. Going forward, investors need to consider the number of devices MELA installs for use in physicians offices. Up to this point, data regarding these factors have yet to be released, but I anticipate mid way through FY 2013 management will release data to provide investors with a better sense of what to expect.
Disclosure: I have no positions in any stocks mentioned, and no plans to initiate any positions within the next 72 hours. I wrote this article myself, and it expresses my own opinions. I am not receiving compensation for it (other than from Seeking Alpha). I have no business relationship with any company whose stock is mentioned in this article.