FirstMerit (NASDAQ:FMER) is a bank holding company based in Ohio that is expanding into the greater Chicago marketing area. While the regional bank's home turf of Ohio is still mired in slow economic growth, the company's push into commercial banking in Chicago should not go unnoticed. As of year-end 2012, the firm has $14.9 billion in assets.
Headquartered in Akron, FMER operates 220 branch offices in Ohio, western Pennsylvania and Chicago. The company recently purchased troubled bank Citizens Republic Bancorp in Michigan, paying about 70% of its book value. The acquisition should be finalized during the second quarter, and the $1.3 billion expansion will create the seventh largest financial institution in the Midwest. FirstMerit has completed 16 acquisitions since 1990.
Below is a map outlining the locations of its branches: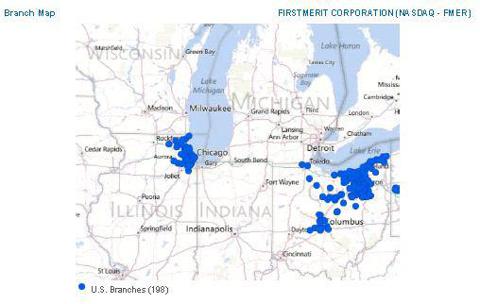 From the company investor relations website, the following is a chart of comparable operating and reserve ratios as of year-end 2012. The peer group includes: Associated Banc-Corp (ASBC), Citizens Republic Bancorp, Inc. (NASDAQ:CRBC), Commerce Bancshares, Inc. (NASDAQ:CBSH), F.N.B. Corporation (NYSE:FNB), Huntington Bancshares Incorporated (NASDAQ:HBAN), Old National Bancorp (NYSE:ONB), Park National Corporation (NYSEMKT:PRK), TCF Financial Corporation (NYSE:TCB), UMB Financial Corporation (NASDAQ:UMBF), Wintrust Financial Corporation (NASDAQ:WTFC)
Performance Ratios (%)
FMER
Peer Median
Peer Average
ROAA
0.92
0.99
1.08
ROAE
8.34
9.05
9.27
Net Interest Margin
3.69
3.52
3.63
Efficiency Ratio
62.63
64.37
64.22
Loans / Deposits
81.95
86.96
80.53
Asset Quality Ratios (%)
NPAs / Assets
0.8
1.58
1.47
NCOs / Avg Loans
0.53
0.61
0.75
Reserves / Loans
1.47
1.50
1.51
Reserves / NPAs
118.66
72.74
89.17
Capital Ratios (%)
Tier 1 Capital
11.25
12.06
12.5
Tangible Equity / Tangible Assets
8.16
8.92
8.71
Total Equity / Total Assets
11.03
10.31
11.00
For the 4th quarter 2012, EPS was $0.35, up 25% from year prior. For the year 2012, EPS was $1.10, up 7.2% from $1.02 in 2011. Importantly, return on equity rose to 9.3% during the quarter, up from 7.3% from the year prior and an average of 8.3% for the entire year. The efficiency ratio for 2012 is 62%, a bit on the high side, but in line with its regional peers. According to bankdata.com, the average 4th quarter efficiency ratio for banks with assets between $5 and $50 billion is 59.0% and 63.5% for all US banks. The efficiency ratio is the amount of net income sucked up by operating costs. Bank investors should focus on this ratio, as it will reveal how effective management is in turning income into operating profits, with the lower the efficiency ratio the better.
While fourth quarter net interest income was 3.9% lower from prior year, non-interest income rose by an equal percentage. The largest driver to earnings growth was from lower operating expense that fell by 8.7% and lower bad debt charge-offs that fell by 18.9%. Even though net interest margins fell from 3.85% during the fourth quarter 2011 to 3.58% in 2012, the efficiency ratio also dropped from 69% to 62%, more than offsetting the decline in margins.
Net bad loan charge-offs for the year improved, falling from $13.1 million in 2011 to $7.1 million in 2012. As a percentage of average loans, FMER's net charge-offs substantially outperforms its peers at 0.53% vs 0.75%.
Besides moving into the Michigan market, the organic expansion into the fragmented commercial banking arena of Chicago could be a substantial driver of earnings going forward. Starting in 2010, FirstMerit acquired three small Chicago based banks, two of which were closed by the FDIC. This expansion should not be surprising as the CEO Paul Greg , chief credit officer Bill Richgels and regional president Peter Gillespie were employed by First Chicago NBD and American National Bank. JP Morgan (NYSE:JPM) has gobbled up these two middle market commercial institutions. First Merit has grown to the 16th largest bank in Chicago with 40 bankers and over $780 million in loans. Chicago now represents about 7.8% of net loans outstanding and demonstrates intriguing growth over just three years.
Earnings per share this year are expected to be slightly ahead of last year at $1.28, expand to $1.43 in 2014, and upwards of $1.90 in 2015 with an anticipated 6% eps growth rate thereafter.
FMER pays a quarterly dividend of $0.16 a share, annualized at $0.64. However, the dividend has not been raised since March 2009. The other side of the no-dividend-raise coin is the dividend was not cut during the financial crisis when most all other banks were slashing theirs. With a payout ratio of 53%, management could comfortable begin to increase the dividend either this year or next. FirstMerit offers a dividend reinvestment plan but no initial direct stock purchase option and the DRIP is open to existing shareholders only.
Going forward, the growth drivers will be an overall rising interest rate environment, integration of the Michigan acquisition, further declines of the efficiency ratio to about 60%, and additional loan growth in the Chicago market.
Below is a 5-year price chart for FMER and the S&P Financial ETF (NYSEARCA:XLF):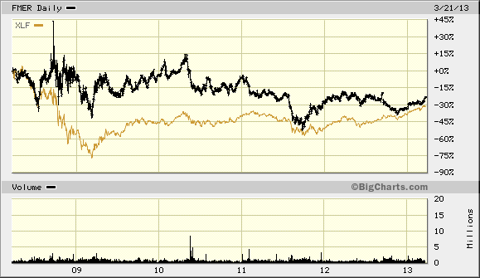 Below is a 5-yr price chart of FMER and its peer group listed above. FMER is about middle of the pack: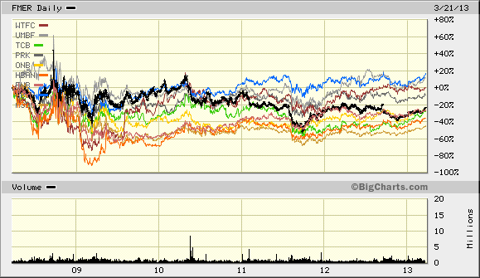 An alternative investment for income seekers could be FirstMerit Preferred (FMCP). Trading at almost par at $24.50, FMCP offers a 5.8% yield. However, the preferred issue is non-convertible, non-cumulative and perpetual.
The negatives on the company are a 5-yr underperforming stock versus some of its peers, Midwest markets are still mired in slow growth, the bank lacks substantial mortgage interest income relative to peers, and revenue from fee-based businesses is not significant.
Investors looking for a relatively conservatively-managed regional bank, which did not have a money-losing quarter during the financial crisis, should review FirstMerit. The current yield of 3.9% and a price of $16.30 should provide investors with about a 10%+ annual return. Management is familiar with the main growth driver, Chicago. It has a low cost deposit base and 82% loan-to-deposit ratio giving it some room to grow additional loans and interest income.
Author's Note: Please review important disclaimer in author's profile.
Disclosure: I have no positions in any stocks mentioned, and no plans to initiate any positions within the next 72 hours. I wrote this article myself, and it expresses my own opinions. I am not receiving compensation for it (other than from Seeking Alpha). I have no business relationship with any company whose stock is mentioned in this article.